Ko se človek sprehodi po hodnikih pritličja – tam je namreč največ dijakov prvih letnikov – vidi, da so se počasi zlili s šolskim utripom, ki postaja del tudi njihovega vsakdana. Čeprav se je letošnje šolsko leto za 149 škofijcev novincev začelo z mnogimi izzivi, se v pogovorih z njimi izkaže, da so septembra imeli predvsem dve veliki skrbi: kako se bodo ujeli s sošolci in kako bo šlo učenje. Preberi, kako so strnili svoje vtise o začetkih na ŠKG!
V prvih mesecih potekajo na šoli in v dijaškem domu številne dejavnosti, ki pomagajo k lažjemu vključevanju v novo šolsko skupnost (sprejem za 1. letnike s strani maturantov, duhovna obnova, razredne ure, spoznavni vikend v Jegličevem dijaškem domu) in privajanju na nov način dela (delavnice o tehnikah učenja, krepitvi samopodobe, soočanju s stresom in neuspehom). Ne glede na to morajo veliko korakov dijaki opraviti sami, a če človeka vodi geslo šole Amor magister optimus/Ljubezen je najboljša učiteljica, stvari postanejo preprostejše, saj sprejetost dela čudeže, kot pravijo sami.
Nova šola, njena usmeritev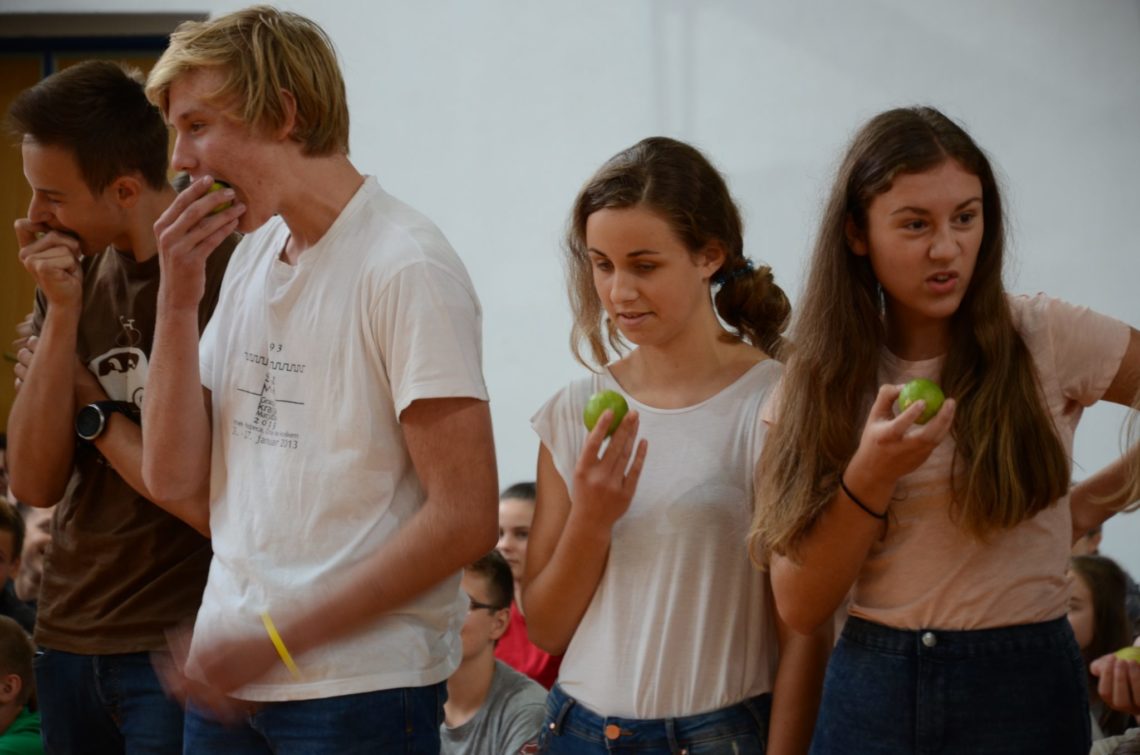 Pevskih zborov sem se zelo veselila in so izpolnili moja pričakovanja. Preden sem se vpisala, sem se bala, da bo vsega preveč, ampak zdaj vidim, da se da vse narediti.
Skrbelo me je, da bo vse preveč posvečeno katoliškim stvarem (maše, molitve), vendar jih je ravno prav.
Skrbela me je količina duhovnosti na šoli, če se cel čas moli, so vsi verni ipd. Na koncu se je moja skrb izkazala za neupravičeno, saj je družba prijetna, zabavna in zaupanja vredna.
Latinščina mi zaenkrat pomeni zanimivost, saj se zelo rada učim jezike, hkrati pa mi je zelo zanimivo spoznavati izvor besed oz. bolj povezovati besede iz slovenščine, angleščine in španščine z latinščino. Poleg tega pa me je tudi malo strah, saj starejši dijaki pravijo, da je kasneje latinščina zelo težka.
Sošolci, razred, vzdušje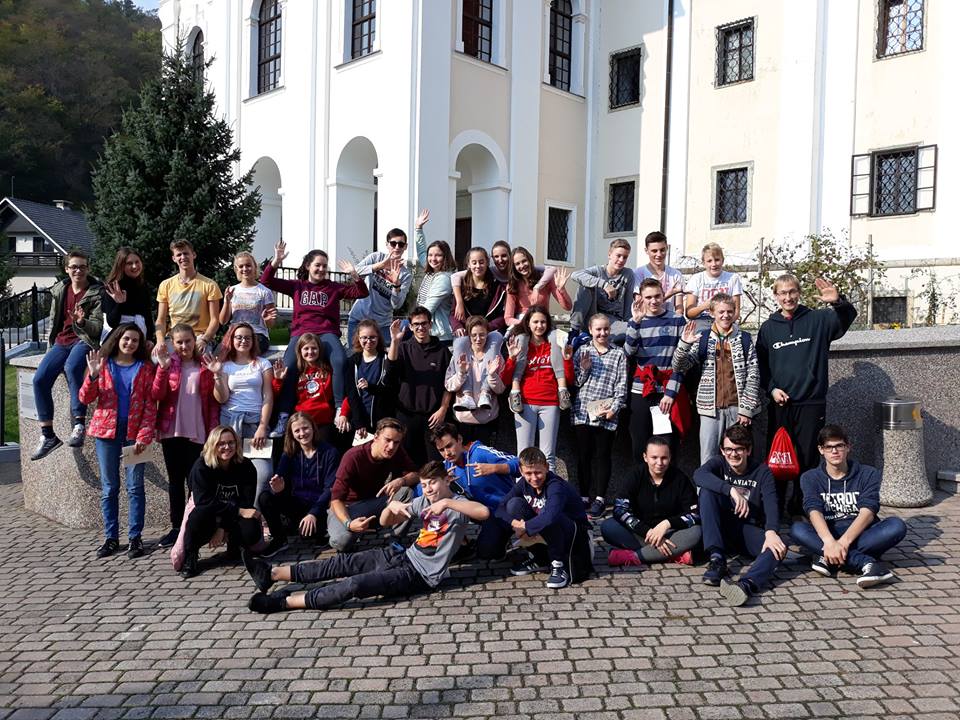 Na ŠKG sem le 4 mesece, pa se mi je zgodilo že veliko stvari, tako slabih (zdravstvene težave) kot tudi dobrih. Da sem se odločila priti na ŠKG, je bila najboljša odločitev v mojem življenju. Tu sem dobila najboljše prijatelje in cimre, profesorji so vsi zelo prijazni in radi pomagajo, če nam kaj ne gre. Preden sem prišla sem, me je skrbelo, saj sem bila na OŠ prav dobra in sicer z veliko trojkami in štiricami, zato nisem vedela, ali bo ta šola pretežka zame ali ne, vendar sem ugotovila, da se vse da, če se hoče.
Moji sošolci – pa ne bi mogel dobiti boljših!
Takoj sem bila zadovoljna z razrednikom /…/. Potek vsega je bil jasno predstavljen.
Najbolj so me skrbeli novi prijatelji, saj sem se bal, da bom čisto sam! No, to se je izkazalo za nepotrebno skrb, saj sem tu našel veliko dobrih ljudi.
Ničesar se nisem bal, pravzaprav sem se veselil novih ljudi.
Zelo me je skrbelo, da se z razredom ne bom ujela in da bo na škofijski polno samih »učenjakov«, da se bodo vsi samo učili in grebli za ocene. Pa se je izkazalo, da sem pristala v čudovitem in super sproščenem razredu.
Zelo me je skrbelo glede družbe, sploh zaradi tega, ker sem tudi v JDD. Sedaj sem pa spoznala, da so škofijke in škofijci zelo prijazni.
Še boljše je, kot sem pričakovala. Tudi maturantje so zelo prijazni z nami, všeč mi je, da si lahko malico odnesemo v razred. Tudi dolg odmor je zakon.
Primerjava z osnovno šolo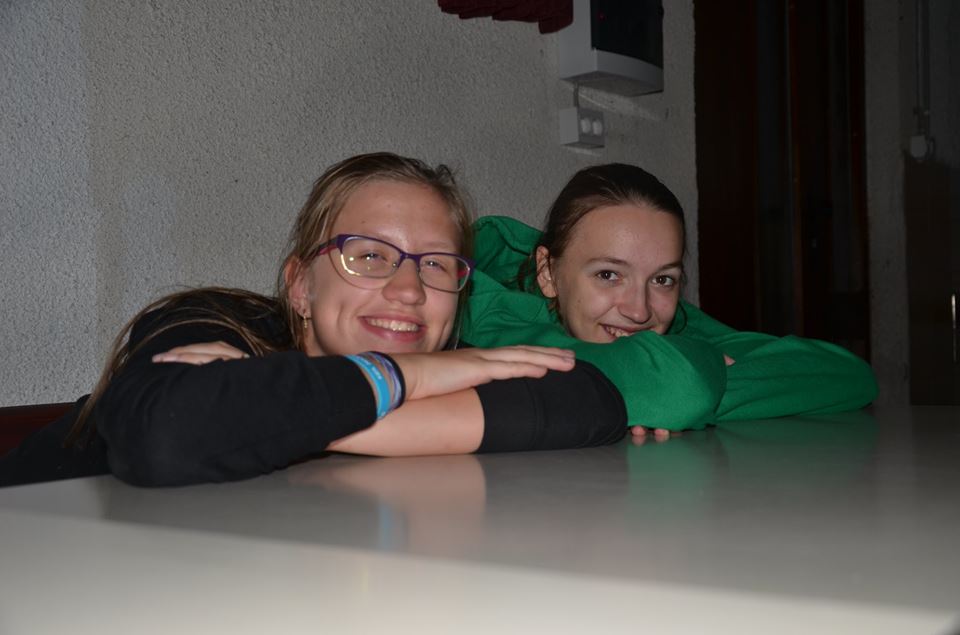 Pri vpisu na ŠKG me je najbolj skrbelo, da sem iz osnovne šole prinesla premalo znanja, da mi bo učenje težko in prezahtevno. Zelo sem vesela, da se ni izteklo tako, saj vsak profesor pove tudi stvari, ki bi se jih morali naučiti v osnovni šoli.
Skrbelo me je tudi, da bo šola izjemno zahtevna, vendar ni veliko bolj kot osnovna, ampak je pa potrebno sprotno delo! ŠKG da veliko znanja, zato priporočam vpis nanjo.
Super je! V primerjavi z delom na osnovni šoli se tu resnično nekaj dogaja.
Pouk, ocene, učitelji
Ko sem pridobival informacije o ŠKG, so mi ob vpisu govorili, da so vsi profesorji zelo dobri in s tem se strinjam, razen s kakšno izjemo …
Če te skrbi latinščina, ni tako težka. Če te skrbi vera in kultura – je pravzaprav zabavna (kdaj pa kdaj)!
Skrbela me je biologija. Skrb je upravičena. Skrbeli so me sošolci, skrb je popolnoma odveč.
Mislila sem, da bom imela probleme z ocenami, vendar sem ugotovila, da je tukaj veliko ljudi, ki mi z veseljem pomagajo.
Latinščina je zame le še en (zaenkrat še ne pretežek) predmet na urniku, ker me jeziki pravzaprav ne zanimajo preveč. Ampak ure so mi všeč, ker se ne učimo samo jezika. Mitologija je zanimiva, razlaga slovnice pa jasna.
S šolo na splošno sem zelo zadovoljna. Niso mi všeč metode dela nekaterih učiteljev, a večinoma so v redu, saj so prijazni in dobro razložijo snov. Testi in spraševanja so ponekod preveč na kupu (tudi 5 ocen na teden). Z razredom pa sem res zelo, zelo zadovoljna.
Namesto konca nekaj zgovornih številk:
Za domače naloge porabijo prvi letniki povprečno 48,5 minut na dan (ob tem dejstvu me je nek maturant vprašal, če sem prepričana, da na dan in ne na teden – torej se slog učenja po letnikih in spolu lahko precej razlikuje).
Učijo se povprečno 140 minut na dan.
Spat se med tednom odpravijo večinoma med 22. in 23. uro, povprečno pa spijo skoraj 7 ur na noč – kakšno minuto si nekateri vzamejo tudi med poukom.
Zbrala in zapisala: Lily Schweiger Kotar