»Dobri ljudje so blagoslov za ta svet.«
In če so to mladi ljudje, je še posebej pomenljivo. O tem pripoveduje zgodba z ekskurzije dijakov ŠKG v Grčijo septembra 2017.
To je zgodba o lepoti človeškega duha, vztrajnosti pri dobrih odločitvah in o tem našem ljubem svetu, nad katerim včasih obupujemo, a nikar! Sploh pa ne nad našo mladino!
V veliki vročini pod oljčnim drevesom poslušamo razlago naše vodičke prof. Dragice Fabjan Andritsakos o skrivnostnem svetu delfskega preročišča, ko me dijaki obvestijo, da je eden izmed njih našel na tleh 220 €. Pred nami sta bili dve večji skupini japonskih turistov in predvidevali smo, da je denar morda izgubil kdo izmed njih. Po kratkem pogovoru, kaj naj sedaj s tem bogastvom,  sem dijake obvestila, da bom s kolegico Nežo Karlin odnesla denar do vhoda v muzej. Tja morda pride tisti, ki denar pogreša. Nekateri dijaki niso bili navdušeni – denar bi dali v razredno blagajno, za Karitas, sladoled – to so bili predlogi, ki so prišli do mene 😉 , gotovo so jih imeli še več. A smo profesorji vztrajali, da s tem denarjem nočemo nič imeti in kako lepo bi bilo, če bi ga tisti, ki ga je izgubil, morda tudi v resnici dobil nazaj. Gotovo se to ne bo zgodilo, ker ni mogoče, smo si mislili, in nadaljevali svoj ogled.
Na recepciji me je receptor začudeno gledal ob pripovedovanju moje zgodbe. Dala sem mu denar. Nisem se mogla znebiti občutka, da ga bo zapravil. Kaj pa drugega … Ko smo se čez dve uri vsi skupaj vračali mimo recepcije, sem preverila, če je kdo prišel po najdeno. Nihče. Receptor me je še pomenljivo pogledal, rekoč: "Denar je še vedno tu." In je tam tudi ostal.
Ekskurzija je že davno mimo, denar tudi pozabljen, ko me danes v golobnjaku v zbornici čaka pošta iz Grčije. V zbornici je sedela tudi Dragica. Odprem kuverto in skupaj bereva:
Dear Madam,
Actually, Japanese toursit turned to the reception and reported lost money. Here we are sending the note she left for the boy who had found it. Please, hand it to him.
With warm Greek regards,
Christina Caryofyllis
Poiščem torej dijaka in mu izročim sporočilce. V njem je 100 € in tale pozdrav:
Dear finder,
I greatly apreciate return of found money. Good people as you are bless to world. Please accept kind thanks.  (sledi japonski podpis)
Ni kaj za dodat, ne? Kako je denar, ki bolj razdvaja kot ne, skrivnostno povezal ljudi dobre volje z Japonske, Grčije in Slovenije. Žal mi je za vse dvome, ki sem jih imela na tej poti. Veliko sem se ob tem naučila. In kako so dijaki v razredu poslušali to zgodbo. Že dolgo nisem imela take tišine pri pouku ?.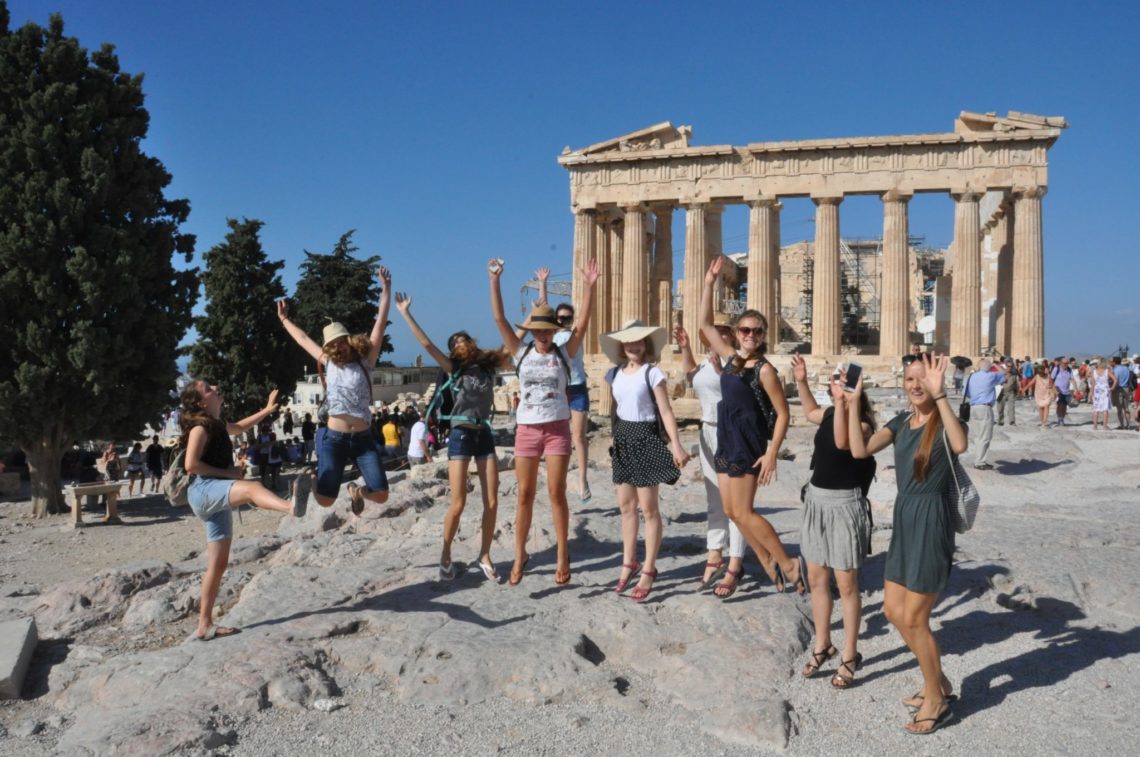 Zapisala: Lily Schweiger Kotar