SLOVENSKI OTROŠKI ZBOR 2022
(26. junij–2. julij 2022)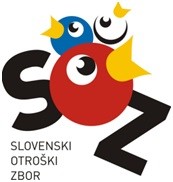 Osnovne informacije
Že enaindvajseto leto zapored na Slovenski otroški zbor vabimo vse otroke, stare od 10 do 15 let, ki se želijo v tednu intenzivnih pevskih vaj družiti z izvrstnimi pevci iz cele Slovenije in zamejstva ter izpopolniti svoje pevsko znanje.
Teden bomo zaokrožili z dvema koncertoma – 1. julija 2022 bomo nastopili na festivalu Lent, 2. julija pa nas čaka zaključni koncert v Ljubljani.
Glasbeno vodstvo
Kot vsako leto bo zbor vodil Damijan Močnik, ustanovitelj in umetniški vodja Slovenskega otroškega zbora ter letošnji nagrajenec Prešernovega sklada.
Letos se mu bo pridružil švedski dirigent slovenskih korenin Tony Margeta, ki zadnja leta deluje kot dirigent in umetniški vodja priznanega deškega zbora Adolf Fredrik's Boys' Choir (Deški zbor Adolf Fredrik) iz Štokholma.

PRIJAVA
KAJ VSEBUJE PRIJAVA?
PRIJAVNICO, ki jo izpolnite elektronsko.
MNENJE ZBOROVODJE pridobite novi pevci in nam ga boste poslali, v kolikor bomo to od vas želeli.
Ko boste zaključili elektronsko prijavo, boste po elektronski pošti dobili potrditveno sporočilo. To pomeni, da je prijava uspešna. Če tega elektronskega sporočila ne dobite, se obrnite na nas ([email protected]).
Prijavnina znaša 295,00 €.
Cena vključuje glasbeno-pedagoško delo s pevci, prostočasne dejavnosti in animacijo, bivanje s polnim penzionom v Zavodu sv. Stanislava ter prevoze. Več informacij v zvezi s plačilom prijavnine dobite, ko udeleženci opravijo avdicijo. Če ste v finančni stiski, nam pišite.
Za dodatna pojasnila se lahko obrnete na: [email protected].
V upanju, da se odzovete povabilu, vas lepo pozdravljam.
Damijan Močnik, umetniški vodja SOZ
SOZ je tisto, na kar čakamo vse leto!
Še nekaj posnetkov prejšnjih let