SLOVENSKI OTROŠKI ZBOR 2021
(27. junij–3. julij 2021)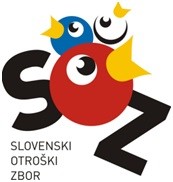 Letos je prav posebno leto, saj praznujemo 20-letnico Slovenskega otroškega zbora. Letošnje leto bo torej leto praznovanja, ne glede na nekoliko nepredvidljivo situacijo. Ker ne vemo, kakšne bodo ob predvidenem terminu omejitve, pogoji dela, je prijava informativne narave. Torej vsi, ki izkazujete interes za prijavo na SOZ, izpolnite spodnjo prijavnico in o nadaljnjih korakih, tudi o načinu izvedbe avdicije, boste obveščeni.
V letošnjem letu na Slovenski otroški zbor vabimo vse otroke, stare od 10 do 15 let, ki se želijo v tednu intenzivnih pevskih vaj družiti z izvrstnimi pevci iz cele Slovenije in izpopolniti svoje pevsko znanje.
Tudi letos je umetniški vodja projekta, skladatelj in dirigent Damijan Močnik, pripravil za vas mnogo zanimivih skladb slovenskih in tujih skladateljev.
Teden bomo zaokrožili z zaključnim koncertom 3. julija 2021.

PRIJAVA
KAJ VSEBUJE PRIJAVA?
PRIJAVNICO, ki jo letos izpolnite elektronsko.
MNENJE ZBOROVODJE pridobite novi pevci in nam ga boste poslali, v kolikor bomo to od vas želeli.
Ko boste zaključili elektronsko prijavo, boste po elektronski pošti dobili potrditveno sporočilo. To pomeni, da je prijava uspešna. Če tega elektronskega sporočila ne dobite, se obrnite na nas ([email protected]).
Prijavnina znaša 230,00 evrov.
Cena vključuje glasbeno-pedagoško delo s pevci, prehrano in bivanje v Zavodu sv. Stanislava ter prevoze. Več informacij v zvezi s plačilom prijavnine dobite, ko bo bomo bolj jasno vedeli, kako bo s časovnico in izvedbo.
Če ste v finančni stiski, lahko po elektronski pošti pošljete prošnjo za znižanje kotizacije s kratko obrazložitvijo vaše situacije. Komisija bo vloge pregledala, odločitev pa vam bomo sporočili na vaš elektronski naslov. Pri vlogah verjamemo v vašo poštenost in iskrenost.
Za dodatna pojasnila se lahko obrnete na: [email protected].
V upanju, da se odzovete povabilu, vas lepo pozdravljam,
Damijan Močnik, umetniški vodja SOZ
SOZ je tisto, na kar čakamo vse leto!
Še nekaj posnetkov prejšnjih let