Ob začetku novega mednarodnega projekta Erasmus+ Eurostronomia smo oktobra v Kregarjevem atriju postavili na ogled razstavo grafik likovnega ustvarjalca mlajše generacije Miha Perčiča z naslovom Kozmos. Na neobičajno velikih formatih grafičnih listov v tehniki suhe igle so se vrstile podobe Mlečne ceste, galaksij, Sonca, Lune … Stilizirane, abstrahirane podobe vesolja in že same slikovne ploskve, črtno zapolnjene z geometrijsko abstrakcijo ter postavljene v urejen, smiseln likovni prostor, so nam odpirale vprašanja o našem dojemanju, doživljanji in razumevanju kozmosa. Dijakinji 4. c sta svoj odziv ubesedili takole:
Z vsakim korakom, ki ga naredim, stopam v drugačen, nov in še neodkrit svet.  Z vsakim pogledom, nasmehom, besedo, sončnim žarkom, dežno kapljo, zvezdnim utrinkom. Vsak krog bežečih barv mi odpre nekaj novega, a vendar tako poznanega. Črnina, ki se v iskanju odrešitve giblje proti lastnemu središču, in mi ne bo nikoli dovolila seči izven svoje krožnice. Vedno bližje, ko sem središču in navideznemu smislu, tem bolj goste so črne niti okoli mene. In nato po dolgi poti nič. V brezmejni praznini ni ničesar več, česar bi se lahko oprijela. Samo črna praznina brez barve … Ki se v določenem trenutku začne spreminjati. Postaja vedno redkejša in odstopa prostor nebu. Temno moder klopčič se počasi razvija v posamezne svetlejše niti, po katerih lahko plezam ven, navzgor, proti mejam, ki ne omejujejo več. In še bi lahko plezala po njih, vzpenjala bi se, iskala bi in vonjala novo nebo. Niti se ne končajo, valovijo še naprej – Jaz pa zadanem ob ostro belino okvirja. Morda je to meja, ki jo lahko samo prestopim, le dovolj poguma moram zbrati. Morda je visok zid in ne vidim na drugo stran, celo zvok se je zaustavil. A če gre modrina naprej, je nekaj tam? Drugo vesolje, kjer velja drugačen kozmični red. A je vendarle do pike enak temu. Jaz sem še vedno jaz in ti si še vedno ti in najin svet še vedno gradita zemlja in nebo in nasmehi in kamenje in obzorje in zvezde. Samo, da so drugačni. "Tudi sonce sije drugače: slišiš ga, vidiš ga ne." (Strniša, Na drugi strani, Vesolje) Erika, 4. c

Kozmos kot oblika življenja, vsega, kar obenem poznamo in ne poznamo. Nihče ga še ni videl v celoti; ne kot prostora ne kot ideje. Smo del njega, in on je del nas. Pripadamo mu, vsak od nas, vsaka stvar, ki jo storimo, vsak predmet, žival, rastlina, vse je del njega, na istem nivoju. V vsakem od nas pa nov kozmos, nerazpoznaven drugim, nam pa prav tako ne.
Kje sploh smo, kje živimo, ima naš obstoj smisel? Občutek izgubljenosti in nepripadnosti polni misli mnogih, navajeni smo ga in se z njim sprijaznimo. Iščemo nekoga ali nekaj, da nam da smisel, pa naj je to delo, oseba, predmet, opravilo. Nam to pomaga? Smo le majhna točka, zaokrožena celota, ki se prepleta z drugimi celotami, da skupaj tvorijo prostor, ki mu pravimo kozmos. Ta točka pa je cel sam svoj kozmos, ki ga ravno tako ne poznamo, in ga verjetno nikoli ne bomo. 
Zavedanje, da nismo sami, da je nekaj več kot samo mi in naše življenje, nas dela človeške. Delamo napake, dojemamo svoja dejanja in misli, iščemo smisel in srečo, prosimo, odpuščamo, upamo in sanjamo. Nismo le mi del kozmosa. Tudi on je del nas, kajti mi sami smo celota, neskončno velik, nepoznan prostor. In tako je, je bilo in bo. Tinkara, 4. c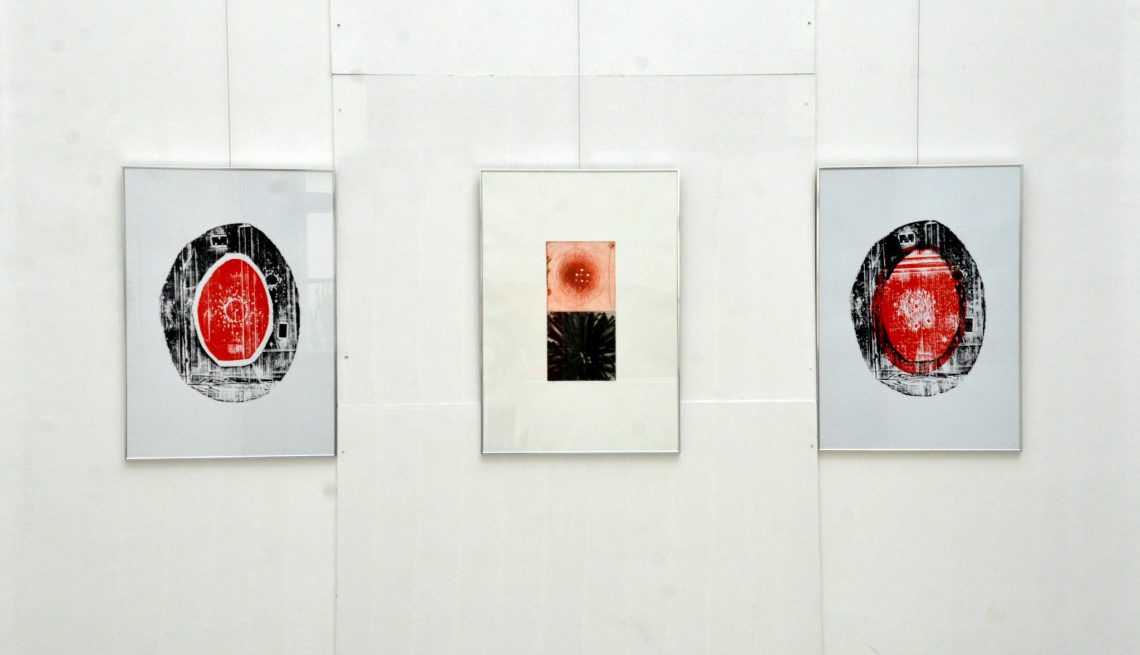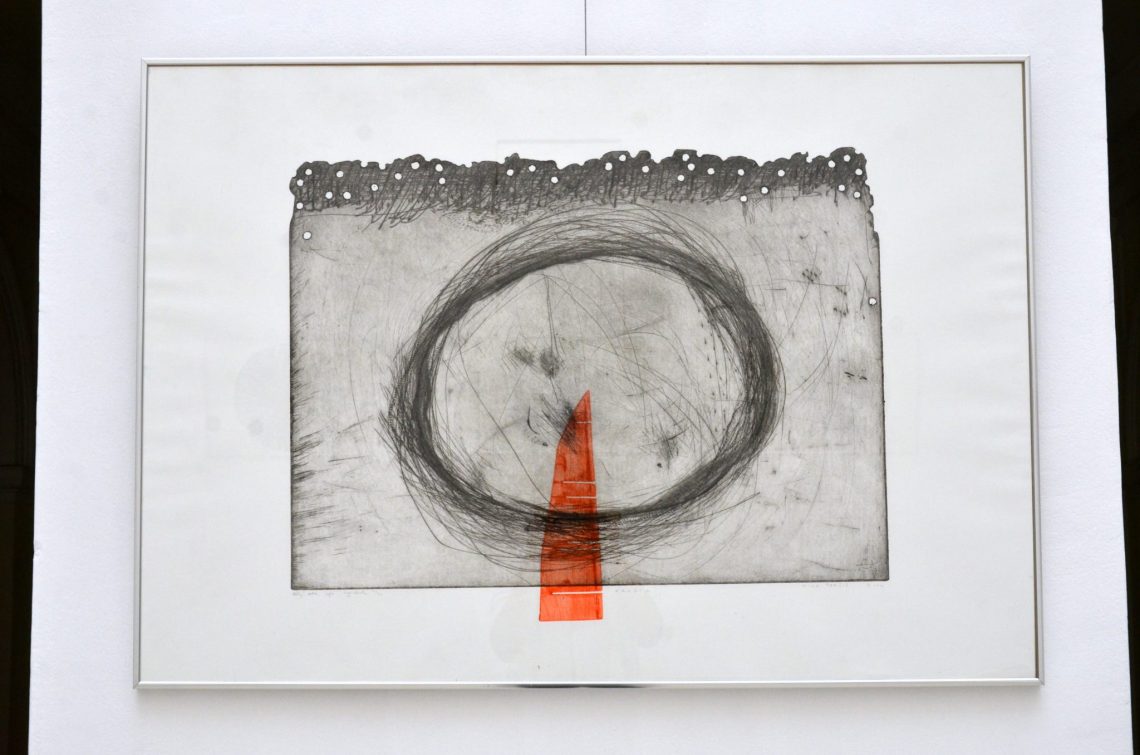 Upamo in želimo, da bo tudi ta razstava spodbudila dijake k razmišljanju o vesolju z različnih zornih kotov in tematskih področij, da jih bo nagovorila k lastnemu likovnemu ustvarjanju ter obogatila naš projekt.
Miha Perčič se je rodil v Kranju, po končanem študiju na Akademiji za likovno umetnost, smer vizualne komunikacije, ki ga je zaključil z diplomo leta 1997 pri prof. Radovanu Jenku, je leta 2002 zaključil podiplomski študij na grafični specialki Akademije za likovno umetnost pri prof. Branku Suhyju. Pripravil je več samostojni razstav in sodeloval na številnih skupinskih razstavah doma in po svetu. Trenutno ustvarja in dela kot samostojni umetnik. Je član Zveze društev slovenskih likovnih umetnikov in član Likovnega društva Kranj.
Za njegovo ustvarjanje je značilno vračanje v izrazno in simbolno preteklost ter vestno posvečanje tradicionalnim grafičnim tehnikam. Temeljne značilnosti njegovega načina so: mehanska ali kemična obdelava, priprava kovinske matrice z različnimi jeklenimi iglami in kontroliranimi, prostoročnimi  risarskimi potezami (praskami), poudarjanje strukturne linije kot osnovnim izraznim sredstvom z minimalnimi, pestrimi likovnimi izpovedovanji. Njegove grafične podobe skušajo na meditativen, vsebinsko sporočilen način prikazati univerzalni geometrijski svet konkretnih, stiliziranih likov. Raznovrstne in bogate geometrijske forme mu omogočajo neomejeno domišljijo z optimističnim reševanjem likovnih problemov.