Družino ŠDJFG-jevcev in ŠDJFG-jevk tako dopolnjuje Teodora iz Bosne in Hercegovine, ki pri nas študira medicino, Paul iz Anglije je v prvem semestru študiral marketing, Vuk iz Črne Gore študira matematiko, Alen iz Bosne in Hercegovine pri nas že drugo leto študira elektrotehniko. Poleg njih sta prek Erasmusa bivali pri nas tudi Belen iz Tenerifov in Maria iz Krete.
In kako se počutijo pri nas?
"Študentski dom je res super. Zares sem srečna, da lahko živim tu, kjer vlada tako prijateljsko vzdušje. Vedno najdem koga, če potrebujem pomoč, ali koga, ki bi bil z mano pripravljen popiti kavo in klepetati. Super je, da imam priložnost živeti s Slovenci in tako bolje spoznati slovensko kulturo."
Maria Belen Gonzalez Hernandez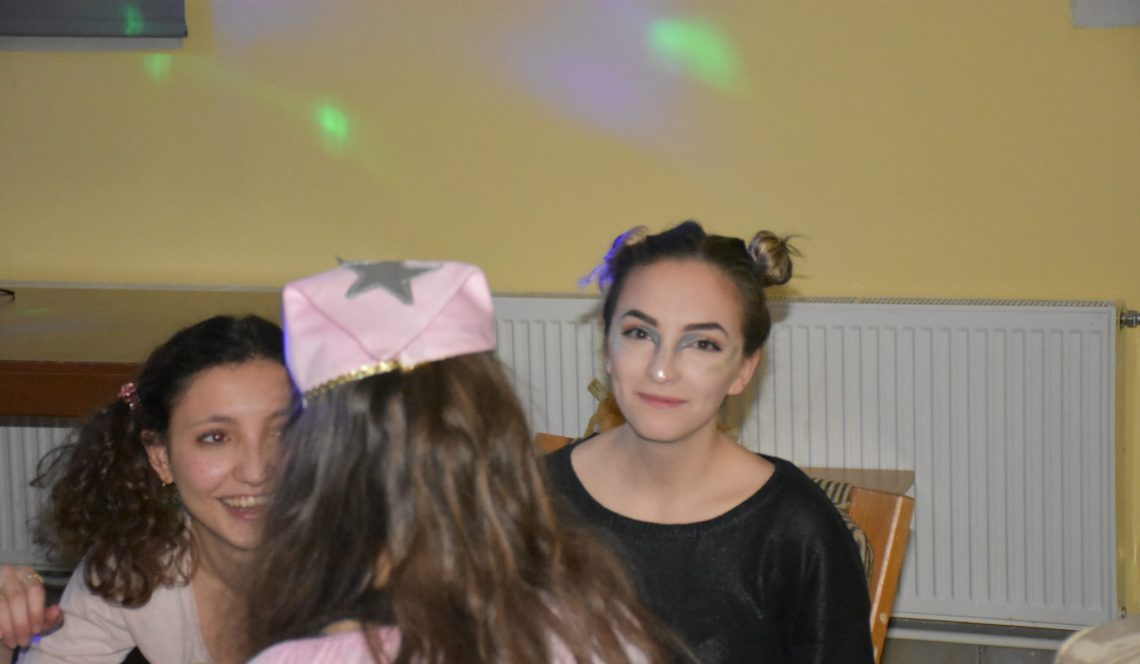 Fotografija je iz pustovanja; na levi je Belen, na desni Teodora.
"V domu se počutim, kot da imam 100+ fenomenalnih sosed, ki ti vedno lahko in radi pomagajo. Veliko je možnosti za sprostitev in za pogovor, nikoli se ne moreš počutiti slabo ali osamljeno. Po drugi strani imaš na voljo mir in prostor za učenje, ki ga zdaj najbolj potrebujemo. Zelo mi je pomembno, da sem se zaradi druženja s cimrami imela priložnost naučiti se slovenščine.
V Sloveniji je zelo lepo, sproščeno in okolje je vedno spodbudno – tako ljudje kot lepo mesto. Vsi so prijazni, če potrebuješ pomoč, radi pomagajo in za tuje študente je to zelo pomembno, posebej na začetku. Možno je, da se počutiš kot tujec, ampak zelo težko. Sem tujka, ker nisem Slovenka, ampak obenem imam občutek, da je tu še en moj dom."
Teodora Inhof
Med tujimi študenti, ki so bivali pri nas, je bil v prvem semestru tudi Anglež Paul O'Neill, ki je na Ekonomski fakulteti študiral marketing. Paul, ki veliko potuje, zdaj študij nadaljuje na Kitajskem; preden je odšel, smo ga povprašali, kako se počutil pri nas.
"Najprej sem bil malo negotov, ker je dom tako daleč od centra mesta in nekako izoliran, sploh glede na to, da sem zadnji dve leti praktično živel v centru. Sem pa začel uživati, ko sem se zavedel prednosti; vsaj desetkrat sem bil na Šmarni gori, nekajkrat sem z gorskim kolesom kolesaril po bližnjih hribih. Brezplačna telovadnica je tudi velika prednost. Začel sem igrati košarko in odbojko in kljub temu da sem bil začetnik, je bilo res krasno. Poleg tega je bilo nekaj res zabavnih domovskih dogodkov in na splošno prijeten občutek skupnosti."
Paul O'Neill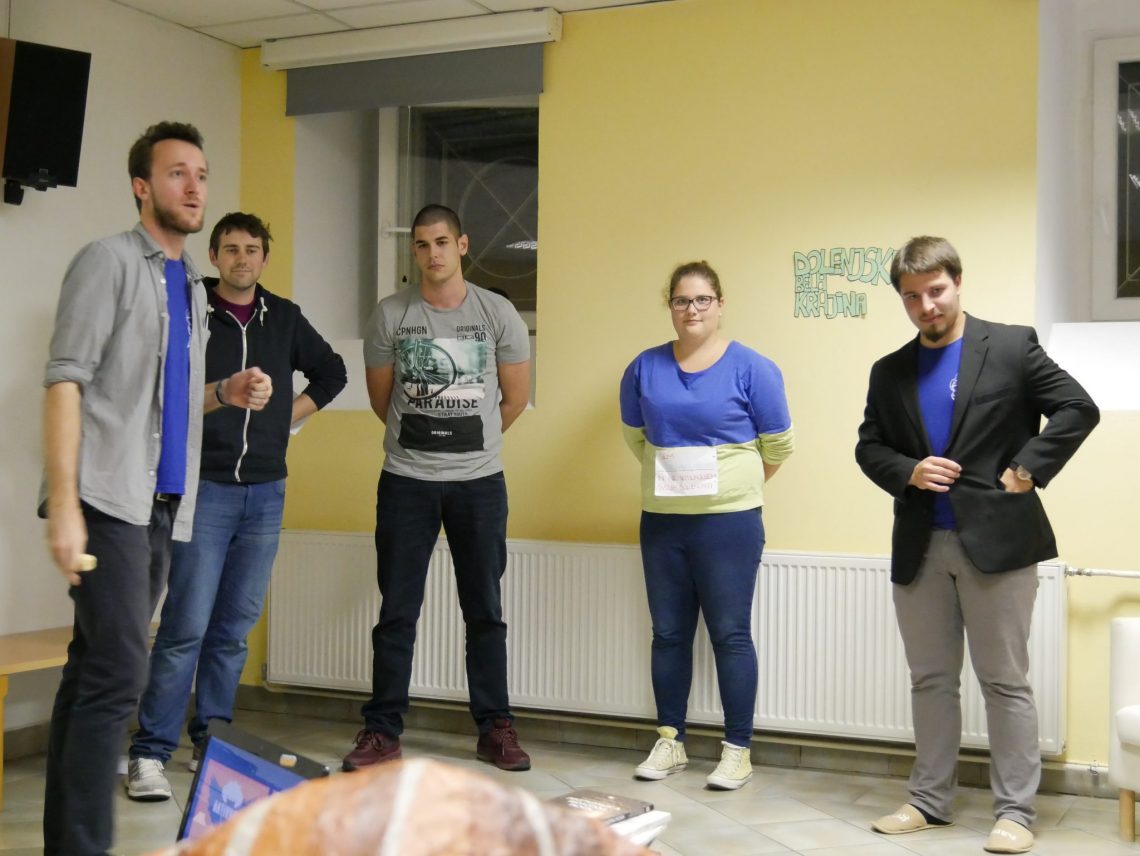 Fotografija je iz brucovanja; Paul je drugi iz leve, Vuk pa tretji iz leve.
"Prihajam iz Črne Gore in na Fakulteti za matematiko in fiziko študiram pedagoško matematiko. Ker v Sloveniji nimam nikogar, pri komer bi lahko živel, sem zelo hvaležen za možnost bivanja v študentskem domu. Ker prihajam iz majhne države, ni bilo večjih težav pri navajanju na način življenja v Sloveniji. Srečal sem veliko ljudi, ki so mi bili pripravljeni pomagati. Občudujem tudi skupnost v študentskem domu, ki deluje kot ena družina. Hvaležen za vse."
Vuk Leković
Maria je na vprašanje, zakaj je izbrala Slovenijo za svoj cilj, odgovorila: "Moj odgovor na to vprašanje je vedno, zakaj pa ne. Včasih imajo določeni kraji, ki jih obiščeš poseben vpliv nate, ki ga ne znaš natančno razložiti. To se je zgodilo v mojem primeru in vedela sem, da je pravi čas, da pridem v Slovenijo."
Maria Kapetanaki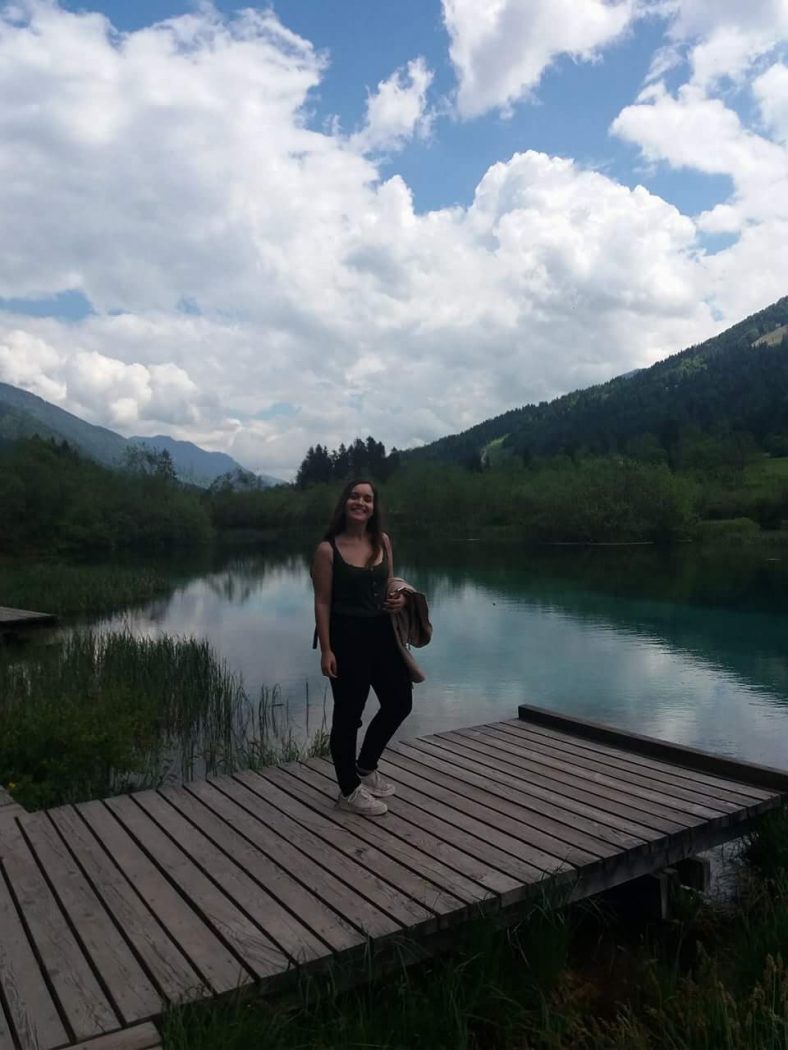 Tako torej pravijo mladi, ki so ob prihodu v Slovenijo izbrali naš študentski dom za bivanje v času študija in študijskega izpopolnjevanja.
Pripravila Damijana Medved