Življenje v študentskem domu prinese s seboj najrazličnejše izzive in veselja. Z enim sta se spoprijeli Špela Zupančič in Petra Luzar, ki sta za en večer postali radijski novinarki in za oddajo Mladoskop na Radiu Ognjišče pripravili reportažo iz letošnje Olimpijade katoliških študentskih domov.
Na letošnji olimpijadi katoliških študentskih domov sem že drugo leto zapored dobila priložnost, da za nekaj časa postanem novinarka, tista prava, z radijskim mikrofonom v roki. Tista, ki hodi po prizorišču, lovi utrip dogajanja in išče potencialne govorce, ki bi bili pripravljeni deliti svoje razmišljanje.
S Petro sva se s skupnimi močmi lotili naloge – v obliki krajših vodenih intervjujev posneti gradivo za eno oddajo Mladoskopa. Že ko sva se pripravljali na Dan D (oz. pisali nabor vprašanj, ki jih lahko postaviva študentom; vedeli sva namreč, da se povsem lahko zgodi, da bova v ključnem trenutku brez idej, zato je pač bolje imeti zlate rezerve), sva se odlično ujeli. Na olimpijadi pa je bilo še bolje. Čeprav zaradi najinih začetniških napak (mikrofona pač ne bi smeli držati tako blizu sebe, da ne bi hreščalo) ni bilo vse brezhibno, je vseeno nastala lepa oddaja, vredna poslušanja (tule je povezava do oddaje), na katero sem ponosna. Še več pa je vredno vse, kar mi je ta izkušnja dala.
Ker sem bila »prisiljena«, sem pristopila do ljudi, do katerih morda sicer ne bi. Čeprav me je bilo na začetku malo strah, sem potem ugotovila, da ogovoriti neznanega človeka niti ni tako težko, če do njega pristopiš iskreno in prijazno. Na koncu se izkaže, da so tudi sogovorci zelo prijazni, hkrati pa mislim, da se nekateri počutijo prav dobro, ko ti govorijo v mikrofon (posledično pa se ti počutiš dobro, ker veš, da se oni počutijo dobro in pomembno). Ugotovila sem tudi, da rada delam z nekom, saj več glav več ve, poleg tega pa ti sodelavec v timu zagotavlja nekakšno oporo in varnost. Vsaj na začetku je to zelo pomembno, vsaj zame. Izkušnja novinarke za eno popoldne in večer je bila zanimiva in zabavna, a hkrati tudi malo stresna, saj na začetku nisem vedela, koga sploh izbrati za sogovorca, kako mu postaviti vprašanja in iz tega razviti pogovor. A takšno razgibano delo, ki vključuje delo z ljudmi in dopušča tudi veliko ustvarjalne svobode, mi pravzaprav odgovarja. Nenazadnje pa ti šele takšna konkretna izkušnja omogoči, da spoznaš, koliko časa in truda je potrebno vložiti v nastanek enourne oddaje; sprehajanje po prizorišču in snemanje odzivov je šele njen začetek. Šele takrat, ko si res v, ko si v samem procesu ustvarjanja, začneš zares ceniti delo radijcev in televizijcev. Vesela in hvaležna sem za izkazano zaupanje, priložnost za delo in za vsa nova spoznanja.
Špela Zupančič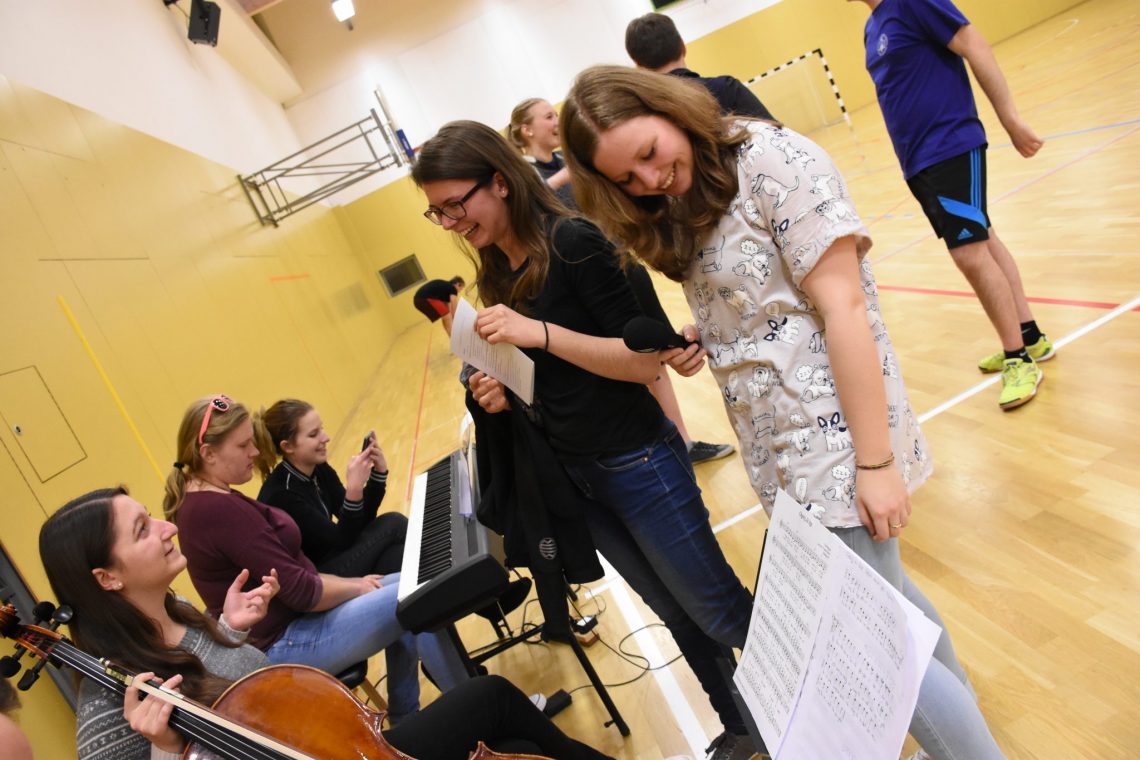 Na fotografiji iz lanske olimpijade, ko je bila Špela novinarka skupaj z Nejo Lenart.
Na letošnji Olimpijadi katoliških študentskih domov, sem imela skupaj s Špelo edinstveno priložnost, da se preizkusim v vlogi novinarke in radijke. Skupaj sva namreč pripravili in posneli reportažo o športu in olimpijadi.
To je bila zame prva takšna izkušnja, medtem ko je se je Špela v tej vlogi že preizkusila. Ker sva zaupano nalogo vzeli resno, sva se nanjo pripravili tako, da sva sami razmišljali o dotični tematiki, pripravili nekaj vprašanj in napravili načrt, kako pridobiti čim pestrejšo skupino ljudi, ki bo s svojimi odgovori sodelovala v reportaži.
Potem pa je sledila izvedba. Najprej sem s kar nekaj treme pristopila k prvemu sogovorniku, a se je ta po nekaj besedah povsem razblinila, saj so bili vsi sogovorniki res prijetni in sproščeni. Mislim, da je to tudi pripomoglo h kakovosti odgovorov. Gotovo je pripomoglo tudi to, da sva kar nekaj sogovornikov osebno poznali že od prej. Zame je bila to čudovita izkušnja, hkrati spoznati nekaj novih ljudi, izvedeti marsikaj novega ali zanimivega ter izstopiti iz svoje cone ugodja in se spoprijeti z nečim novim.
Petra Luzar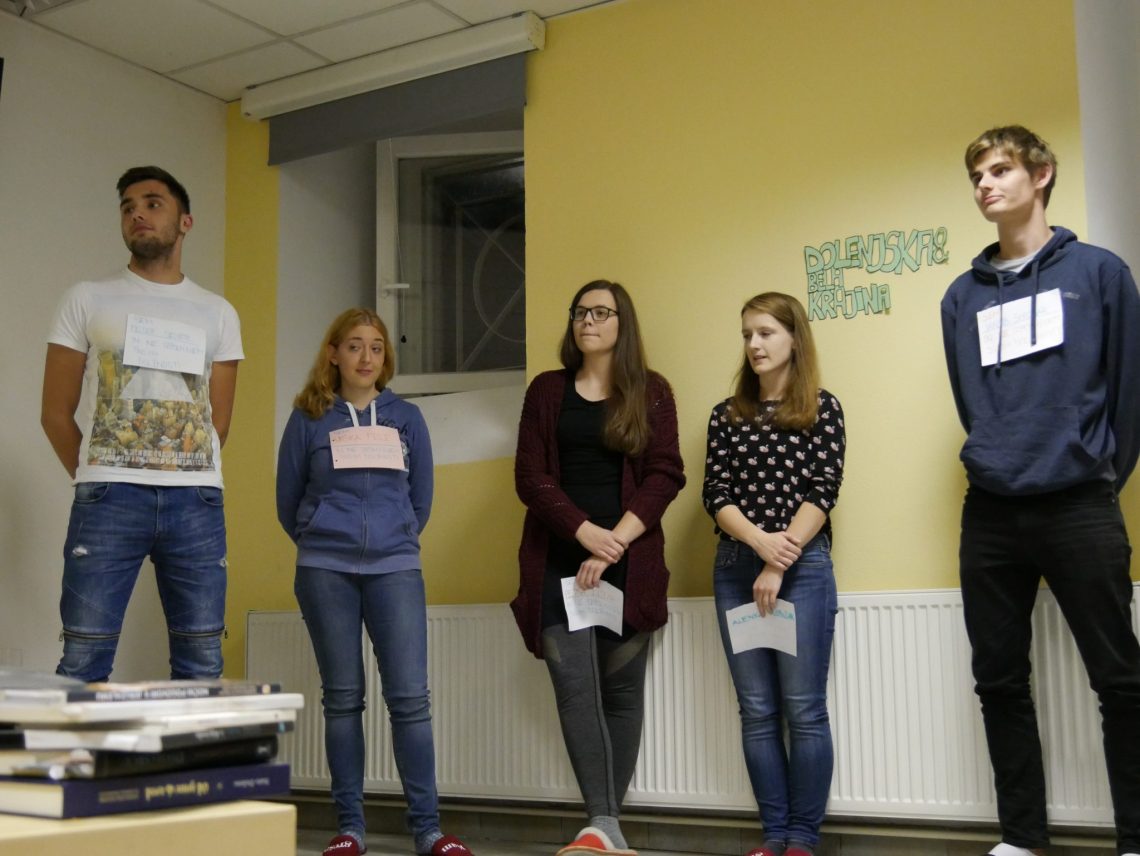 Fotografija je iz brucovanja. Petra je tretja iz leve.