Ob 15-letnici Študentskega doma Janeza Frančiška Gnidovca je nastal priložnostni glasbeni bend, ki je navdušil celotno občinstvo. Barbara Robba (kitara), Lovro Tomazin (ukulele), Krištof Zaletelj (cajon), Barbara Barać in Teodor Žalik (klavinova), Jernej Grahor (viola) ter Anja Ravnikar Zabukovšek (čelo) so sestavljali bend; nad sestavo in igranjem pa je bedela Anja Ravnikar Zabukovšek, čelistka.
Anja, po kakšnem ključu ste študentje sestavili študentski orkester?
Manjšo zasedbo smo sestavili že na začetku študijskega leta za igranje pri prazničnih mašah v domu. Takrat smo se dobivali eno uro pred začetkom maše in zvadili pesmi. Ko pa sem kakšen mesec pred prireditvijo izvedela, da Stična band ne bo mogel priti, sem dobila idejo, da bi nastopil naš bend. Glede na to, da smo dogodek organizirali študenti, sem bila navdušena nad tem, da bi mi sami tudi igrali in peli ter s tem pokazali, kaj počnemo v domu v prostem času. Odzivi so bili zelo pozitivni, zato sem povabila še nekaj instrumentalistov in kasneje tudi pevce, da je bila zasedba čim bogatejša. Obenem bi še omenila, da se je posebej za to priložnost Krištof sam naučil igrati cajon.
Kako so potekale vaje?
Vaje so potekale v večernih urah, ko je bila večina študentov že v domu. Vseeno pa je bilo zelo težko uskladiti urnike, tako da je bila zasedba v celoti šele na generalki dve uri pred prireditvijo. Najprej smo se dobivali v Teodorjevem in Lovrovem apartmaju, ko pa se je bend povečal, smo se zaradi prostorske stiske prestavili v kapelo. Z vajami smo ponavadi začeli kasneje kot dogovorjeno (akademskih 15), ampak mislim, da večini ni bilo težko priti in nameniti uro ali dve igranju in petju. Zdi se mi, da so študenti radi prihajali tudi zaradi druženja, dodatna motivacija pa so bili keksi po vaji.
Izbor pesmi je bil gotovo kar zalogaj. Kako ste se dogovorili, katere pesmi se bo pelo in igralo?
Večino pesmi za mašo je po nekaterih naših predlogih izbrala Barbara Robba, ker pozna največ pesmi iz pesmarice, ki jo imamo v domu. Poleg tega je vedno že prej sestavila prijeten program za igranje pri mašah v domu, tako da res ne vem, kako bi se lahko odločili brez nje. Pesmi za kulturni del pa smo izbrali šele dober teden pred proslavo in kasneje celo še tri menjali. Ker smo bili časovno omejeni, smo morali izbrati pesmi, ki so jih pevci že poznali, da nismo zapravljali časa z učenjem. Ko smo dokončno sestavili seznam, sem priskrbela besedila za pevce, za nas instrumentaliste pa akorde.
Zdaj, ko ste se tako dobro uigrali, imate načrte, da še kdaj nastopite v taki sestavi?
Seveda, ker mislim, da smo na vajah in še posebej med nastopanjem uživali, nameravamo ob kakšni priložnosti zvaditi nekaj novih pesmi. Ravnateljica nas je povabila, da nastopamo na olimpijadi katoliških študentskih domov, bližata pa se tudi zaključna sveta maša in piknik. Upam samo, da nam študijske obveznosti ne bodo preprečile, da organiziramo nekaj vaj v aprilu in maju. Ampak mislim, da kar drži pregovor »tam, kjer je volja, je tudi pot«.
Se ti zdi, da ste se tudi prek vaj in priprav na praznovanje 15-letnice še posebej povezali in so med vami nastale še močnejše vezi?
Jaz sem to najbolj občutila med samo prireditvijo in po njej, ko smo prejeli kar nekaj pohval gostov. Bili smo res ponosni, da smo v tako kratkem času pripravili vse glasbene točke. Ne trdim, da je bila izvedba vrhunska in brez napak, ampak mislim, da je bilo vsem najpomembnejše to, da smo pokazali, kaj smo zvadili, in predvsem, da smo uživali. Sicer pa se je na vajah poznalo, da smo bili v bendu in zboru študenti, ki smo se že prej družili na domskih dogodkih. Smo se pa verjetno res še bolj povezali ob tem, ko smo skupaj obogatili praznovanje 15-letnice doma.
Z vami je na praznovanju nastopil še ubran zborček; kako pa je potekalo usklajevanje s pevskim delom nastopa?
Na idejo, da bi dodali zbor, smo prišli šele, ko smo se dogovorili, da bomo igrali tudi pri kulturnem delu. Najprej nismo imeli tega namena, ker smo se do sedaj, ko smo igrali pri domskih mašah, vedno dobivali le instrumentalisti, saj smo vedeli, da bodo študenti začeli sami peti med našim igranjem. Za kulturni del pa smo se zavedali, da gostje ne bodo začeli peti. Sprva sem bila malo skeptična do tega, ali se bo nabralo dovolj študentov za zbor, ampak sem bila kasneje presenečena nad odzivom, ker se mi je takoj javilo nekaj zainteresiranih. Kar se vaj tiče, pa je bilo najpomembnejše, da smo instrumentalisti znali pesmi, saj se je zbor potem brez problema priključil.
Bi dodala še kakšno misel?
Poudarila bi le še to, da sem pridobila veliko lepih spominov na dogodek. Zelo sem bila vesela zaradi odzivnosti in zagnanosti študentov, ki ju včasih pogrešam pri nas na akademiji, kjer bi sicer to moralo biti vodilo. Hvaležna sem za njihov vložen čas in voljo, ki so jo pokazali. Res upam, da se kmalu spet dobimo in kaj lepega zaigramo ter zapojemo.
Anja, prav lepa hvala za pogovor.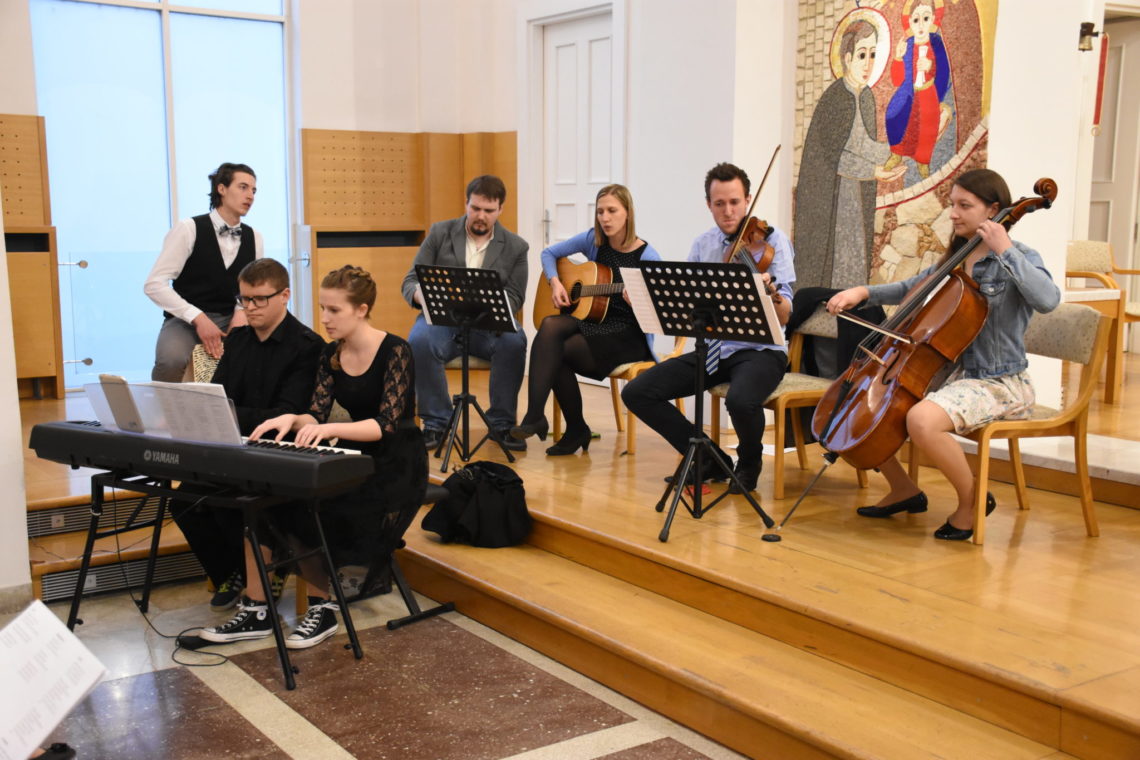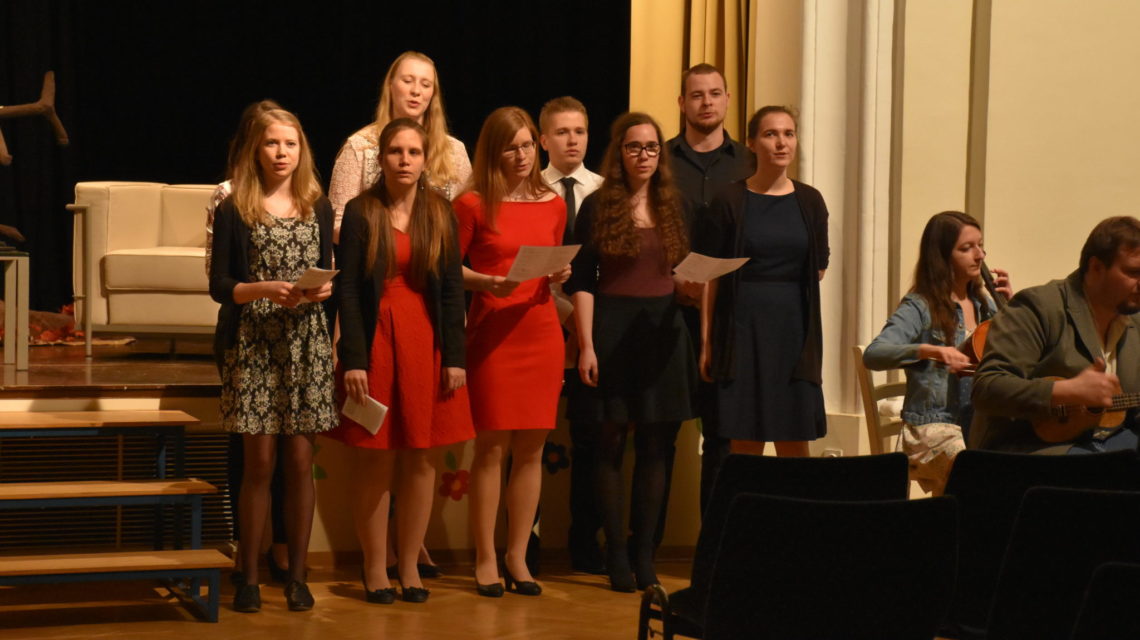 Save