Teodor Žalik, študent Akademije za glasbo, prihaja iz Turnišča, prekmurske vasi, ki je posebej znana po romarski cerkvi Marijinega vnebovzetja. V življenje študentskega doma se zelo aktivno vključuje: fotograf, ki s svojo umetniško žilico skrbi, da dogodki študentskega doma ne bodo utonili v pozabo, in organist, ki sodeluje pri skupnih študentskih mašah; in prav o slednjem smo mu zastavili nekaj vprašanj.
Teodor, se spomniš trenutka, ko te je zamikalo, da bi igral na orgle? Kaj je bil tisti vzgib?
Trenutka, ko sem zares opazil orgle, ne bom nikoli pozabil, saj se ga še vedno živo spominjam. Mislim, da je bilo pri eni poletni nedeljski sv. maši v župnijski cerkvi, kjer sem že nekaj let ministriral, ko sem cerkveno glasbo prvič zaslišal nekoliko drugače. Ne vem, ali je na to vplival izbor pesmi, kvaliteta zvoka ali neka druga nerazložljivka, ampak po tisti sv. maši sem vprašal svojo mamo, ki je takrat že nekaj časa pela pri cerkvenem pevskem zboru, ali se ji naslednjič lahko pridružim na koru. In naslednjič, ko sem sv. mašo že spremljal od zadaj, me je turniški organist g. Matej Pucko opazil, da ga navdušeno spremljam, ter me je povabil, da sedem zraven njega k igralniku orgel. Ne verjamem, da je bil samo en sam vzgib, ki je in še vpliva na mojo odločitev.
Kako se spominjaš svojih začetkov učenja tega inštrumenta?
Kot vsak začetnik se najprej učiš z opazovanjem. Pri meni ni bilo nič drugače. Kar nekaj časa sem opazoval domačega organista med orglanjem, preden sem dobil instrument "pod prste". Še tisto pomlad sem se na Škofiji Murska Sobota vpisal v Šolo za cerkveno glasbo in tako pridobil prva štiri leta šolanja orgel.
Kdo je tvoj vzornik? So organisti, ki jih še posebej rad poslušaš?
Odvisno od izziva 😀 Rad poslušam dobro izvedeno glasbo, preferiram glasbo v večjih zasedbah, če so orgle vključene, toliko boljše, a se ne omejujem pri izbiri glasbe. Včasih kar zaupam spletnemu algoritmu.
Najbrž si že igral na različnih orglah; katere so se ti še posebej vtisnile v spomin in zakaj?
Po tolikih letih glasbenega izobraževanja je že pričakovano, da imaš za sabo več odigranih orgel. Nekateri sovrstniki so v podobnem obdobju dosegli še kaj več, vendar pa meni karierna pot ni nudila motivacije, ki bi me podala v iste vode. Zavedam se, da sem včasih od sebe še premalo zahteval, da bi kot orglavec še bolje uspel in igral še na več različnih orglah. Sem pa kot organist spoznal, da ni tako pomembno, na kak instrument igraš, ampak predvsem, kako na njega igraš. Vsake orgle imajo svoj čar in od orglavca je odvisno, ali bo na njega zaigral na najboljši način in še drugim poslušalcem vtisnil v spomin zvok orgel, ki je lahko boljši, če snovalec orgel upošteva gradbeno akustiko.
Kdaj si začel sodelovati z orglanjem pri bogoslužju?
Nekaj let po začetku šolanja na Šoli za cerkveno glasbo v Murski Soboti so me povabili, da prevzamem mesto organista in zborovodje v Veliki Polani. Lansko leto je od tega minilo 10 let.
Zdaj si organist v kar dveh župnijah, kar pomeni, da so tvoje nedelje kar polne. Je usklajevanje zahtevno?
Nedeljske maše se med župnijami časovno običajno prekrivajo. V teh krajih deluje več organistov. Sem tudi mnenja, da je v družbeno in cerkveno delovanje potrebno vključit vsakega, ki ima potencial in si to želi. Usklajevanje temelji bolj na komunikaciji med glasbeniki organisti in upravljalci župnij. Velja pa kot povsod: vseh želj ni vredno uresničiti.
Tvoje želje in vizije, ki si jih želiš kot organist uresničiti?
Kot organist v Prekmurju si žal lahko le želim kako vizijo. Imam ideje, ki jih delim naprej, ki včasih obrodijo sadove, a velikokrat naletijo na gluha ušesa in na neodobravanje iz neznanih razlogov. To je tudi splošna problematika mladih po Sloveniji, seveda to najbolj občutim v Prekmurju. Po drugi strani pa večji kraji ponujajo boljše priložnosti in več interesa za razvoj, kar sploh ne zveni dobro za nekatere podeželske regije. Ko sem bil v začetku orglarske poti, sem bil veliko bolj ambiciozen v smeri te kariere. Z leti pa se rodijo nove želje in pozabijo stare. A spomini vseeno ostanejo. Tema moje magistrske naloge na Akademiji za glasbo v Ljubljani je ena izmed teh želj, vizij – Igranje po spominu, ki jih želim uresničiti.
Teodor, hvala za pogovor.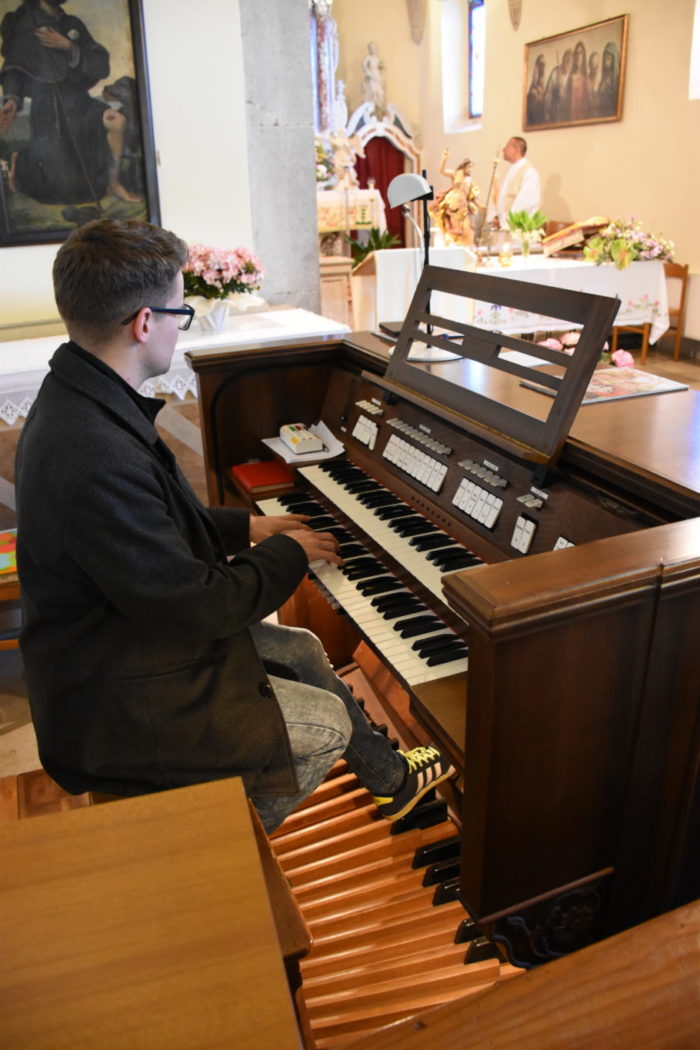 Save