Lep pozdrav vsem, ki boste, tako ali drugače, pokukali v enega izmed prekatov srca Škofijske klasične gimnazije – v Knjižnico dr. A. Breznika.
Knjižnični prostori s prostim dostopom do gradiva se razprostirajo in utripajo na tristo kvadratnih metrih in so že od samega začetka zelo priljubljeno zbirališče dijakov.
ZAKAJ SO JO DIJAKI TAKOJ POSVOJILI OZIROMA VZELI ZA SVOJO?
Ker je v zavodu najtoplejši prostor (poleg kurilnice), kjer se ustvarja toplina odnosov že po opremi sami (fotelji, barve, tekstilna tla), po zbirki lesenih skulptur Lojzeta Čampe, do prijazne izposoje gradiva in nasvetov pri iskanju literature …
Ker se v njej tkejo nova prijateljstva ter nove zgodbe fantov in deklet (ljubezen naj gre vedno v cvet) …
Ker je to prostor za različne kulturne in medijske prireditve, v katere so dijaki aktivno vključeni …
Ali pa preprosto zato, ker nekdo hoče v  miru študirati, brati knjige, stripe ali časopise in revije.
To jim omogoča na širini bogata knjižnična zaloga s približno 80.000 naslovi gradiva, pa skriti kotički za branje in študijska čitalnica Janka Modra …
Ker je poskrbljeno za vse, ki ste željni iger, saj je na voljo okoli 30 namiznih iger, od Naseljencev otoka Catan naprej …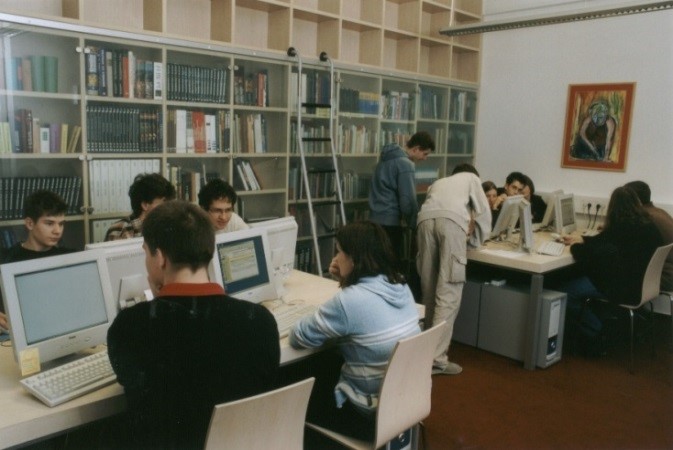 Ker je za delo z internetnimi viri na voljo osem računalnikov.
JE TO SAMO HUMANISTIČNA KNJIŽNICA?
Ne, podpiramo vsa strokovna področja (tudi naravoslovna), še posebej pa tista, ki mlade zanimajo tudi izven formalnega izobraževanja: gledališče, film, ples, gospodinjstvo, kuharske umetnije, vrtičkarstvo, planinarjenje, plezanje, ekonomija, politika, potovanja … in še bi lahko naštevali.
IMATE TUDI UČBENIŠKI SKLAD?
To vprašanje zanima ne le dijake, ampak tudi starše. Seveda!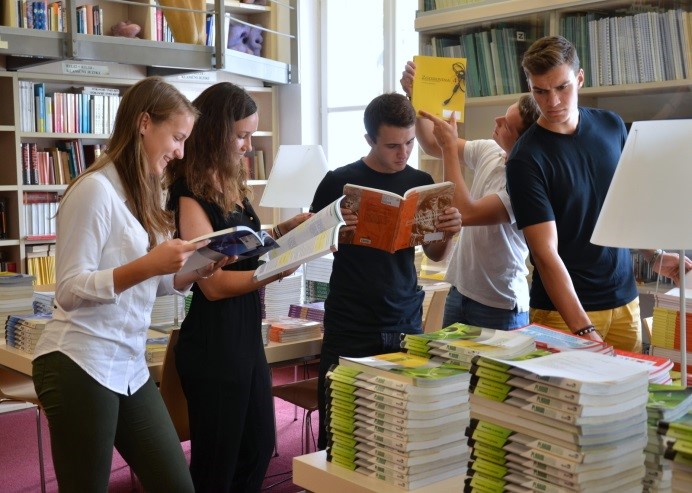 Vsem dijakom vseh letnikov so na voljo kompleti iz učbeniškega sklada, včasih pa tudi kakšen posamezen učbenik. Prijave za prve letnike potekajo ob vpisu, za ostale letnike pa po internetu. Seznam je vedno na spletni strani.
IN KDAJ JE VSE TO DOSTOPNO? 
Vsak dan od sedme ure zjutraj pa do četrte popoldne, torej idealno tudi za vse vozače, »krožkarje«, glasbenike in »zboriste«.
KAKO PA SE ZNAJDEMO MED TAKO MNOŽICO KNJIG IN REVIJ?
V ta svet pa dijake preko ur knjižnično informacijskih znanj popeljeva bibliotekarja Mateja in Boštjan, da izveste, kako učinkovito iskati med policami in informacijami preko interneta.
IMA KNJIŽNICA TUDI ZGODOVINO?