V okviru letošnjih Dnevov evropske kulturne dediščine, ki potekajo pod geslom Dober tek!, smo na naši osnovni šoli izdali kuharsko knjigo Šuštarske kuharije.
Pod mentorstvom učiteljice Sare Drnovšek smo pripravili ves material, ki je potreben za izdajo kuharske knjige. To vključuje: zbiranje receptov, fotografij jedi, ustvarjanje slik in risb. V kuharski knjigi so zbrani recepti, ki jih učenci naše šole pripravljajo pri učnem predmetu praktikum. Učiteljica Mojca Šiftar je namreč že nekaj let zbirala fotografije in recepte ter razmišljala, da bi se vse to zbralo v publikaciji in nato tudi primerno predstavilo širši javnosti. Tako je letos, ko DEKD potekajo pod geslom Dober tek!, dozorela ideja, da izdamo pravo kuharsko knjigo – naslovili smo jo Šuštarske kuharije. Uvodni recept v kuharici je seveda tradicionalna zavodska prežganka, ki je bila običajna jed v predvojnem zavodu in so jo nato tradicionalno postregli po ponovni ustanovitvi zavoda nekdanjim zavodarjem ob prazniku sv. Stanislava.
Učiteljica Mojca Šiftar pa je novo kuharsko knjigo pospremila med bralce oz. kuharje z naslednjimi besedami: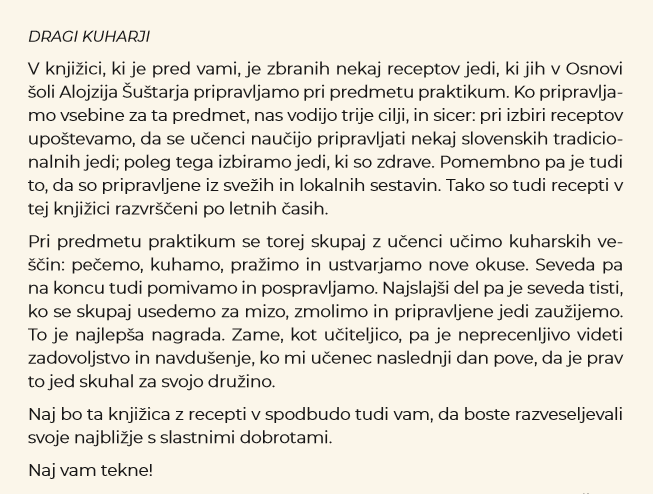 Knjigo smo predstavili v četrtek, 7. 11., ob 11h v šolski knjižnici, sodelovali so učenci 7. a, poleg pestrega kulturnega programa smo pripravili tudi nekatere jedi iz naše nove kuharske knjige.
Nova kuharica je predstavljena tudi na razstavi ob DEKD v šolski avli, kjer so zbrane fotografije jedi in nekateri recepti iz naše šolske kuharice. Knjigo je možno tudi kupiti.
Poleg izdaje nove knjige pa so se v okviru DEKD sedmošolci preizkusili tudi v pisanju pesmi na temo Dober tek! Napisali so recept v obliki pesmi, najboljše smo tudi predstavili na razstavi.