Učitelj športa na Osnovni šoli Alojzija Šuštarja Uroš Kermavt se je v zadnjih dneh aprila udeležil izobraževanja na Malti z naslovom »Creativity in teaching and training & how to use music, art, ICT and outdoor activities in education«. Več o tem, kako so potekali dnevi in kaj novega so spoznali udeleženci, pa lahko preberete v njegovem zapisu.
Nedelja, 22. april 2018
V poznih popoldanskih urah smo začeli sedemdnevni strukturirani tečaj »Creativity in teaching and training & how to use music, art, ICT and outdoor activities in education« z uvodom in predstavitvijo posameznih udeležencev (s Hrvaške, Estonije, Italije, Litve, Norveške, Romunije in Slovenije), predstavljen pa je bil tudi potek izobraževanja/urnik (od predavanj, vaj in praktičnih aktivnosti). Dobili smo tudi prvo nalogo, in sicer oblikovanje fotoreportaže, ki smo jo morali ustvariti v manjših, vnaprej dogovorjenih skupinah v času tečaja.
Ponedeljek, 23. april 2018
 Začetek drugega dne je zaznamovala predstavitev njihove organizacije, dejavnosti in delovanja. Quarter mediation je nizozemska organizacija, ki kot koordinator in partner v okviru evropskih projektov izvaja različne izobraževalne programe na Nizozemskem, Portugalskem in na Malti. Med najpomembnejšimi cilji organizacije sta zagotovo spodbujanje vseživljenjskega učenja in povezovanje izobraževalnih sistemov različnih držav, pri čemer se osredotočajo na razvijanje kompetenc za potrebe trga dela prihodnosti.
Udeleženci smo predstavili institucije in organizacije, iz katerih prihajamo, in zelo zanimivo je bilo poslušati in primerjali izobraževalne sisteme različnih predstavnikov držav.
Predstavili so nam tudi izobraževalni sistem Malte, ki temelji na britanskem modelu. Osnovna šola traja šest let (5–11 let). Pri 11-ih letih učenci opravijo izpit za drugo stopnjo izobrazbe na državni, zasebni ali cerkveni šoli. Pri starosti 16 let morajo učenci spet opraviti izpit, po katerem lahko nadaljujejo z izobraževanjem na višji stopnji rednega izobraževanja, ki ni obvezno. Po tem se učenci lahko odločijo za visokošolsko izobraževanje. To obliko izobraževanja v državi izvaja malteška univerza. Malteščina in angleščina se uporabljata za poučevanje na prvi in ​​drugi stopnji izobraževanja, pri obeh jezikih in pri obveznih predmetih v šoli. Državne šole običajno uporabljajo tako malteščino kot angleščino, zasebne šole pa se odločajo večinoma le za uporabo angleščine.
V popoldanskem delu usposabljanja smo imeli krajša predavanja in navodila za interaktivno igro »Treasure Hunt« (Lov na zaklad). Z avtobusom smo se odpravili do srednjeveškega mesteca Mdina, kjer smo izvedli aktivnost. Razdelili smo se na manjše skupine in raziskovali Mdino. S pomočjo barvnih kart smo morali najti določene znamenitosti, fotografirati svojo skupino poleg oz. pred iskano znamenitostjo in sliko s pomočjo IKT-orodij/mobitela deliti z drugimi. Pri tej dejavnosti smo razvijali jezikovne kompetence, se urili v timskem delu, v kartiranju in orientaciji na zemljevidu, pri uporabi fotografskega gradiva ipd.
Torek, 24. april 2018
Tretji dan zjutraj smo se z avtobusi odpravili na obisk šole Sv. Nikolaja na severovzhodnem delu otoka Malte v mestu Rabat. Šola je v šolskem letu 2016/2017 sprejela prve učence. Direktor šole nam je predstavil organizacijo šole, nato pa smo obiskali šolske prostore, vključno z učilnicami in kabineti ter šolsko knjižnico. Opazili smo, da šola posebno pozornost namenja tehnični skupini predmetov in znanosti, predstavili pa so nam tudi delo učencev na področju robotike in angleščine. Po vrnitvi smo imeli predavanje o učenju s pomočjo miselnih vzorcev. Razdelili smo se v skupine in svoj miselni vzorec ustvarjali na različne načine (samo z besedami, samo s slikami, samo s fotografijam) ter ga nato predstavili drugim skupinam. Predstavljena je bila tudi raba IKT-orodij v izobraževanju in učenju. Sledila je delavnica o tem, kako skozi igro/dramo izboljšati ustvarjalnost (predstavitev pesmi skozi interpretativni ples). S pomočjo igre smo se razdelili v manjše skupine. Prejeli smo besedila nekaterih znanih in neznanih pesmi, ki smo jih morali po krajši pripravi predstaviti ostalim s plesno predstavo, ki je bila zelo zanimiva in duhovita.
Sreda, 25. april 2018
Jutro je bilo posvečeno še enemu obisku šole. Tokrat smo šli na Državno šolo športa v Pembroke, ki je začela delovati leta 2012. Ravnatelj šole nam je predstavil šolski program in pojasnil, kako je šport vključen v šolski kurikulum. Učenci imajo na teden 28 ur akademskega programa in 12 ur športa. Sledil je ogled šole, športnih igrišč in dvorane. Po vrnitvi smo se z novo igro razdelili v manjše skupine. To je bila igra »Story Quessing«, pri kateri smo morali najti svojo skupino, ne da bi pri tem uporabili besede. Na čelu smo imeli nalepko in s pomočjo neverbalne komunikacije smo morali najti »svojo« skupino (tj. udeležence z enako nalepko). Cilj naloge je bil ugotoviti, da je medsebojna pomoč najboljši način, kako nalogo najhitreje in  najuspešneje rešiti.
V nadaljevanju smo se seznanili s programoma Stop Motion in Movie Maker. S pomočjo rekvizitov smo v skupinah ustvarjali (plastične figurice, ozadje, šiviljski set …). Po zaključku smo skupaj s pomočjo programa Stop Motion in Movie Maker ustvarili končne animirane filme, ki so bili zelo zanimivi in zabavni. Preostanek večera je bil namenjen osebnemu razmišljanju o izvedenem, pa tudi izmenjavi mnenj in izkušenj z drugimi udeleženci.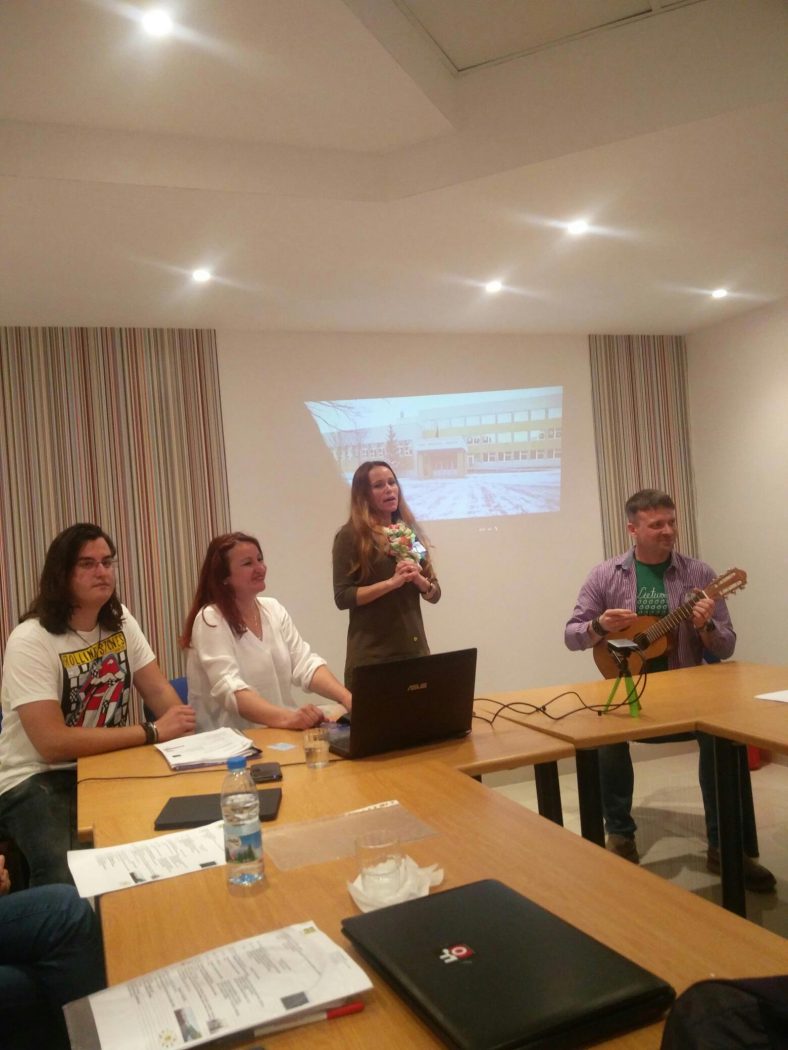 Četrtek, 26. april 2018
V jutranjih urah smo v manjših skupinah ustvarjali fotoreportaže za kasnejšo predstavitev. Sledil je prvi del ocenjevanja, pri katerem smo morali podati svoje mnenje glede praktične uporabe pridobljenih znanj in predstaviti svojo osebno izkušnjo vsega, kar smo videli, slišali, se učili v komunikaciji z voditelji in v medsebojnem stiku.
Drugi del dopoldanskih dejavnosti je bil posvečen predstavitvi fotoreportaž in slovesu od udeležencev iz Italije. Na manjši slovesnosti so jim podelili certifikate.
Popoldan smo se odpravili v Valetto, letošnje evropsko mesto kulture, z novo nalogo. V manjših skupinah smo izvedli interaktivno igro "Treasure Hunt" z zgodbo. Naloga je bila, da smo morali na podlagi fotografij, ki smo jih posneli ob iskanih točkah, napisati zgodbo in jo poslati na zaprto Facebook skupino.
Petek, 27. april 2018
V  sedaj precej manjši skupini (brez članov iz Italije) smo se odpeljal na 3. šolo St. Ignatius Collage v Handi. Gre za novo, sodobno šolo, ki spodbuja inovativnost, ustvarjalnost in učinkovito komunikacijo med vsemi udeleženci v učnem procesu. Na tej šoli je bila ustvarjalnost najbolj izrazita, saj je bila celotna šola okrašena z otroškimi izdelki v različnih tehnikah in medijih. Vodja šole je imel kratko predstavitev dela, ena od profesoric pa je predstavila svoje delo iz evropskega projekta in sodelovanje s šolo v Italiji. Popoldne je sledila podelitev zaključnih certifikatov.
Sobota, 28. april 2018
Štirje udeleženci seminarja smo si v lastni režiji ogledali otok Gozo in preživeli prečudovit dan ob ogledu tamkajšnjih znamenitosti.
Uroš Kermavt