Eden pomembnih poudarkov na vzgojni poti dijakov Škofijske klasične gimnazije je spoznavanje njihove širše socialne okolice, kar jim omogoča tudi tridnevni socialni praktikum. Njegov namen je, da si dijaki pridobijo izkušnjo srečanja z osebami, ki jih v svojem vsakdanjem življenju običajno nimajo priložnosti spoznati.
To so starostniki, mladostniki in odrasli z lažjo ali težjo motnjo v duševnem razvoju, osebe v azilu, bolni otroci, vrstniki iz socialno ogroženih okolij, mamice v materinskem domu in brezdomci. Tako se učijo tudi novih veščin sporazumevanja in pristopa k osebam s posebnimi potrebami ter razvijajo osebno odgovornost. Šolski uspeh sam po sebi ne pomeni veliko, če zadostimo samo vsebinam izobraževalnega programa, zato je še danes aktualna vizija škofa Jegliča, da je poslanstvo gimnazije tako vzgoja značaja kot izobrazba razuma, saj je »lahko kdo velik v kraljestvu znanosti, pa je neznačajen človek.«
Letos je praktikum potekal v pomladnih dneh že trinajsto leto in je obvezen za vse dijake 2. letnika. Pri njem šola sodeluje z najrazličnejšimi ustanovami po celi državi. Ta čas je tudi priložnost za spoznavanje različnih poklicev, predvsem tistih, ki vključujejo delo z ljudmi. V spodnjem zapisu lahko razberemo, kako preko tega projekta z mladimi dobesedno spreminjamo svet.
Priprava na šoli in šele nato delo v ustanovah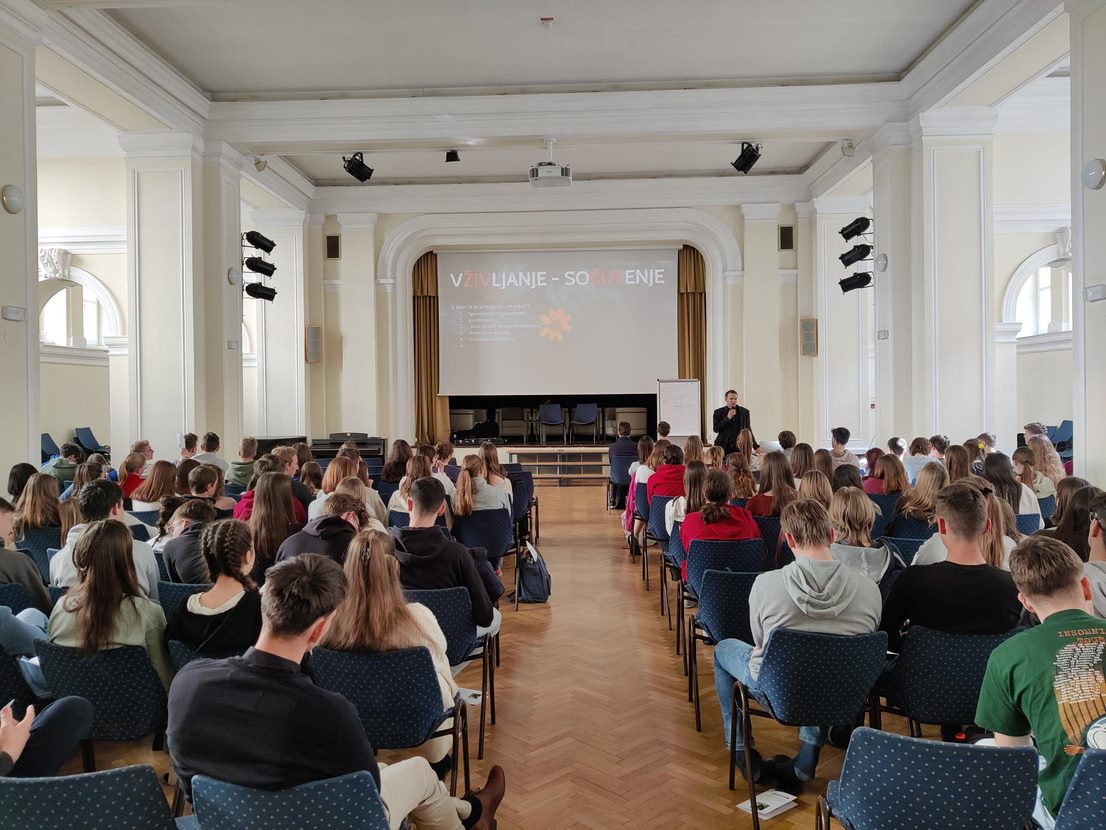 Dijaki si vnaprej izberejo eno izmed približno 15-ih ustanov, ki jo bodo obiskali. Pred obiskom imajo na šoli delavnice, kjer spoznajo ustanovo, značilnosti oseb, s katerimi se bodo srečali, ter naravo dela v prihodnjih dneh.  Prav vsi udeleženci – dijaki, učitelji spremljevalci, osebje ustanov in gojenci poudarjajo, da je skupen čas izjemno dragocen. To je namreč priložnost, ki omogoča pogled v drugačen svet, ki spreminja pogled na naš vsakdan.
Ko se svet postavi na glavo in je tako prav
V teh dneh dijaki spoznajo, da ni nič samoumevno. Ne zdravje, ne streha nad glavo, ne topel dom, ne varna država, ne ljudje, ki jih vsak dan srečujemo. Dijaki se učijo drugačnih vrednot in služenja v hvaležnosti, da imajo blagoslov take ljudi tudi srečati. Vez do vsakega človeka je sporazumevanje in ta je bila v enem izmed centrov za usposabljanje, delo in varstvo nadvse raznolika in svojevrstna »od sporočanja prek računalniške tablice, do veselega kriljenja z rokami pa do komaj opaznega nasmeha na obrazih varovancev.« S svojo neposrednostjo in spontanostjo so varovanci hitro dali čutiti dijakom, da so dobrodošli in veseli njihove družbe. Nenazadnje so v centrih dijaki opazili tudi izjemne učiteljice, nasmejane, navdihujoče in neskončno potrpežljive. Kakšna popotnica za morebitnega bodočega učitelja!
Krepitev osnovnega človeškega čuta do soljudi
Danes bolj kot kdajkoli prej občutimo pomanjkanje empatije in uvida v sočloveka. Dijaki na socialnem praktikum spoznavajo ravno nasprotno, namreč kako pomembna je izkušnja stopiti do bližnjega, če ne že kar v njegov svet, saj se tam lahko skriva nepoznano bogastvo. O tem je svoje vtise strnila spremljajoča učiteljica: »Očarala me je energija med dijaki in nebogljenimi ljudmi na drugi strani. Fantje so zaigrali venček domačih, igrali šah in se pogovarjali. Težko je opisati sij v očeh ostarelih, hkrati pa je ganljiv odnos dijakov do tistih, ki jim je bila pozornost namenjena.«
Drugačno okolje, drugačni odzivi dijakov
Okolje, ki ga nudijo tovrstne ustanove, je povsem drugačno od šolskega, kar lahko pri dijakih spodbudi nenadejan odziv. Nekateri izmed njih, ki potrebujejo znatno spodbudo za delo v razredu, so tu »samostojno in z navdušenjem sodelovali pri poteku delavnic za osebe z motnjami v duševnem in telesnem razvoju. Z uporabniki so se celo dopoldne pogovarjali, z njimi opravljali ročna dela in ob prostem času spili kavo ali odigrali partijo ročnega nogometa,« piše eden od učiteljev spremljevalcev, ki se je na obisk odpravil s skupino samih fantov. Lepo je opaziti tudi odprtost dijakov, ki so že po enodnevnem druženju v novem okolju praviloma sproščeni in uživajo v novi vlogah, so zavzeti in srčni.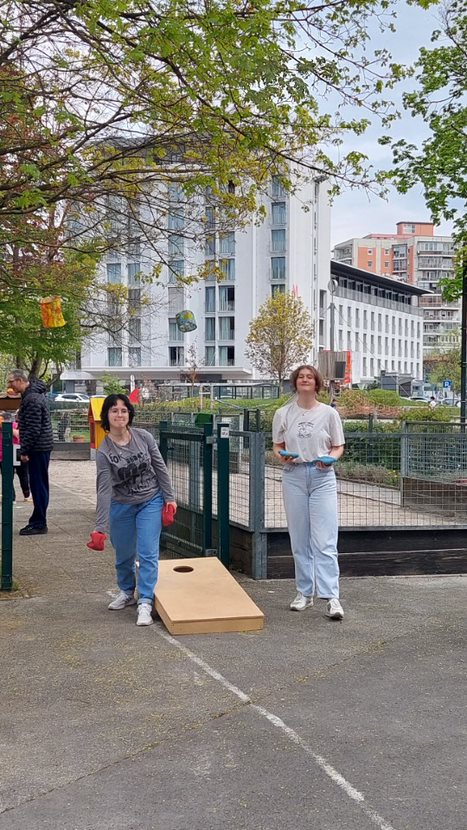 Strah in pogum
Ni enostavno stopiti iz cone udobja in se približati drugačnim. A dijake je opogumila misel, da si mnogi od teh ljudi sami ne izbirajo svojih usod in nanje nimajo vpliva, ljudem pa je potrebno olajšati življenjsko situacijo, v kateri so se znašli. Tako se pokaže srčnost človeške družbe. Učitelj, ki je dijake spremljal v azilni dom, je opazil, da se jih je najbolj dotaknil prihod avtobusa z migranti, saj so lahko v živo videli, kako so cele družine z majhnimi otroki prišle v zanje popolnoma neznan kraj skoraj brez osebne lastnine. Na poti so bili običajno že več tednov in vse, kar so imeli s sabo, je bilo shranjeno v dveh nahrbtnikih. To je za dijake neprecenljiva izkušnja, ki je ne nudi noben šolski predmet.
Namesto konca – žalost in …
Dijaki so pripovedovali o srečanju z žalujočim gospodom v hospicu, ki mu je pred tremi meseci umrla žena. »Skupaj z njim smo jokali in ga poslušali, da je lahko povedal, kar čuti in doživlja. Poudaril je, da so v življenju najpomembnejši odnosi. Edino to ostane takrat, ko ljubljene osebe ni več in ta odnos ostane za večno. Vse ostalo mine – položaj v službi, materialne dobrine, kariera, ostanejo samo odnosi in spomini na skupno preživet čas.«
… smeh: »Kje pa je Jerca danes?«
Učiteljica, ki je bila z dijaki v podjetju za zaposlovanje oseb z motnjami v duševnem razvoju, pravi, da se tam čas ustavi. »Vzdušje je sproščeno, življenje je enostavno.« Po enem dnevu sobivanja so se varovanci in dijaki že poznali po imenu in ko je dijakinja Jerca drugi dan zamujala, so se varovanci spraševali med sabo: »Kje pa je Jerca? A Jerca danes pride?« Kakšno veselje je zavladalo, ko je Jerca prišla!
Med sabo se znajo tudi dobrovoljno pošaliti, življenje ni vedno smrtno resno. Gospod, ki se je pred kratkim poročil z varovanko v drugem podobnem podjetju, precej pogosto ponosno pokaže svoj poročni prstan, odziv sodelavcev pa je ob tem rahlo zbadljiv: »Kaj pa ti stalno vrtiš ta prstan?«
Hvala Bogu za tovrstno veselje! In pripravljenost ustanov, ki vsako leto odprejo vrata dijakom in jim s tem omogočijo pogled v življenje, ki bi bilo sicer več ali manj skrito. Samo če namreč nekaj (s)poznamo, lahko to tudi vzljubimo. Tako družba pomembno dopolnjuje prizadevanja učiteljev, predvsem pri sprejemanju različnosti in preseganju lastnega egoizma. Ljudi utrjuje v zavedanju, da imamo vedno nekaj, kar lahko drugemu podarimo.
Lily Schweiger Kotar, prof.