Dolgo pričakovana ekskurzija v Francijo se je za nas, dijake 3. a, začela 7. 9. 2018 v poznih večernih urah, ko smo se navdušeni in pripravljeni na dogodivščine vkrcali na avtobus.
Sledila je nočna vožnja, kjer se je vsak poskušal namestiti, kakor je vedel in znal, in kmalu se ni več dalo razbrati, čigava je katera noga ali roka.
Prebudili smo se v prekrasno sončno jutro ter se polni pričakovanj odpravili na našo prvo destinacijo Strasbourg. Najprej smo si ogledali veličastno katedralo Naše Gospe oz. Notre Dame de Strasbourg, ki nas je pozdravila z glasnimi zvonovi. Notranjost pa nas je navdušila s prefinjenimi vitraji ter prelepo gotsko arhitekturo. Videli smo tudi izjemno zanimivo astronomsko uro, ki nam bo še dolgo ostala v spominu. Da pa je bil dan res popoln, je poskrbel ogled mesta z barčico, ki nas je popeljala skozi različne dele mesta ter nam razkrila skrivnosti Strasbourga.
Pred Parizom smo se vstavili še v Reimsu ter si ogledali tudi tamkajšnjo katedralo, ki nas ni nič manj navdušila kot prva. Da dan ne bi bil prepust, smo bili priča še organiziranemu protestu za varstvo narave ter se nasmejali ob komentarju prof. Cergolj, da so protesti že skoraj francoski narodni šport.
Utrujeni a zadovoljni smo se nato odpravili proti končni destinaciji Parizu, na poti pa sta nas spremljala zvok kitar ter naše (bolj ali manj) ubrano petje. Dan smo zaključili še z molitvijo ter se počasi odpravili spat.
Katarina Fabiani
Ste že jedli polže? … Mi smo jih!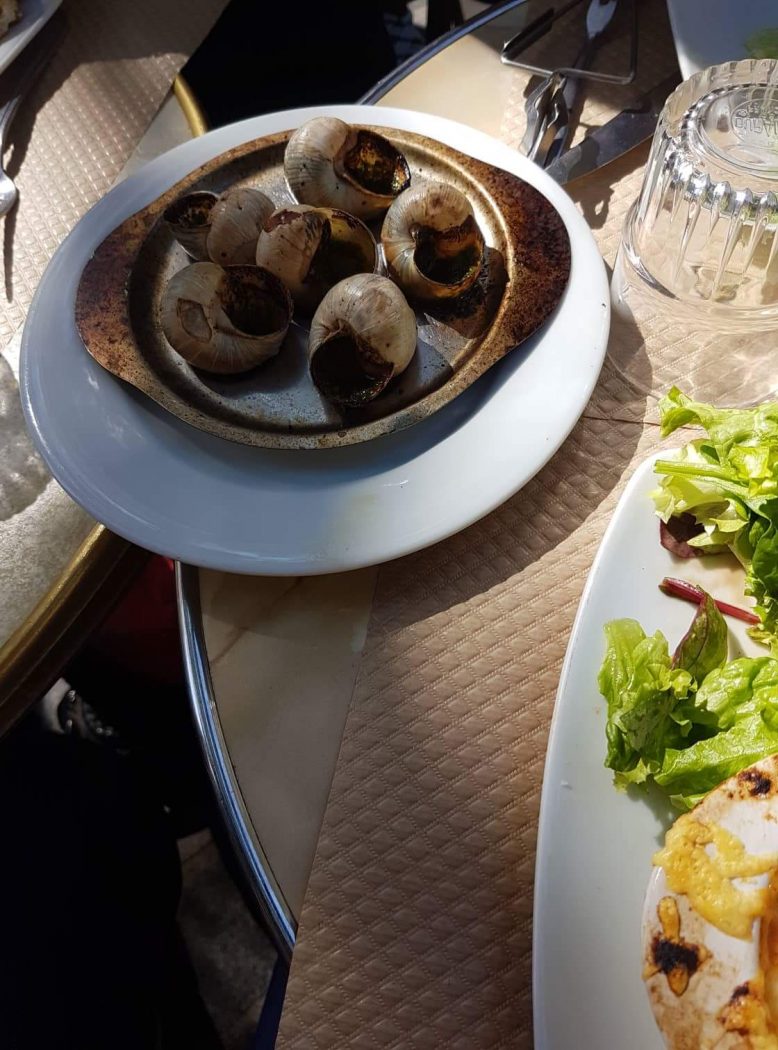 Med drugim dnem eksurzije smo si pogumni štirje dijaki med kosilom privoščili tradicionalno francosko jed. Escargot – to je posebna vrsta polžev, ki se jih največkrat pripravi skupaj z zeliščnim maslom in česnom. Okus jedi je bil za vse presenetljivo dober, tekstura pa nas je spominjala na hobotnico ali lignja. Da pa je bilo sicer odlično jed težko pojesti, nas je ob vsakem pogledu na krožnik vedno znova opominjal naš razum, ki nam je dopovedoval, da jemo prave polže in da je to za našo slovensko kulturo nekaj precej neobičajnega. Na splošno pa je ta jed unikatna tako kot Pariz, v katerem živi ena najpomembnejših kultur na svetu.
Nika Klep Zupančič
9. 9. 2018 se je za nekaj neverjetno prikupnih nogometnih navdušencev 3. a zgodil izjemen dogodek. V Stade de France je potekala prva tekma francoske reprezentance po zmagi na svetovnem nogometnem prvenstvu. Tekel je pogovor, izmenjevala so se mnenja, na koncu pa je padla ideja, da bi se tega nepozabnega dogodka tudi udeležili. Ideja je, po milosti našega dragega razrednika in s precej truda s strani zainteresiranih, na koncu tudi obveljala. Na stadion smo se izjemno entuziastični odpeljali z metrojem. Pred stadionom smo se, opremljeni z navijaškimi šali, odeli v barve Francije ter se polni pričakovanj povzpeli na tribune, kjer smo počakali na začetek tekme. Tekom le-te smo se dokazali kot izjemni navijači, ki se lahko po glasnosti in navdušenju merijo z najboljšimi. Skupaj z ostalimi navijači smo ob koncu proslavljali ob zmagi Francije proti Nizozemski z 2:1 ter se udeležili slavja, ki je sledilo. Navdušeni smo se začeli odpravljati proti domu, pred tem pa še pred postajo zapeli Sebastjanu, ki je ravno dopolnil 17 let. Vse je potekalo gladko do trenutka, ko je bilo treba štempljati vozovnice, saj smo po nesrečnem naključju imeli napačne. Hitro smo se zbrali in poiskali rešitev. Peš smo se odpravili do najbližje postaje ter ujeli zadnji vlak tistega dne. Toda veselje se je kmalu končalo, saj smo na žalost kasneje ugotovili, da je bil to zadnji vlak v celem Parizu. Ker smo sredi Pariza ostali brez prevoza, nam ni preostalo drugega, kot da vzamemo pot pod noge ter se od Eifflovega stolpa odpravimo peš do našega hostla (cca. 6–7 km).  Ob spremljavi petja in šal smo si tako ogledali še čarobne pariške ulice ponoči ter se izmučeni, a bogatejši za novo avanturo in neverjetne spomine končno vrnili domov.
Katarina Fabiani
V ponedeljek je bilo jutro umetniško obarvano – ogledali smo si Louvre, kraj, na katerem bi ljubitelji umetnosti ostali več let, če bi jih le držale noge. Sami pa si takšnega razkošja žal nismo mogli privoščiti, saj nas je po odmoru za kosilo, za katerega smo venomer hvaležni, četudi nam pariške cene nekoliko izpraznijo žepe, čakal daljši samostojen sprehod po desnem bregu Sene.
Po spancu in običajnem zajtrku smo tudi naslednji dan pričeli z ogledom umetnin – tokrat s poudarkom na impresionističnih delih velikih umetnikov, nad katerimi je bilo navdušenih veliko dijakov našega precej umetniško naravnanega razreda. Po kosilu smo se z metrojem, ki nam je sedaj postal že kar nekoliko domač, odpeljali do Dôme des invalides in si ogledali še mogočen Napoleonov grob. Zatem smo se vsaj za kratek čas vrnili v slovensko okolje, saj smo obiskali slovensko ambasado, kjer smo izvedeli nekaj več o njenem delovanju in pomenu, za kar smo bili vsekakor zelo hvaležni. Za vrhunec dneva pa se je bilo resnično potrebno povzpeti – ogledali smo si namreč baziliko Sacré Coeur, od koder se je razprostiral čudovit pogled na (zgolj) del tega sicer mogočnega mesta.
Zala Reberc
Foto: Vita Ciraj
Sreda, 12. 9. 2018
Dijaki 3. a smo se zjutraj odpravili v palačo Versailles. Ker se je pot zavlekla zaradi prometa, smo imeli dovolj časa, da smo na avtobusu prisluhnili šansonu in klasičnim skladbam. Po prihodu je sledil ogled razkošnih soban, opremljenih z najrazličnejšim pohištvom, pozlačenimi svečniki, ogromnimi lestenci in razno ostalo dragoceno staro kramo. Po ogledu smo se slikali in sprehodili po parku, kjer smo pojedli malico in počivali v sencah dreves. Ob 15. uri smo se povzpeli na najeta kolesa in se eno uro vozili po versajskem parku. Kolesarjenju je sledil sprehod do velikega Trianona in kratka predstavitev versajske pogodbe. Trianon in vasico Marie Antoinette smo si tudi ogledali. Ob 19. uri je bil čas za večerjo, ki smo si jo dijaki poiskali v mestu Versailles. Pred tem nas je na glavni ulici presenetil še japonski cesar, ki se je ravno peljal mimo v spremstvu številnih policijskih avtomobilov in za katerega so izpraznili celotno parkirišče pred palačo (vključno z našim avtobusom). Na koncu dneva smo se utrujeni vrnili v hotel.