Bob Chilcott je eden izmed najbolj dejavnih sodobnih britanskih skladateljev in zborovskih dirigentov. V veliko čast nam je, da je za Dekliški zbor Sv. Stanislava Škofijske klasične gimnazije napisal pesem, ki jo bo zbor zapel na 11. simpoziju zborovske glasbe v Barceloni. V spodnjem intervjuju je Chilcott prijazno odgovarjal na vprašanja deklet. Vabljeni k branju zgodbe o njegovem strastnem odnosu do glasbe, zavezanosti do veselega navdušenja nad življenjem in radosti duha.
Bob Chilcott se že celo življenje ukvarja z zborovsko glasbo, zadnje desetletje pa je svoje ustvarjanje posvetil skladateljevanju, dirigiranju in promociji zborovskega petja po celem svetu. Zato ni naključje, da je z besedami v naslovu označil povezovalni pomen, ki ga je glasba vedno imela. Pesem, ki jo je napisal za Dekliški zbor sv. Stanislava, ima naslov God of the Open Air in temelji na istoimenski veličastni hvalnici ameriškega avtorja Henryja Van Dykea. Organizatorji zborovskega simpozija v Barceloni so namreč za vsak zbor pri najprepoznavnejših skladateljih naročili dela, ki bodo premierno izvajana na omenjenem simpoziju. Dekleta v Barcelono potujejo v mesecu juliju.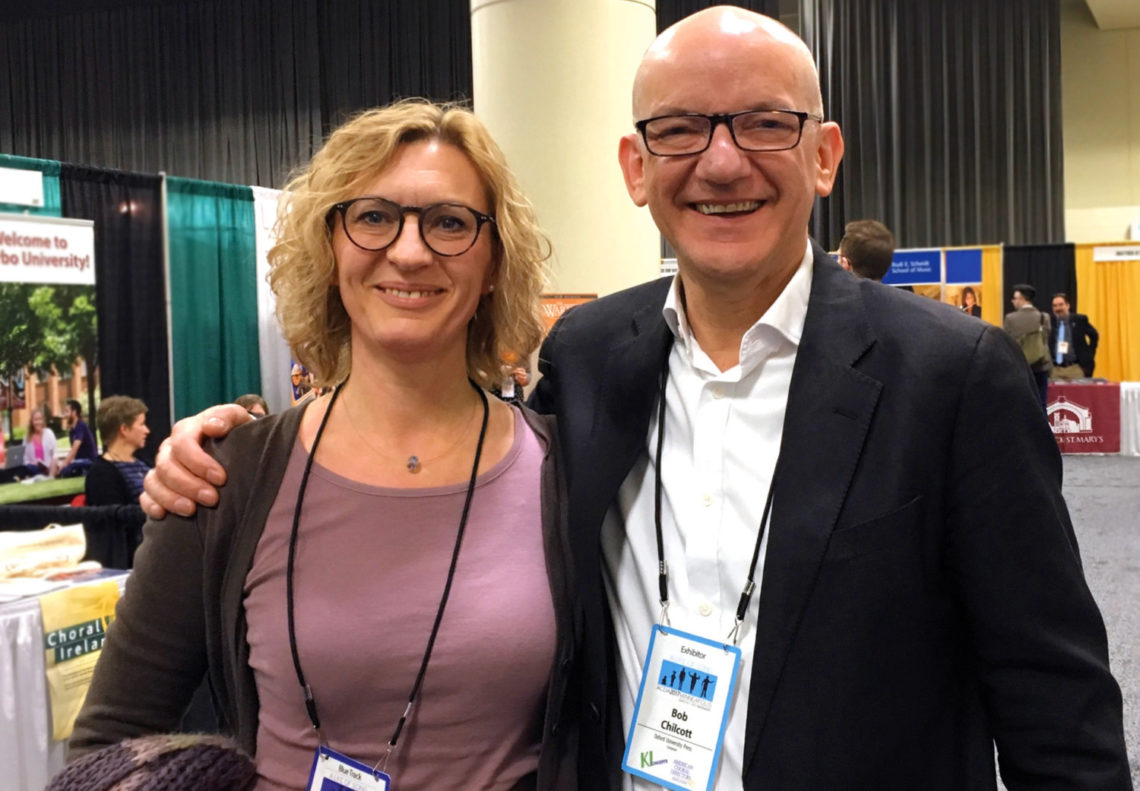 V spodnjem intervjuju je Bob Chilcott prijazno odgovarjal na vprašanja deklet. Vabljeni k branju zgodbe o njegovem strastnem odnosu do glasbe, zavezanosti do veselega navdušenja nad življenjem in radosti duha.
"Obožujem svobodo skladateljevanja."
Chilcott piše zborovsko in instrumentalno glasbo, rad uglasbi tudi poezijo, ki mu je blizu. Skladati je začel pri osmih letih, ko je začel hoditi v šolo, ki svoje gojence sistematično uči tudi petja in igranja na inštrumente. Tako je vsak dan imel priložnost peti v kapeli v Cambridgu. Želel si je pisati tako glasbo, ki jo je takrat pel. Veliko kasneje, pri 40, je začel pisati glasbo za visoke glasove, večinoma za mlade pevce. Sam pravi takole: »Svoboda skladateljevanja mi daje moč, ki se odraža v večini moje glasbe za visoke glasove, in je zelo pomembna za moje delo.«
Klavir je igral odločujočo vlogo pri začetnem navdihu za komponiranje. »Naučil sem se prvi stavek Sonatine Marica Ravela in drugi klavirski preludij Geroga Gershina in želel sem si skladati tako glasbo!«
Chilcott se težko odloči, katera skladba mu je najljubša. Na nek način vsaka odseva njegovo življenje v trenutku, ko jo je pisal, in to v dobrem in slabem. Vsekakor je najbolj ponosen na svojo mogočno skladbo Pasion po Janezu, iz leta 2014.
Osebno življenje se vedno zrcali v človekovem ustvarjanju. Za Chilcotta je glasba način življenja. Ko piše skladbo, nanjo nenehno misli in postane del njegovega zasebnega in družinskega življenja. »Rad imam otroke, imam jih pet, in še vedno rad razmišljam kot otroci! Rad sem tudi v stiku z ljudmi, se z njimi pogovarjam, in vse to se odraža v mojih delih.«
"Glasba je stvar velike lepote, o kateri se je potrebno učiti in jo vzljubiti."
Glasba vpliva na izvajalce in poslušalce. Ravno zato so mu pri srcu nastopi v živo, saj je zelo pomemben stik med nastopajočimi in publiko. Ena najlepših stvari pri nastopanju je ravno vzpostavljanje te povezave, ki jo glasba omogoča. Glasba je stvar velike lepote, o kateri se je potrebno učiti in jo vzljubiti. Mladi danes imajo toliko izbire, kar se tiče glasbe. Pomembno za njih je, da se poistovetijo z glasbo, ki jo imajo radi, in na njej vztrajno delajo.
God of the Open Air/Hvalnica naravi: »Želel sem napisati pozitivno in iskreno pesem.«
Chilcott prizna, da je bil navdušen, ko je ugotovil, da bo pisal skladbo za Dekliški zbor sv. Stanislava Škofijske klasične gimnazije. "Zelo rad imam zvok in energijo vašega zbora."
Kako se je lotil skladateljevanja? Najprej je poiskal besedilo z močnim sporočilom. Našel je pesem ameriškega pesnika, učitelja in duhovnika Henry-ja Van Dyke-a (1852–1933). Del pesmi God of the Open Air/Hvalnica naravi je Chilcott uglasbil. Pesem je pisal je približno teden dni. "Popolnoma naravno je, da sem o skladbi dolgo časa razmišljal, samo pisanje po tem pa je hitro steklo."
Asimetrična dinamičnost 5- in 7-dobnega taktovskega načina, ki jo srečamo v skladbi, mu je zelo všeč, ker je hitra ter daje s tem občutek odločnosti in nujnosti.
In kakšni so bili vtisi po tem, ko je prvič slišal interpretacijo svoje pesmi? "Bil sem navdušen nad tem, da ste jo zapele tako, kot sem si jo tudi sam večinoma predstavljal. To je vedno zelo ganljivo, ker mi to daje občutek, da čeprav se nismo nikoli srečali, smo skupaj vzpostavili stik. Gre za čudovito vez, ker ste se poistovetile z mojo idejo pesmi in jo vzele za svojo. To je ena izmed čarobnih stvari, ki jo lahko naredi glasba. Hvala vam!"
Kratki odgovori na vprašanja deklet:
So vas starši vedno navduševali nad glasbo?
Moji starši niso bili glasbeno usmerjeni, vendar so vedno spodbujali mojo ljubezen do nje, za kar sem jim zelo hvaležen.
Tudi sami pojete?
Včasih sem pel. Dvanajst let (do leta 1997) sem pel pri angleški skupini The Kings Singers.
Vaš najljubši skladatelj?
To je pa težko vprašanje! Veliko skladateljev mi je všeč: angleški renesančni skladatelj Thomas Tallis, madžarski skladatelj Gyorgy Ligeti, rad imam Rachmaninova (še posebej njegovo 3. simfonijo in Simfonične plese) in Gustava Mahlerja. Tudi Brahms mi je všeč!
Če bi bila glasbe barva, katera bi bila?
Bila bi raznobarvna, najbrž modra, vendar gotovo tudi rumena, ki je moja najljubša barva!
Kaj še počnete v življenju, poleg skladateljevanja seveda? 
Rad imam šport. Včasih sem igral nogomet, res ga obožujem. Zadnjih devet let vsako jutro 20 minut skačem s kolebnico (kot boksar)! Včasih sem tekel. Rad tudi berem romane in kuham.
Katero glasbo še posebej radi poslušate?
Rad imam različne zvrsti glasbe. Sem ljubitelj angleške renesančne zborovske glasbe (angleška zasedba Stile Antico to glasbo čudovito zapoje, zato imam veliko njihovih CD-jev). Rad imam nemške samospeve, še posebej Schumannove. Sem zelo navdušen nad kitajsko pianistko Yuja Wang, ki briljantno igra klavir in ima samosvojo izrazno moč. Rad imam jazz. Ameriški pianist Herbie Hancock mi je zelo ljub. Rad imam tudi jazz/funk, še posebej ameriško skupino The Yellowjackets, s katero sem imel čast delati lansko leto.
Intervju so pripravila dekleta Dekliškega zbora sv. Stanislava Škofijske klasične gimnazije in Lily Schweiger Kotar.
Save
Save
Save
Save