Konec avgusta 2018 je na Cipru potekalo izobraževanje evropskih učiteljev na temo "Okoljska vzgoja/vzgoja za trajnostni razvoj in učenje v naravi" v okviru projekta Erasmus +.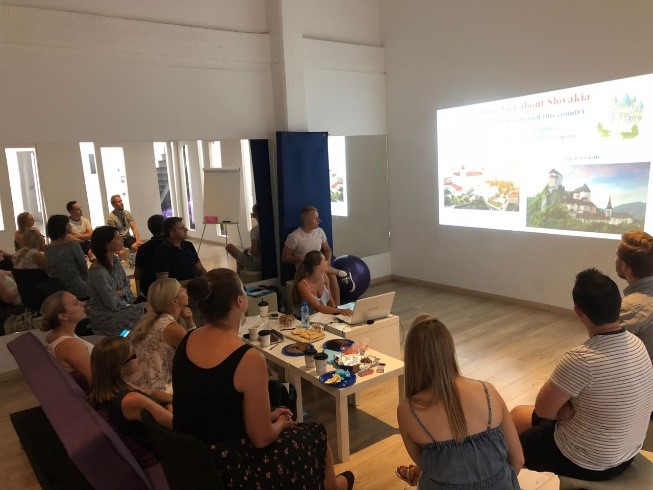 Udeleženci
Ciprški organizatorji (STANDoutEdu) so nam pripravili zanimiv program učenja v naravi. Najprej smo udeleženci predstavili svojo državo in svojo šolo, kar je prijetno sprostilo ozračje in nam omogočilo lažjo navezavo stikov. Sledila je organizatorjeva daljša predstavitev Cipra predvsem v smislu skrbi za okolje, problemov s pitno vodo, možnosti recikliranja in njihovega šolskega sistema nasploh. V naslednjih dneh smo obiskali vasico na zahodni obali in spoznali pripravo kruha in testenin, obiskali botanični vrt in izvajali različne delavnice na tej lokaciji, obiskali bio farmo v Kampali, kjer smo spoznali edinstven način upravljanja z živalmi, kompostiranja, oskrbe z vodo in krmo in kako vse to vključujejo v izobraževanje mladih, videli smo površinski kop azbesta itd.
Izjemno dragoceno je videti, kako se s problemi izkoriščanja naravnih virov ukvarja tako sušna dežela, kot je Ciper. Tu imajo le 40 deževnih dni na leto. Seveda pa nam  ni ostala tuja problematika delitve tega otoka na severni, turški del, in južnejši, grški del. Grki nenehno poudarjajo, da je šlo za turško okupacijo in to bolečino nosijo v srcu, a nekako poskušajo živeti brez večjih razdorov in strpno.
Najdragocenejše je bilo druženje s kolegi z Irske, Litve, Slovaške in Portugalske, izmenjava naših bolj ali manj bogatih pedagoških izkušenj in seveda brušenje naše angleščine. Nepozabna izkušnja, ki daje zagona za naprej.
Še nekaj povezav:
Kaj je vzgoja za trajnostni razvoj
https://www.youtube.com/watch?v=3OdP7bYe5wk,
https://www.youtube.com/watch?v=5G0ndS3uRdo,
Nekaj idej o poučevanju v botaničnih vrtovih
https://paradisepraises.com/botanical-gardens-field-trip-mexico/.
Ana Bavec, prof. biol.