V torek, 13. junija, smo se v poznem popoldnevu, ko je vročina že nekoliko popustila, povzpeli na Šmarno goro. Družbo nam je delalo še dobrih sto podobno zagnanih, da bi nam pot navkreber hitreje minila, so nam pripeli štartne številke ter nam merili čas.
Na že 22. izvedbi Rekorda Šmarne gore v organizaciji TK Šmarnogorska naveza smo se po najkrajši poti »čez korenine« na vrh najprej podale tekmovalke. Med 22 udeleženkami smo bile tudi štiri predstavnice Škofijske klasične gimnazije – tri dijakinje in profesorica.
Absolutno najhitrejša v cilju je bila primorska gorska tekačica Ana Čufer s časom 15′ 28". Me pa smo tudi odlično odtekle, saj so vsi časi okrog dvajset minut izredno dobri. Lahko preverite sami, če ne verjamete.
Med našimi dijakinjami je bila najhitrejša Lana Kovačič iz 1. č, ki je s časom 19′ 46" osvojila 4. mesto med mladinkami ter 13. mesto absolutno. Vtise po tekmi je Lana strnila v naslednji zapis: »Tekma me je zelo navdušila. Sam tek je bil zelo naporen, ko sem prišla v cilj, pa sem bila presrečna. Všeč mi je bil športni duh sotekmovalk. Najbolj všeč mi je bila pogostitev, ki nas je čakala na vrhu. Na začetku, ko sem videla, kako mimo mene hitijo same dobre tekačice, sem se skoraj vdala. Potem sem si izbrala dijakinji iz moje šole in ves čas tekla za njima. Na koncu, ko sem imela še nekaj energije, sem pospešila, prehitela nekaj tekmovalk in v dokaj kratkem času prišla na cilj. Ko sem bila proti vrhu že čisto izmučena, mi je nek varnostnik na vmesni točki priporočil, kakšno hitro hojo naj uberem do vrha, in to mi je zelo pomagalo. Moja taktika se je odlično obnesla. Z rezultatom sem zelo zadovoljna, tega pa mi ne bi uspelo doseči brez strastnih navijačev, ki so navijali za vse nas. Naslednje leto se bom tekme, če bo le možno, zopet udeležila.«
Klara Strehar iz 3. d je bila s časom 19′ 50" med mladinkami peta, absolutno pa 14. Eva Erjavec iz 1. č, ki je s časom 20′ 03" osvojila 6. mesto med mladinkami in bila absolutno 16., je po tekmi zapisala: »Vse se je začelo, ko sem se skupaj s svojimi sošolci odločila oditi na tekmo, ki naj bi potekala na Šmarni gori. Sprva smo tekmo in ves napor precenili. Šele po napornem petkovem treningu smo se začeli zavedati, zakaj nas je prijavljenih le malo čez 100. Na dan tekme sem postala zelo živčna, saj nisem bila psihično in fizično pripravljena na takšen napor. Ob podpori profesorice in sotekmovalcev sem zbrala pogum in se z vso močjo podala na vrh. Na koncu, ko sem zaslišala svoje ime na cilju, sem skoraj zajokala od sreče, saj si nisem nikoli predstavljala, da bom tekmovala v teku s tako dobrimi tekmovalci.«
Profesorica slovenščine Špela Zupan sem bila izredno vesela povratka na to tekmo, svojega dosežka izpred let sicer nisem uspela izboljšati, zato izziv ostaja za naslednjo leto, sem pa bila presrečna ob doseženem času 18′ 22", kar je zadostovalo za 10. mesto absolutno oz. šesto med članicami.
Štartati pol ure pred tekmovalci je bil za nas velik privilegij, saj smo si v cilju že malce spočile ter se okrepčale, ko so se tekmovalci šele pognali v hrib. Takrat smo se zlile z množico navijačev ter jih spodbujale v zadnjih metrih. Bile smo priča novemu rekordu proge, ki ga je postavil Eritrejec Petro Mamu (11′ 08″), s čimer je za tri sekunde izboljšal prejšnji najboljši čas v lasti Azerye Teklaya izpred štirih let.
Naši dijaki so s tehnično kar zahtevno progo za prvič odlično opravili. Jaka Grad iz 1. c je do cilja potreboval točno 17 minut, kar je zadostovalo za 6. mesto med mladinci oz. 42. absolutno med 86 tekmovalci: »Na Šmarno goro sem tekel prvič in vsekakor nisem mislil, da bo tako naporno. Tekma pa me ni le zelo utrudila, temveč mi dala motivacije za naslednje leto in temu vzpone.«
Bor Moškon je bil s časom 18′ 11" med mladinci šesti, absolutno pa 55., v največje zadovoljstvo pa mu je bila zmaga na »družinski tekmi«, saj je za nekaj sekund ugnal svojega očeta: »Tekma je bila odlično organizirana. Kljub poletni vročini na progi nisem imel večjih težav. Tudi z rezultatom sem zadovoljen. Seveda pa ne smem pozabiti omeniti odlične pogostitve na samem cilju.«
Jakob Železen iz 1. c je bil s časom 18′ 19" sedmi med mladinci, absolutno pa je osvojil 56. mesto: »Tek na Šmarno goro je bil zelo naporen. Pridobil sem nove izkušnje, saj je bila to moja prva gorska tekma. Ostali tekmovalci so bili prijazni in radi odgovarjali na vprašanja.«
Na vrhu Šmarne gore smo s pogledom na Zavod sklenili, da se Rekorda Šmarne gore ponovno udeležimo naslednje leto ter za to odlično organizirano tekmo navdušimo še koga med dijaki in profesorji.
Rezultati: http://remote.timingljubljana.si/timing/rezultati.aspx?IDtekme=3234&tip=E
Špela Zupan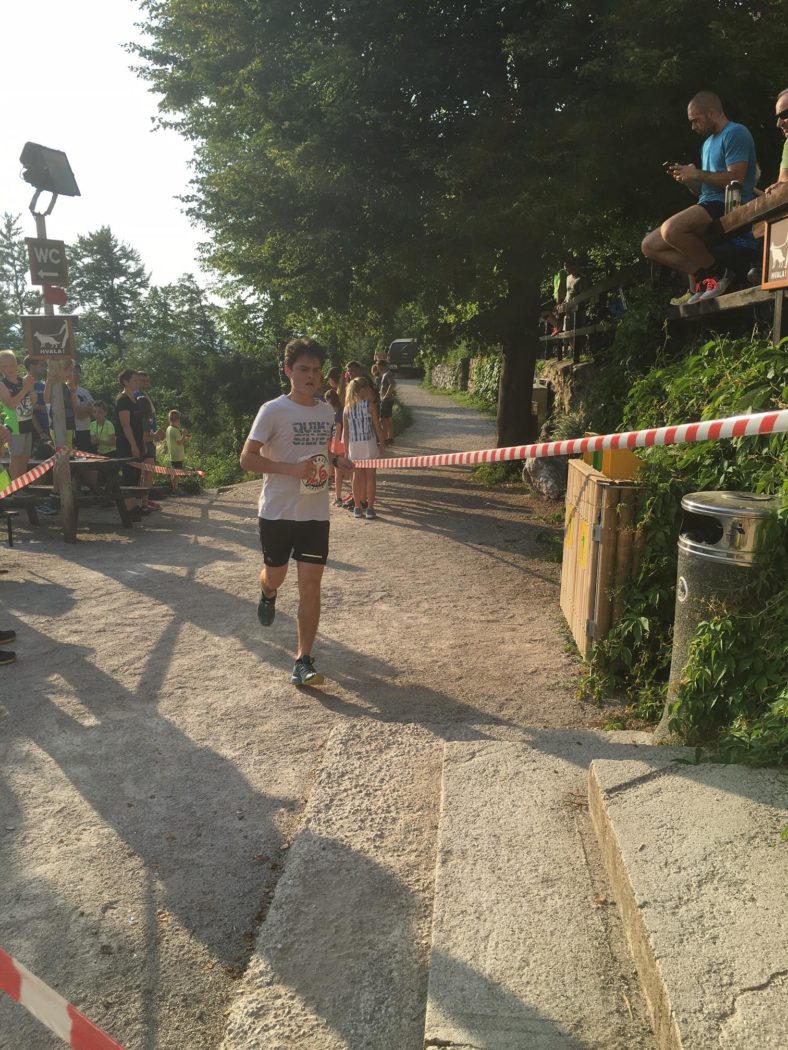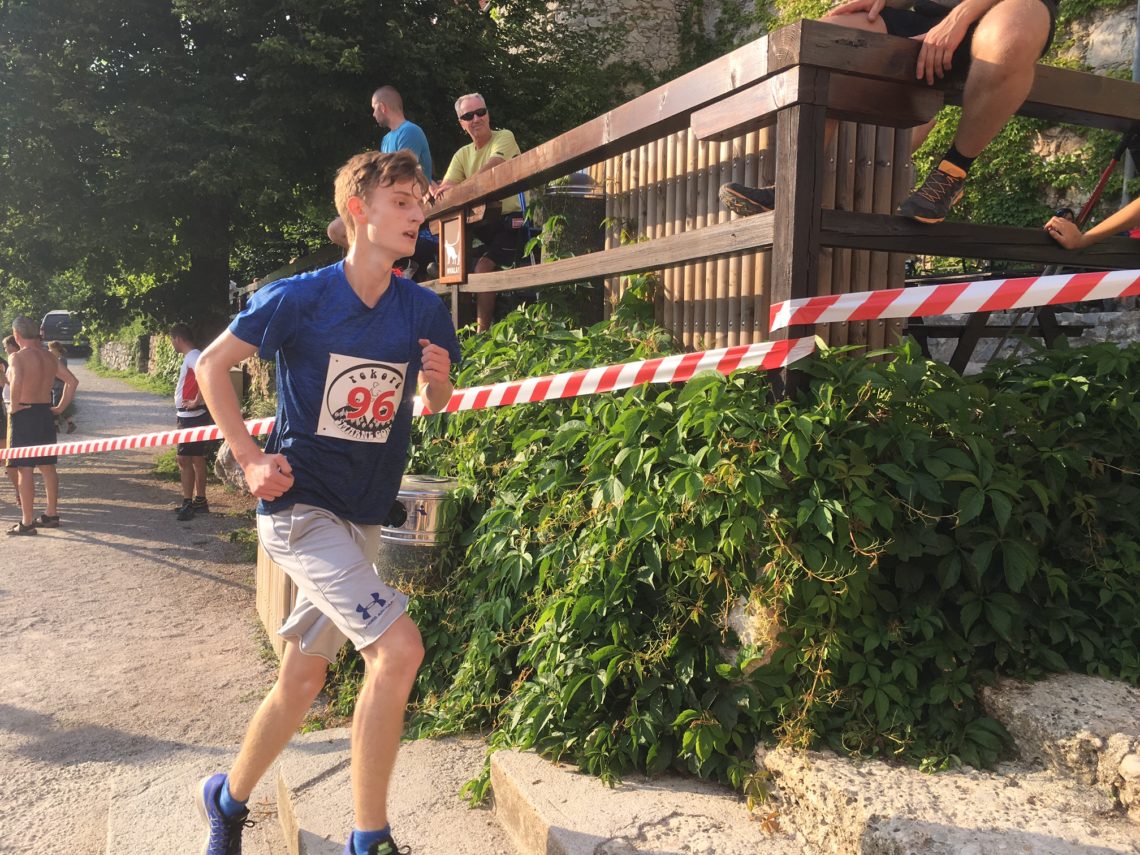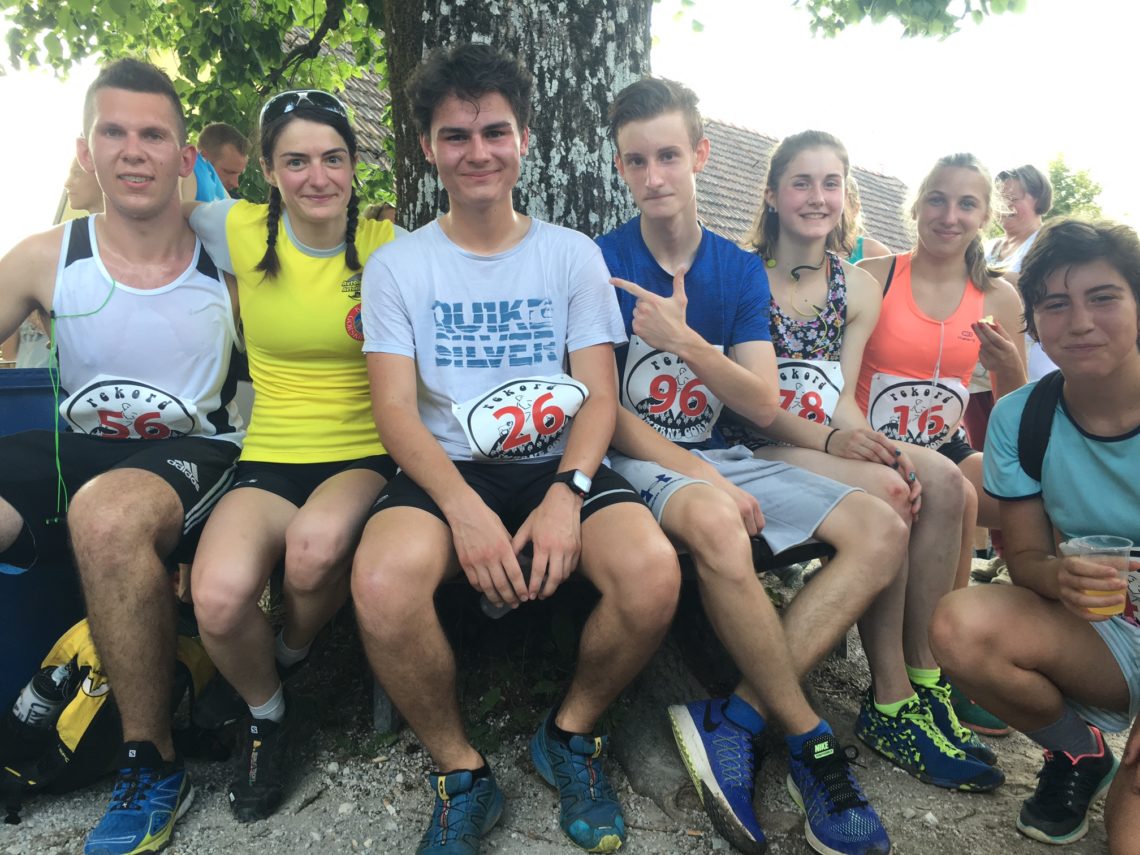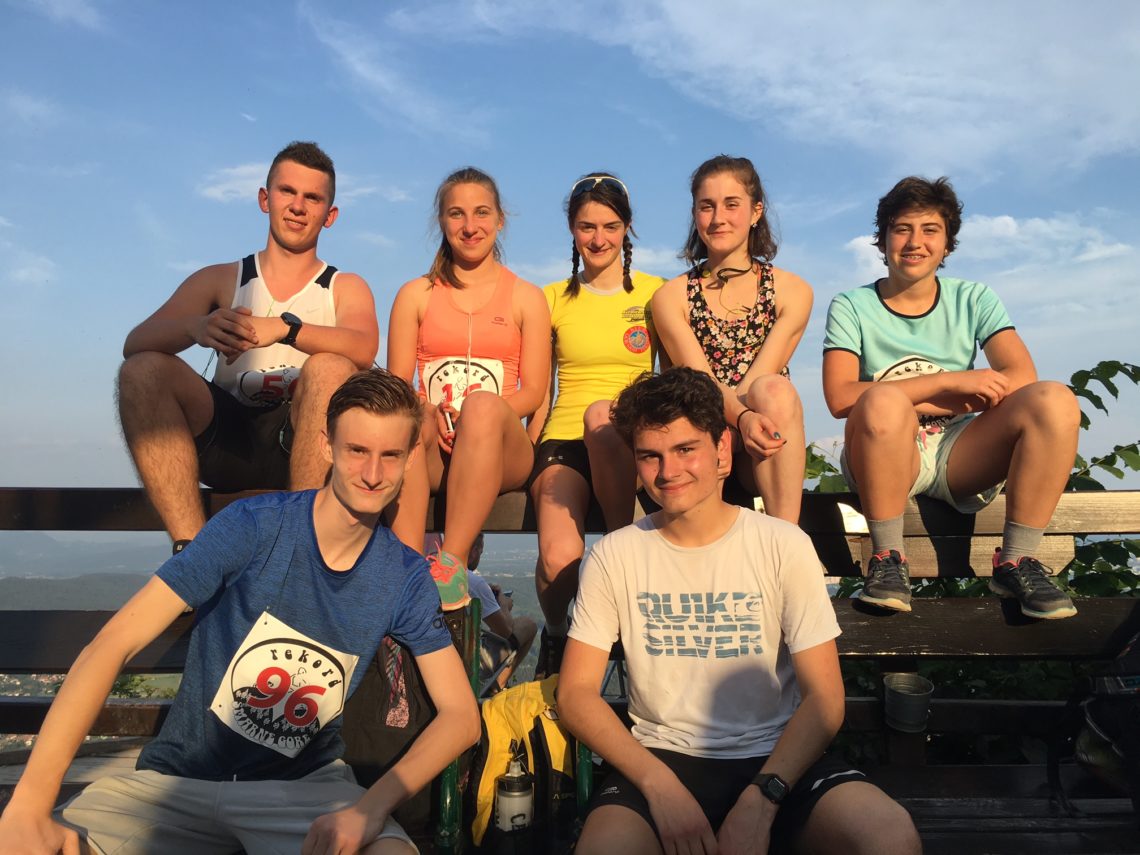 Save
Save