V prvi polovici novembra smo se dijaki 1. a razreda odpravili na težko pričakovano duhovno obnovo, katere glavni cilj je bil medsebojno spoznavanje in poglabljanje odnosov med člani našega razreda. Hkrati je bil poudarek tudi na zaupanju v Boga ter zbližanje z njim.
Skupno druženje smo pričeli v četrtek, 10. 11. 2022, ob 17.30 v Adergasu. Tisti, ki smo poslušali razlago tamkajšnjega župnika, vemo, da zanimivo ime te gorenjske vasice izhaja iz nemščine in da so naselje tako poimenovale nemške redovnice dominikanke, ki so tja prišle z namenom, da si postavijo samostan, ki stoji še danes. Samostan, ki je trenutno zapuščen (v njem biva le adergaški župnik), je zaradi mnogih praznih sob zelo primeren za gostovanje prav takšnih skupin, kot je bila naša. Ob prihodu so nas poleg župnika lepo sprejeli tudi kuhar in njegovi pomočnici, ki so ves čas našega bivanja tam skrbeli za pripravo slastnih obrokov. Poleg tamkajšnjih uslužbencev so nam družbo delali in vikend polepšali še animatorji iz 4. a oddelka ter kaplan Gregor, ki so najbolj zaslužni, da je vikend potekal nemoteno in nadvse prijetno.
Za začetek smo se namestili v sobe, nato pa je že sledila prva skupna dejavnost. V skupnem prostoru smo se pogovorili o pravilih ter se razvrstili v pare, po katerih smo se pogovarjali tekom vikenda. Vsak si je izbral 21 različnih sošolcev in sošolk ter z njimi poklepetal po 10 minut. Ti trenutki so bili resnično prijetni in gotovo dobrodošli, saj so prispevali k medsebojni povezanosti. Prvih nekaj pogovorov je sledilo že takoj po razporeditvi, nekaj več pa malo kasneje. Med prvim in drugim krogom klepetov smo sošolcem predstavili vsak svoj plakat, na katerem se je vsak podrobneje predstavil, morda dodal kakšno sliko in odgovoril na nekaj vprašanj, ki nam jih je že doma posredoval kaplan. On je menil, da je najpomembnejše vprašanje, na katerega je odgovoril prav vsak, pri katerih letih si želiš poroke. Odgovori so si bili precej različni in zelo zanimivo je bilo poslušati mnenja ostalih sovrstnikov. Sledila je večerja in nato naslednji krog pogovorov, kasneje pa priprava na spanje. Noč je minila brez zapletov, le kaplan je nekajkrat posredoval in naredil mir, predvsem v fantovskih sobah.
Petek smo začeli ob 7.30, kar je pri mnogih sošolcih izzvalo neodobravanje, češ da bi lahko spali dlje. Pri zabavni igri, pri kateri se je razred razdelil na kosmiče in mleko, smo si pošteno razmigali kanček neprespano telo, nato pa smo se odpravili na okusen zajtrk. Sledili so pogovori ter delo v manjših skupinah pod vodstvom enega izmed animatorjev, v katerih smo predelali temo, ki so nam jo animatorji prej predstavili v krajši gledališki igri. Po kosilu jo je velik del razreda mahnil na bližnje igrišče, kjer smo timskega duha preizkusili v odbojki in drugih skupinskih igrah. V gozdu nedaleč stran je nato sledila kraja zastavic. To je igra dveh skupin, katerih cilj je nasprotnikom odvzeti čim več zastavic, ki so jih razporedili po dodeljenem ozemlju. Boj je bil napet in pridružili so se nam tudi animatorji ter kaplan, ki je zavzeto pomagal svoji ekipi. Po ogorčeni bitki smo se, z nekaj bojnimi ranami, vrnili v prostore samostana ter se vsi blatni hitro očedili in napotili v cerkev. Sledila je priprava na sveto spoved ter petje v prelepi farni cerkvi Marijinega oznanjenja. Tam smo kasneje tudi darovali sveto mašo v družbi nekaj tamkajšnjih župljanov. Tamkajšnji župnik si je po bogoslužju za nas vzel še malo časa in nam predstavil cerkev, njeno zgodovino ter zgodovino kraja. Posebej vznemirljiv je podatek, da se pod cerkvijo nahaja grobnica pokojnih redovnic, ki so delovale v tem samostanu. Po napornem dnevu se je prilegala obilna večerja, dan pa smo sklenili z zanimivim in domiselnim zabavnim večerom, polnim prikupnih in izvirnih iger. Noč sicer ni minila brez posredovanja kaplana, a menim, da smo se izkazali in nismo delali prevelikega kravala.
Zadnji dan so nas dobrodušni animatorji v postelji pustili malo dlje, po bujenju pa je sledil zajtrk. Nato smo se zavzeto lotili pospravljanja prostorov, v katerih smo preživeli zadnje dni, in to opravili hitro ter temeljito, kot se spodobi. Nadaljevali smo s prav posebno dejavnostjo – pisali smo si namreč pismo, ki ga bomo prejeli na naši zadnji skupni duhovni obnovi v 4. letniku. Na voljo smo imeli precej časa, da sebi iz prihodnosti sporočimo čim več podrobnosti iz sedanjega življenja, odnosov v razredu ter med družinskimi člani, kaj nas teži in nam dela težave ter morda kakšen utrinek z duhovne obnove, ki se je že bližala koncu. Sporočilo smo nato zapakirali v kuverte, naslovljene na nas iz prihodnosti, sedaj pa čaka na nas v arhivih šole. Sledila je še sklepna maša, na kateri smo Boga slavili s pesmimi in se mu zahvalili za pretekla dva dneva ter ga prosili, naj nam stoji ob strani še v prihodnje. Sledilo je izvrstno kosilo, nato pa smo se zahvalili vsem, ki so soustvarjali ta dva dneva, se fotografirali ter odšli vsak svojo pot, z mnogo novih skupnih spominov.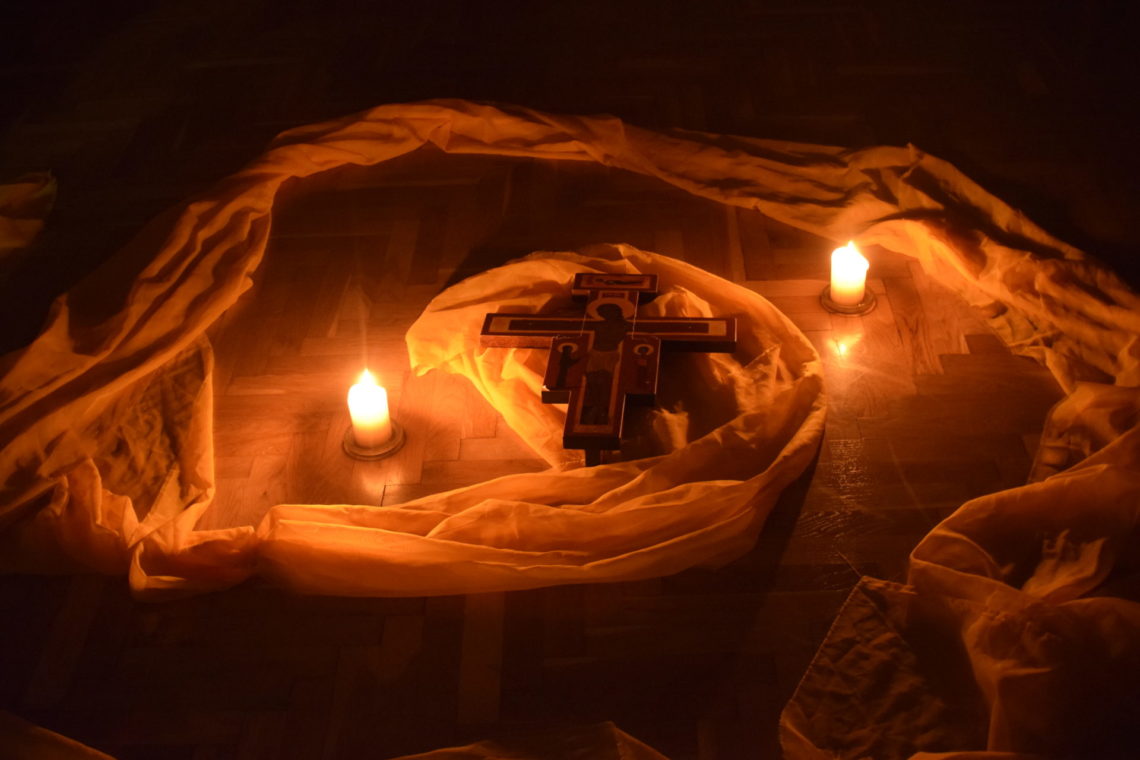 Duhovna obnova je izredno pripomogla k boljši povezanosti drug z drugim, bila je odlična priložnost za tkanje trdnejših prijateljskih vezi, hkrati pa nas je spodbudila, da takšne dogodke organiziramo tudi sami in s tem še poglobimo odnose ter ustvarimo nepozabne spomine. Le-teh se je nešteto nabralo že do sedaj, velik del pa predstavlja ta prva duhovna obnova na naši skupni poti skozi srednješolska leta.
Ivana Kramarič, 1. a