»Na pomoooooč, pomagajte! Ujeti sva na strehi, ne moreva se rešiti! Dim je že v igralnici in na stopnišču! Pomagajte!!«
In takrat vidiva otroke in vzgojiteljice, kako hitijo iz vrtca na zbirno mesto. Na srečo so se oni rešili. Ampak, v plesni sobi zagledava otroke iz skupine Mojca Pokrajculja, kako prosijo za pomoč. Tudi tam se vidi že dim. Na srečo v daljavi zaslišiva sireno, ki oznanja, da hiti nekdo na pomoč. Kmalu zagledava tudi gasilsko vozilo, kako ustavi na parkirišču. Hitro odideva na rob strehe in zopet prosiva za pomoč. Dva gasilca odideta do plesne sobe in pričneta z reševanjem otrok skozi okno, ostali gasilci pa hitro pripravijo lestev in odidejo na pomoč k nama. Ko priplezava dol z lestve, odhitiva na zbirno mesto, kjer se preštejemo, in kmalu ugotovimo, da smo vsi. Rešeni. Gasilci, hvala vam.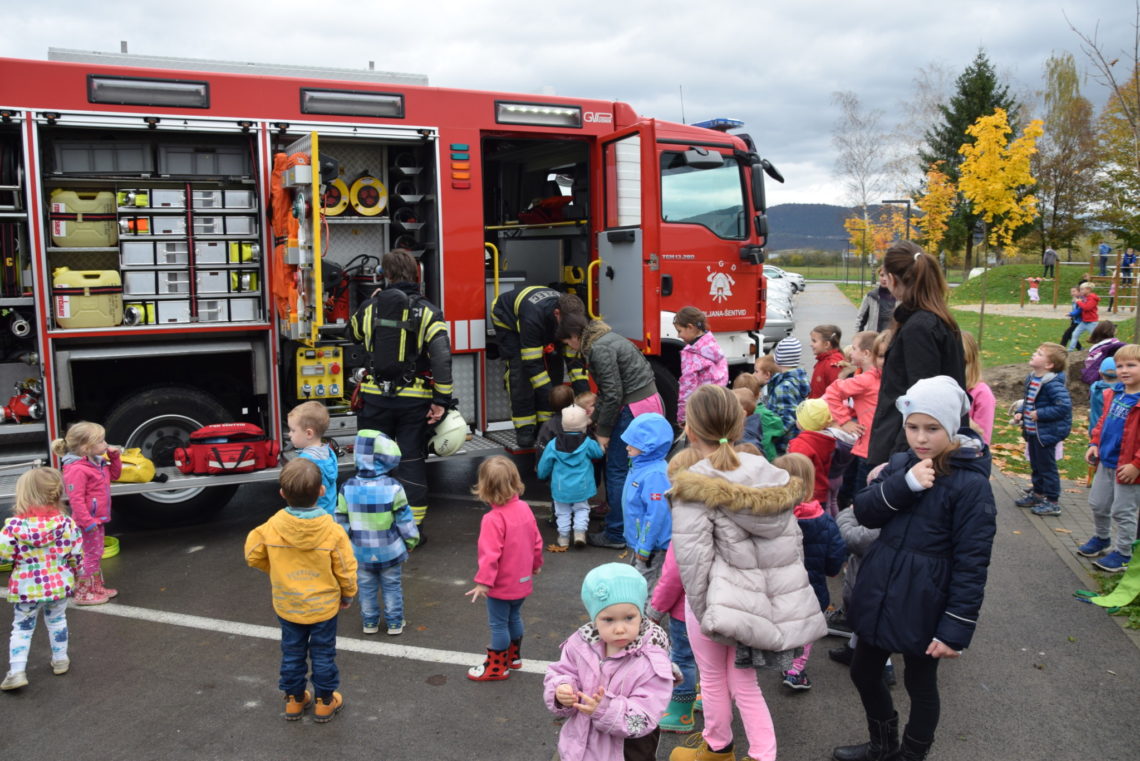 Na srečo je bil to le del scenarija evakuacijske vaje v našem vrtcu, ki smo jo pripravili v okviru meseca požarne varnosti. Po sami vaji smo si skupaj z gasilci PGD Šentvid ogledali njihovo vozilo, opremo, eden od gasilcev nam je pokazal dihalni aparat, preizkusili pa smo se tudi v zbijanju tarče z vedrovko in kasneje s pravo gasilsko cevjo. Da smo o gasilcih že marsikaj vedeli, sta za to poskrbeli vzgojiteljici Urša in Ana, ki sta nam že pred samo vajo oz. obiskom gasilcev predstavili delo gasilcev, njihova vozila, obleke, glavno orodje, ki ga uporabljajo pri svojem delu ter pri kakšnih nesrečah pomagajo. Na koncu pa smo si lahko vsi oblekli še pravo intervencijsko obleko in si nadeli gasilsko čelado.
Ker sta nas pogum gasilcev in njihova pripravljenost na pomoč tako prevzela, smo se odločili, da jih bomo v teh vrlinah radi posnemali.