Konec septembra je v Združenih državah Amerike umrl dr. Metod Milač (1924-2016), nekdanji zavodar in pomemben pričevalec o naši zgodovini. Kratek pregled življenja dr. Milača je pripravil prof. Tine Golež, v nadaljevanju prispevka pa si lahko preberete, kako pomen njegove knjige Kdo solze naše osuši oriše prof. Robert A. Jernejčič.
Dr. Milač se je rodil 2. oktobra 1924 na Prevaljah na Koroškem. Leta 1936 se je vpisal v škofove zavode. Kmalu je mirno šolanje prekinila vojna in še kot dijak je stradal v taborišču na Rabu. Po vrnitvi domov se je spet pridružil desni ilegali, a je pripadnik OF skupino izdal gestapu. Zato je izkusil še taborišče Auschwitz.
Tudi po vojni so komunisti preganjali desno ilegalo, zato je po nekajletnem študiju v Avstriji emigriral v ZDA. Tam je ob delu tovarniškega delavca doštudiral muzikologijo, magistriral in končno še doktoriral. Kasneje je dosegel še magisterij bibliotekarstva in leta 1962 postal bibliotekar glasbenega oddelka na univerzi Syracuse v ameriški zvezni državi New York. Tam je bil zaposlen več kot trideset let, nazadnje kot oddelčni direktor knjižnic te univerze. Bil je eden prvih knjižničarjev, ki mu je kakšna univerza podelila naslov »emeritus« za izjemne zasluge pri delu za univerzitetno knjižnico.
Slovenstvo je podpiral kot zborovodja (ustanovil je zbor Korotan v Clevelandu), priložnostni skladatelj in član Društva za slovenske študije.
Svojo življenjsko pot je popisal v dveh knjigah, ki sta več kot le avtobiografiji. Prevod prve je tudi sam predstavil na prireditvi v našem zavodu.
prof. Tine Golež
Dr. Metod Milač in zgodovina
Zgodi se, da naključja spremenijo svet.
Pred leti sem med počitnicami dobil elektronsko pošto dijakinje, ki je pravkar uspešno opravila maturo. Bila je sposobna dijakinja in tudi maturitetni preizkus je opravila z odliko. Razložila mi je, da ima med počitnicami čas za branje, zato je na vsak način želela, naj ji priporočim knjigo, ki bi ji pomagala res dobro osvetliti polpreteklo slovensko zgodovino. Predlagal sem ji, naj v roke vzame knjigo Metoda Milača z naslovom Kdo solze naše posuši.
Na Metoda Milača in njegovo delo me je nekaj mesecev pred tem opozoril prof. Golež. Ob neki priložnosti mi je knjigo tudi podaril. Bil je petek. Knjigo sem začel brati pozno popoldne. Ko sem začel brati, je nisem več mogel odložiti. Prebral sem jo v enem zamahu in odložil zjutraj ob pol štirih. Zadnje besede vsakega poglavja knjige bralca nezadržno povlečejo k naslednjemu.
Ne trdim, da knjiga z isto strastjo nagovori vsakega bralca. Toda mene je ta knjiga kot učitelja zgodovine zares zadela v srce, kot pravimo. Tako močno me je nagovorila, da od takrat knjigo omenim in predstavim vsaki generaciji dijakov Škofijske klasične gimnazije. Če bom kdaj zamenjal službo, sem prepričan, da bom knjigo z istim žarom prestavljal tudi na novem delovnem mestu.
Metod Milač, pravkar preminuli slovenski rodoljub, ki je po sili razmer večino svojega časa preživel v Združenih državah Amerike, se je v poznih letih odločil napisati spomine na svojo mladost. Ta se začenja v sredini dvajsetih let na slovenskem Koroškem, kamor so avstrijski šovinisti po prvi svetovni vojni pregnali njegove starše. Oba sta namreč vneto delovala za slovenstvo in zato po plebiscitu zanju ni bilo več državnih služb v Avstriji.
Zaradi sposobnosti in v tesni navezavi z novo jugoslovansko oblastjo družini tudi v Kraljevini ne gre slabo in se na družbeni lestvici uveljavlja. Zaradi tega družina v naslednjih letih z vso ostrino doživlja družbene pretrese predvojnega in medvojnega dogajanja. Posebno ostro jih doživljajo otroci, med katerimi je tudi dijak Metod. V najbolj usodnih letih vzpona nacizma in fašizma tako še pred polnoletnostjo pade v kolesje tragičnih dogodkov, ki ga bodo zaznamovali za vse življenje.
Metod sodi v maloštevilno skupino ljudi na Slovenskem, katerega so se dobesedno dotaknili (beri: vklenili) prav vsi totalitaristični sistemi dvajsetega stoletja: fašizem, nacizem in komunizem. Vsak od njih ga je poslal v najbolj zloglasna uničevalna taborišča. Fašisti na Rab, Nacisti v Auschwitz, na koncu pa se je znašel in po čudežu preživel še Vetrinje.
Srečanje z vsako od teh ideologij je v knjigi popisal tako kronološko pregledno in zaradi izjemnega spomina in velike sposobnosti literarnega izražanja tako prepričljivo, da v tem trenutku na Slovenskem težko najdemo primernejše delo, ki bi današnjim generacijam odraščajoče mladine lahko tako plastično prestavila čas pred, med in povojnega dogajanja. Tudi zato, ker je bil po letih njihov vrstnik.
Knjiga je na šoli postala priporočeno branje. Preden se dijaki nižjih letnikov odpravijo na poletne počitnice, knjigo priporočam za počitniško branje vsem, ki si želijo spoznati čas dvajsetega stoletja na Slovenskem. Posebno podrobno knjigo predstavljam dijakom, ki se odločijo opravljati maturo iz zgodovine.
Vsake generacije knjiga ne nagovori enako močno. V času slovesa od g. Milača mi najbolj ostaja v spominu generacija izpred štirih, petih let, ki je, podobno kot jaz, knjigo vzela za svojo. Na koncu so prav vsi dijaki knjigo tudi kupili. Ko sem to omenil profesorju Goležu, ta pa avtorju dr. Metodu Milaču, nam je poslal pismo z besedami zahvale in spodbude. Pismo sem fotokopiral in vsakemu dijaku izročil po en izvod z lastnoročnim avtorjevim podpisom.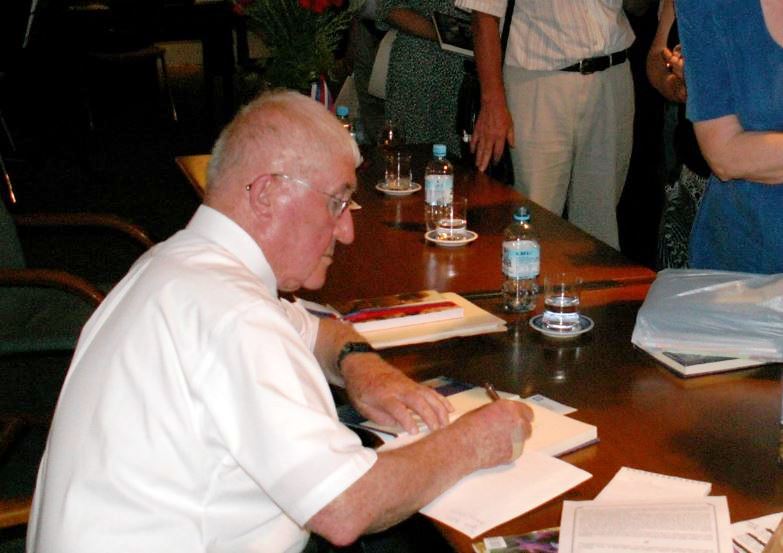 Delo Metoda Milača na šoli živi naprej in se z njegovo smrtjo ne končuje. Verjetno bodo zaradi tega njegove besede in misli zapisane v knjigi Kdo solze naše posuši med nami samo še močneje odmevale; Kdo solze naše posuši?
prof. Robert A. Jernejčič