Komorni zbor Megaron
Dirigent: Damijan Močnik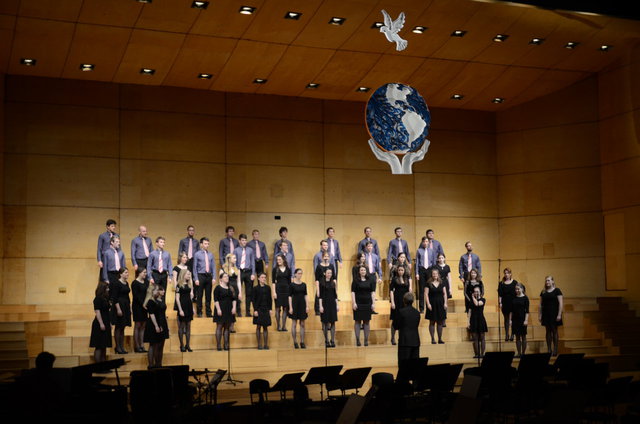 Po nekajletnem predvsem projektnem delovanju v različnih zasedbah je bil na pobudo skladatelja in dirigenta Damijana Močnika oktobra 2003 ustanovljen Komorni zbor Megaron, v katerem prepevajo alumni Škofijske klasične gimnazije. Zbor predstavlja vrh zborovske piramide v Zavodu sv. Stanislava, v njem prepevajo predvsem pevci vzgojeni v pevskih zborih Škofijske klasične gimnazije. V petnajstih letih delovanja se je KZ Megaron razvil v vrhunski zbor, ki je s številnimi sodelovanji s profesionalnimi glasbenimi institucijami ter koncerti po Sloveniji in gostovanji v Avstriji, Italiji, Nemčiji, Belgiji, na Nizozemskem, Slovaškem, Poljskem, Švedskem, v ZDA in Kanadi postal znan in priznan doma ter v tujini.
Zbor se odlikuje po prepoznavnem bogatem zvoku in vznemirljivih muzikalnih interpretacijah skladb različnih stilnih obdobij. Ponaša se z odličnimi uvrstitvami na državnih in mednarodnih tekmovanjih: leta 2005 je na državnem tekmovanju Naša pesem v Mariboru osvojil zlato plaketo in dobil posebno priznanje za najboljši zbor, ki je prvič na tekmovanju; aprila 2010 je na tekmovanju Naša pesem v Mariboru osvojil zlato plaketo; julija 2010 je na tekmovanju Kathaumixw v Powell Riverju (Kanada) osvojil 2. mesto v kategoriji mešanih zborov in zmagal v kategoriji ljudske glasbe; leta 2012 je na tekmovanju Naša pesem v Mariboru prejel zlato plaketo, postal najboljši mešani zbor, prejel posebno priznanje za najboljšo izvedbo skladbe iz obdobja romantike in osvojil absolutno 1. mesto tekmovanja; leta 2015 je osvojil 2. mesto na tekmovanju v Montreuxu in prejel posebno nagrado za izvedbo novitete Libera me Damijana Močnika; leta 2016 je na mednarodnem tekmovanju Vratislavia Sacra na Poljskem zmagal v kategoriji mešanih zborov in kategoriji ortodoksne glasbe ter osvojil tudi "Grand prix" tekmovanja; leta 2017 je nastopil na mednarodnih tekmovanjih v Mariboru in Marktoberdorfu ter bil obakrat nagrajen za najboljšo izvedbo renesančne glasbe; leta 2018 je osvojil 1. mesto med mešanimi zbori na mednarodnem tekmovanju Varsovia Cantat.
KZ Megaron je sodeloval s številnimi pomembnimi orkestri (Münchenskimi simfoniki, Simfoničnim orkestrom RTV Slovenija, Orkestrom Slovenske filharmonije, Mladinskim orkestrom Gustava Mahlerja) in dirigenti (Davidom de Villersom, Jacekom M. Blasczykom, Martino Batič, En Shaom, Valerijem Gergievim, Urošem Lajovicem, Jonathanom Nottom, Arijem Rasilainenom, Charlesom Dutoitom in Philippom von Steinaeckerjem) pri izvedbi vokalno-inštrumentalnih partitur: W. A. Mozart – Krönungsmesse, B. Britten – The World of The Spirit, G. Faure – Requiem, F. Poulenc – Stabat Mater, D. Močnik – Passio Domini nostri Jesu Christi secundum Joannem, G. Mahler – 8. simfonija (»Simfonija tisočev«), J. Brahms – Ein Deutsches Requiem, Gustav Mahler – 2. simfonija (»Vstajenje«), S. von Hausegger – Natursymphonie in Ludwig van Beethoven – 9. simfonija "Oda radosti".
Februarja 2012 je zbor projektno sodeloval z odličnim švedskim dirigentom Robertom Sundom in imel pod njegovim vodstvom dva odmevna koncerta. Ob 10-letnici delovanja je imel KZ Megaron jeseni 2013 desetdnevno koncertno turnejo po Kanadi in ZDA pod vodstvom Damijana Močnika in gostujoče dirigentke Martine Batič, jeseni 2016 pa enotedensko turnejo po Švedski s koncerti v Malmöju, Helsingborgu in Stockholmu. Jeseni leta 2019 je imel koncertno turnejo v ZDA v organizaciji fondacije World Artist Experience s koncerti v Chicagu, Clevelandu, Annapolisu, Cumberlandu, Salisburyju, New Yorku, Kingstonu in Pittstonu.
Zelo odmeven je bil projekt februarja 2020 »Bach z Garyjem Gradnom«, ko je ob spremljavi novoustanovljenega Megaron baroque ensemble z baročnimi glasbili na dveh koncertih izvedel Bachov Magnificat, Sanctus iz h-mol maše in dva moteta pod vodstvom slovitega švedskega dirigenta Garyja Gradna.
J. S. Bach MAGNIFICAT
Gunnar Hahn RONDO LAPPONICO

Emil Adamič KOLO
Anton Bruckner AVE MARIA
J. S. Bach KOMM, JESU, KOMM
H. David, B. Bacharach RAINDROPS KEEP FALLIN' ON MY HEAD (prir. Anna Cederberg – Orreteg)