Mladinski mešani zbor sv. Stanislava Škofijske klasične gimnazije
Dirigent: Damijan Močnik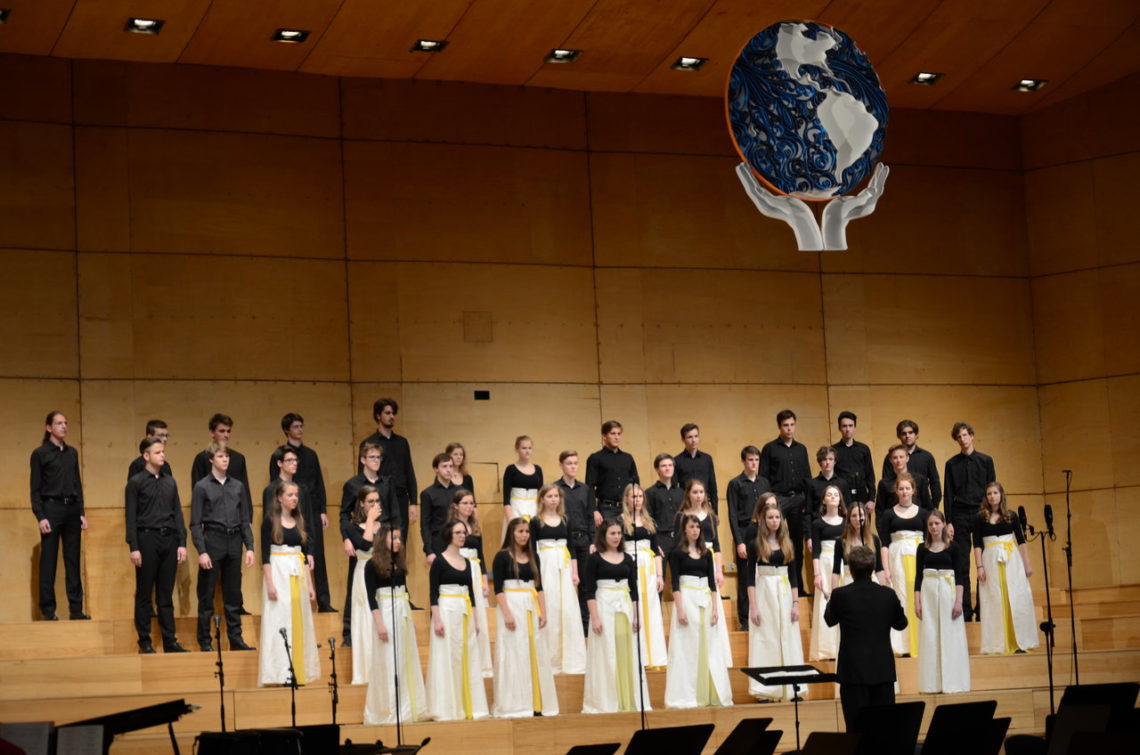 »Neverjetno. Umetniška popolnost – popeljali ste nas na izlet po vaši lepi deželi in mi vsi smo šli z vami. Popolnoma prevzemajoče.«

Scott Leithead, dirigent in član žirije festivala Kathaumixw
Mladinski mešani zbor sv. Stanislava Škofijske klasične gimnazije je bil ustanovljen v šolskem letu 1994/95 z namenom, da se glasbeno in glasovno sposobnejši dijaki pevsko razvijajo ob zahtevnejšem zborovskem repertoarju. V njem praviloma sodelujejo dekleta in fantje od 2. do 4. letnika. V zboru prepeva 42 dijakinj in dijakov, vsak izmed njih ima 10-minutni individualni pouk vokalne tehnike na teden, vaje potekajo enkrat tedensko po tri šolske ure.
Poleg rednega koncertiranja v Sloveniji je zbor nastopal v Avstriji, Italiji, Nemčiji, Franciji, Švici, Bolgariji, na Češkem, Slovaškem, Poljskem, v Estoniji, Litvi, na Švedskem, Finskem ter v Kanadi in ZDA. Zaradi politične situacije in epidemije covida sta preteklo leto odpadli koncertni gostovanji v Hong-Kongu in ZDA.
Zbor se poleg prvih mest in posebnih nagrad z državnih in mednarodnih tekmovanj, med katerimi sta najbolj vidni zmagi  na Mednarodnem festivalu Kathaumixw v Kanadi in na Mednarodnem mladinskem pevskem festival v Celju, ponaša tudi z rednim izvajanjem večjih vokalno inštrumentalnih del. Pri tem pogosto sodeluje s profesionalnimi orkestri. Tako je v preteklih letih izvedel: Missa Brevis in F Josepha Haydna, Missa Brevis in G ter Krönungsmesse W. A. Mozarta,  Messe in C L. van Beethovna, Vode novega neba D. Močnika in Slovenski božič M. Tomca. V sodelovanju s Komornim zborom Megaron je nastopil v abonmaju Simfoničnega orkestra Radia Slovenija pri izvedbah kantat The World of The Spirit Benjamina Brittna in Stabat Mater Francoisa Poulenca ter pri prvih izvedbah kantat Karla Jenkinsa The Armed Man in Mass of the Children Johna Rutterja v Sloveniji. Aprila 2011 je v abonmaju Simfonikov RTV Slovenija nastopil pri krstni izvedbi Pasijona po Janezu/ Passio Domini nostri Jesu Christi Damijana Močnika, julija istega leta pa tudi pri monumentalni izvedbi Osme simfonije G. Mahlerja, kjer je pod vodstvom dirigenta Valerija Gergijeva sodelovalo preko 1000 izvajalcev.
Zbor izvaja zelo raznolik repertoar od gregorijanskega korala do različnih slogov glasbe 20. st. Navdušuje z barvitim zvokom,  sproščenim nastopom, mladostno energijo in prepričljivimi interpretacijam. Pod vodstvom dirigenta in skladatelja Damijana Močnika na koncertih pogosto fascinira s presenetljivimi improvizacijami na različne tematike od ljudske glasbe do gregorijanskega korala.
Mladinski mešani zbor sv. Stanislava Škofijske klasične gimnazije z dosežki na državnih in mednarodnih tekmovanjih, sodelovanjem pri večjih vokalno-inštrumentalnih projektih in prepričljivim koncertiranjem sooblikuje najvidnejše dosežke mladinskega zborovskega petja v Sloveniji in svetu.
POSEBNI DOSEŽKI, TURNEJE, TEKMOVANJA
2022 – koncertna turneja na Slovaško (Ilova, Trenčin)
2021 – sodelovanje na mednarodnem festivalu
Europa Cantat
, demonstracijski zbor v treh raziskovalnih ateljejih in samostojni nastop v Slovenski filharmoniji v koncertnem ciklusu
Zapojmo Sloveniji
2018 – koncertna turneja na Poljsko v okviru projekta Erasmus+ »Z glasbo v življenje« (Zakopane, Krakov)
2018 – koncertna turneja na Slovaško (Pruské, Hlohovec, Trenčin)
2017 – koncerta turneja na Poljsko, Estonijo, Finsko in Litvo (Zgierz, Varšava, Tallinn, Seinäjoki, Helsinki, Kaunas)
2016 –  Revija otroških in mladinskih zborov Zagorje ob Savi: zlata plaketa z odliko, priznanje za najboljši mladinski mešani zbor, priznanje za najboljšo sestavo sporeda
2014 – International Choral Kathaumixw / Mednarodni festival Kathaumixw:
nagrada za najboljši zbor tekmovanja »Choir of the World Kathaumixw Award 2014« v obliki indijanskega totema, 1. mesto v kategoriji mladinski zbori, 2. mesto v kategoriji odrasli mešani zbori, 1. mesto v kategoriji ljudska glasba,; koncerta turnjea po zahodni obali Kanade (Vancouver, Whistler, Gibsons, Powell River, Parksville, Victoria)
2013 – Mednarodni mladinski pevski festival Celje: nagrada za najboljši zbor festivala; zlata plaketa, priznanje za najboljši zbor v kategoriji mešanih zborov, priznanje za najboljšo izvedbo sodobne slovenske skladbe (Ambrož Čopi: Dajte novici na kolač), priznanje za najboljšo izvedbo obvezne skladbe (J. H. Gallus: Heroes pugnate viri fortissimi) in nagrada občinstva
2011 – koncertna turneja in nastop v okviru mednarodnega festivala Millenium in Musica / Milenij v glasbi, Rim (Italija)
2011 – sodelovanje na 7. abonmajskem koncertu Simfoničnega orkestra RTV Slovenija pri krstni izvedbi skladbe Passio Domini nostri Jesu Christi secundom Joannem Damijana Močnika pod vodstvom dirigenta Miroslawa Jaceka Blaszczyka, Gallusova dvoorana Cankarjevega doma
2011 – sodelovanje na koncertih Slovenske in Zagrebške filharmonije pri izvedbi monumentalne 8. simfonije »Simfonije tisočev« Gustava Mahlerja pod vodstvom maestra Valerija Gergieva, Ljubljana in Zagreb
2009 – Internationaler Kammerchor-Wettbewerb Marktoberdorf / Mednarodno tekmovanje komornih zborov Marktoberdorf (Nemčija): 4. mesto
2008 – Revija otroških in mladinskih zborov Zagorje ob Savi: zlata plaketa
2007 – Mednarodni mladinski pevski festival Celje: zlata plaketa
2007 – sodelovanje na abonmajskem koncertu Simfoničnega orkestra RTV Slovenija pri izvedbi kantate Francisa Poulenca Stabat mater pod vodstvom dirigenta Briana Wrighta, Gallusova dvorana Cankarjevega doma
2006 – Revija otroških in mladinskih zborov Zagorje ob Savi: zlata plaketa, priznanje za najboljši zbor v kategoriji mešanih zborov
2004 – sodelovanje na Božičnem koncertu Simfoničnega orkestra RTV Slovenija pri izvedbi kantate Benjamina Brittna  Svetovi duha pod vodstvom dirigenta Davida de Villersa, Gallusova dvorana Cankarjevega doma
2002 – Revija otroških in mladinskih zborov Zagorje ob Savi: srebrna plaketa, priznanje za najbojšo izvedbo sodobne glasbe (Knut Nystedt: Gloria)
1998 – Revija otroških in mladinskih zborov Zagorje ob Savi: zlata plaketa, priznanje za najboljšo izvedbo slovenske ljudske pesmi
Posnetek iz karantene
Matija Tomc SLOVENSKI BOŽIČ (odlomka)
Posnetki s koncertov
Anders Edenroth I SING YOU SING
Anthony Bernarducci VENI CREATOR SPIRITUS
Tomas Lusi de Victoria O QUAM GLORIOSUM
FINSKA 2017 – utrinki s turneje
Kanada – Slovenija 2014/15
Film o poti indijanskega totema – nagrade za najboljši zbor festivala »Choir of the World Kathaumixw Award 2014« iz Kanade v Slovenijo