Pouk slovenščine
Število ur slovenščine je primerljivo s preostalimi slovenskimi gimnazijami, torej 4 ure tedensko, v zadnjem letniku pa še malce več zaradi priprav na maturo. V predvojni gimnaziji so imeli dijaki slovenščino le 3 ure tedensko, vendar so marsikatere teme bile obravnavane pri drugih predmetih.
V vseh teh letih se je pouk slovenščine tudi spreminjal, razvijal, uveljavile so se nove didaktične metode in pristopi. Ob bogatem razvoju tehnologije in novih možnosti, ki jih prinaša nova tehnologija in jo učitelji slovenščine s pridom uporabljamo, smo ostali zvesti prvinskemu temelju – besedi in knjigi. V tem sledimo zgledu predvojnih profesorjev, saj se tudi naši dijaki učijo po učbenikih oz. priročnikih, ki so ji (so)ustvarili naši profesorji: Mali slovnici in Mala vadnici slovenskega jezika avtorice Mateje Gomboc ter učbeniku Moč jezika soavtorja Davida Puca.
Naši dijaki zaključijo šolanje z maturo iz slovenščine. Po sedanjem javno veljavnem programu jo opravljajo vsi na višji stopnji in torej dosežejo do 8 točk, sestavljena pa je iz treh delov: eseja, slovnične razčlembe besedila in ustnega izpita. Rezultati, ki jih naši dijaki dosežejo pri slovenščini na maturi, so zavidljivi, saj je že vsa leta število doseženih točk višje od slovenskega povprečja.
Javno veljavni program ima za cilj izobraževati in vzgajati v celovito osebnost. Na ŠKG pa smo zapisani trem stebrom: duhovnosti, klasičnosti in ustvarjalnemu sobivanju. Vsi trije gradijo tudi pouk slovenščine; zato odpiramo znotraj literarnih besedil duhovno razsežnost, vzgajamo h kritični presoji, iščemo vseobsežno klasično držo, predvsem pa se krepimo v ustvarjalnosti. V slovenskem prostoru dijaki sodelujejo na mnogih področjih: na literarnih natečajih, na tekmovanjih za Cankarjevo priznanje, v raziskovalni dejavnosti, v debatnih tekmovanjih, na okroglih mizah in še marsičem. Poglejmo natančneje, kaj vse nastaja pod okriljem slovenščine.
Domače vaje
Bogato literarno ustvarjanje so predvojni dijaki izražali v treh literarnih revijah: Mentor, Jutranja zarja in Domače vaje. Mentor je po vojni postal vseslovenska revija za mlade ustvarjalce, Jutranje zarje, revije za nižješolce, ni več, Domače vaje pa so pod mentorstvom J. Kurinčiča oživele že v prvem šolskem letu 1993/94. Sprva so imele precej novinarskih prispevkov in so izhajale večkrat letno, zdaj pa kot literarni zbornik celoletnega ustvarjanja. Bogate so s poezijo, umetniško prozo, eseji, intervjuji, nagrajenimi prispevki z literarnih natečajev dijakov in profesorjev. Pod mentorstvom enega od profesorjev slovenščine in urednikovanjem dijakov se ustvarjalci srečujejo na rednih srečanjih in literarnih delavnicah ter sooblikujejo zbornik, ki presega čas in ustvarja za prihodnost. Na bogato predvojno literarno dediščino nas je opozoril tudi dr. Janko Moder, prevajalec in literat, tudi sam eden od urednikov predvojnih Domačih vaj. Na literarnem večeru, posvečenem Ivanu Hribovšku (slovenski pesnik, predvojni dijak ŠKG), je pokazal na nas, vajevce, in rekel: »Iz vaših vrst, dragi moji, ki zdaj ustvarjate v Domačih vajah, bodo pesniki, pisatelji, prevajalci, esejisti. Zaznamovali boste slovenski prostor, zapomnite si to!«
Slovesen trenutek je sicer minil, a zavezali smo se in nismo umolknili.
Z Domačimi vajami so povezani tudi literarni natečaji, na katerih sodelujejo mladi literati. Vsako leto uredništvo razpiše svoj natečaj, dijaki pa sodelujejo tudi na številnih drugih, vseslovenskih natečajih. Prispevki so objavljeni v vsakoletnih Domačih vajah.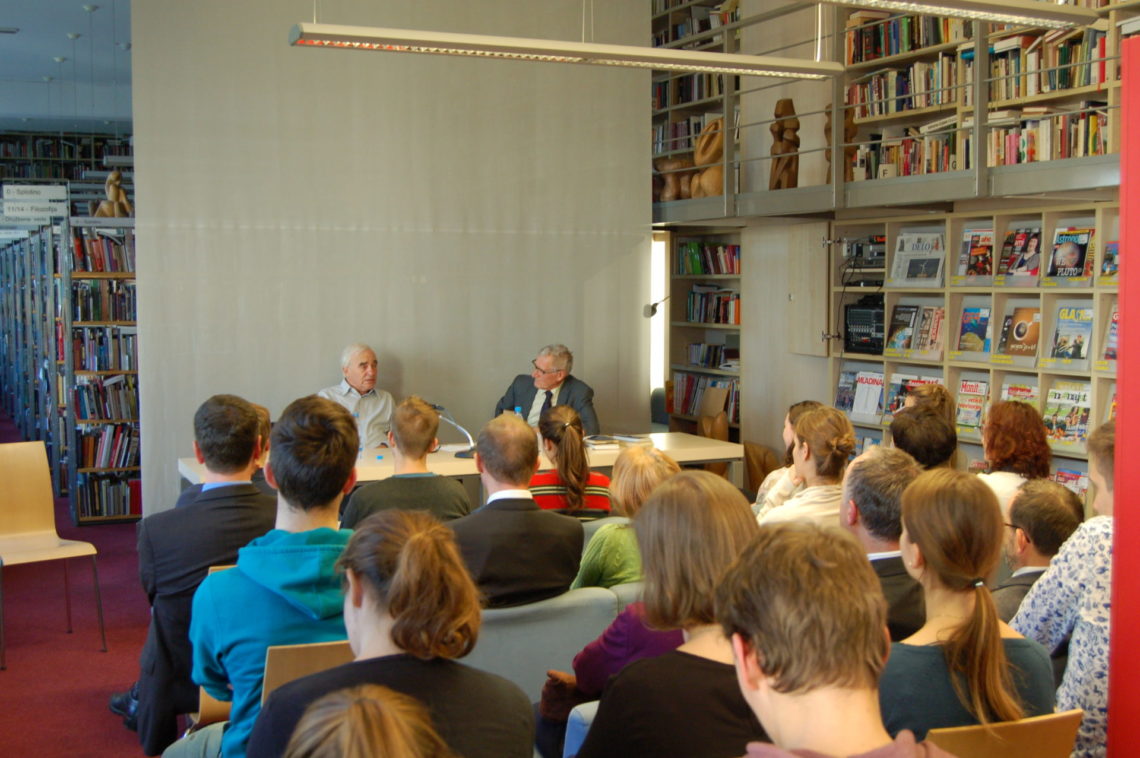 Srečanja z literarnimi ustvarjalci
Slovenski kulturni prostor se je v dveh desetletjih večkrat predstavil tudi v našem zavodu. Vabilu so se odzvali mnogi slovenski ustvarjalci na literarnih popoldnevih, večerih, okroglih mizah in delavnicah: Tone Pavček, Kajetan Kovič, Lojze Kovačič, Alojz Rebula, Boris Pahor, Zorko Simčič, Dane Zajc, Ciril Zlobec, Drago Jančar, Niko Grafenauer, Alojz Ihan in še mnogi drugi.
Dragoceni obrazi in besede, ki slovenščino plemenitijo in spregovorijo drugače kot v šolskih učbenikih. Mnogo teh srečanj je predstavljenih v Domačih vajah in Megaronih.
Razredni časopisi in revije
To je naša posebnost, še ena »drugačnost«, besedna ustvarjalnost, ki spremlja pouk slovenščine oz. je njen del že od prvega šolskega leta. Prvi časopisi so okrasili razrede 21. septembra 1993 (ravno 88 let od prvega šolskega zvonca!) in od takrat vsak razred izdaja svoje izdelke: v prvem in drugem letniku so to stenski časopisi, v tretjem pa razredne revije.
Vsakih nekaj tednov nov razredni uredniški odbor obesi na oglasno desko v razredu svoj časopis oziroma izda novo revijo. Predstavijo ga, običajno na zabaven in ustvarjalen način, pri uri slovenščine. Tako razvijajo in pokažejo številne veščine: uredniško delo, ustvarjalno pisanje, brušenje jezika in sloga, novinarsko poročanje in javni nastop. Časopisi in revije pripomorejo tudi k še večji povezanosti razreda in vzgoji k sodelovanju in medsebojni pomoči, saj običajno pri vsakem izdelku sodeluje cel razred. Včasih je predstavitvi novega časopisa posvečena cela šolska ura. Vendar so to dragoceni trenutki, posvečeni besedi v govorjeni in zapisani obliki.
V četrtem letniku razred izdela letniško revijo in se z njo na ustvarjalen način spomni vseh pomembnih dogodkov v času štiriletnega šolanja na gimnaziji. 
Marsikateri odličen članek iz časopisov in revij pa najde pot tako v Domače vaje kot drugam.
Naši koraki torej vodijo naprej, a so stopinje globlje izrisane, saj nosimo težo preteklega. To ni breme, temveč bogastvo. Niti ni nostalgičnost, temveč nas opominja k odgovornosti, da iz korenin poganjamo v novo rast.