V zadnjem počitniškem tednu smo na gimnaziji pripravili ustvarjalno-duhovni tabor, za katerega so nam prostore prijazno odstopili v dijaškem domu.
Glede na čas, v katerem živimo, je bila izhodiščna tema tabora vprašanje oddaljenosti, odtujenosti, distance, na podlagi katerega smo potem razmišljali o odnosu, dialogu, bližini … Preko lastnega ustvarjanja (likovnih delavnic z ustvarjanjem v različnih tehnikah in z različnimi materiali), pogovorov o umetnosti in ogledov umetniških del, duhovnih spodbud, slavljenja, molitev, srečanj z gosti in z umetninami smo se podali na pot vase in k d(D)rugemu ter v prijetnem druženju ob sproščenih dejavnostih zaključili poletne počitnice.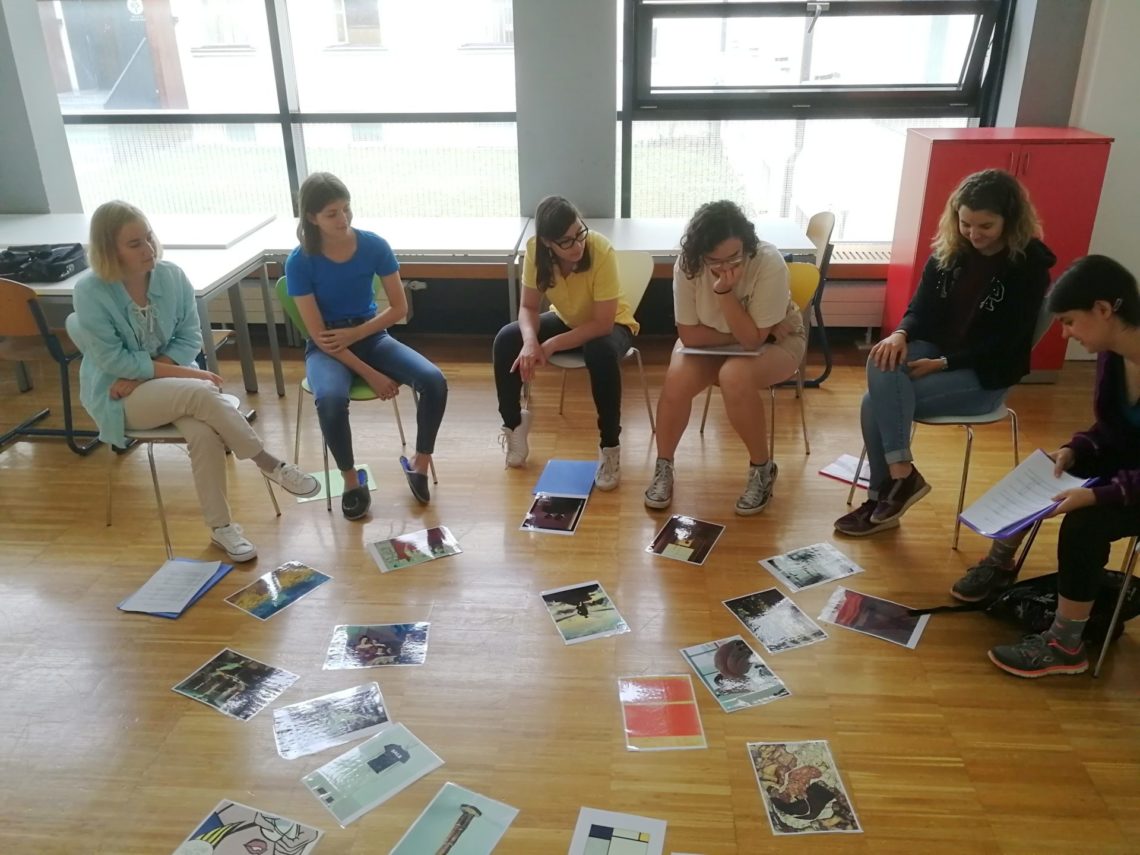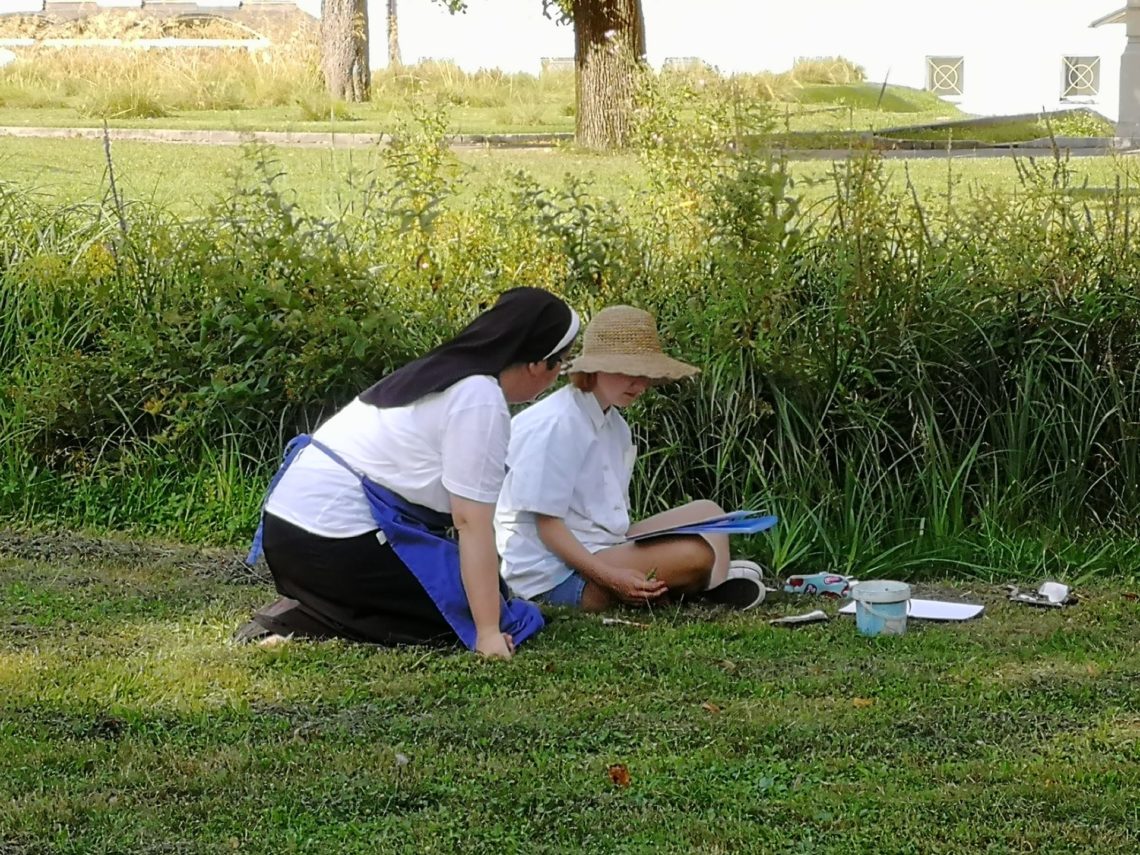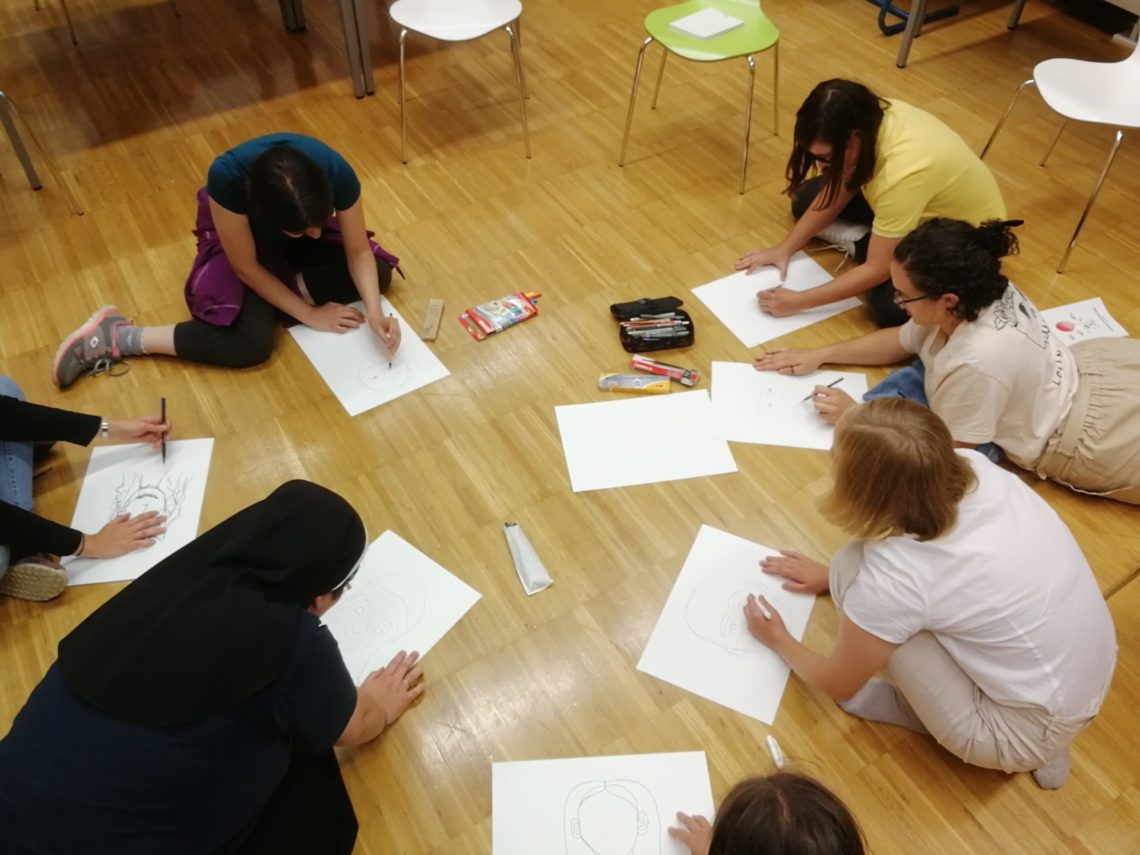 Tabor se je začel v ponedeljek, 24. 8, ko se nas je šest dijakinj zbralo v JDD, kjer smo nato cel teden risale, slikale in ustvarjale na različe načine. V zadnjih avustovskih dnevih smo se učile druga od druge, od sestre Tine Dajčer ter profesoric Bernarde Stenovec in Tjaše Plut, ki sta poskrbeli, da je po koncu v naših glavah poleg novih izkušenj in spominov ostalo tudi veliko znanja.  Učile smo se o simboliki barv in svetlobe, o značilnosti ikon ter spoznavale dela svetovnih in domačih umetnikov. Preizkusile smo se v risanju hitrih skic, slikanju na prostem in še mnogih drugih izzivih.
Jutra smo začenjali s pesmijo in Božjo Besedo. Za to sta poskrbela kaplan Martin Zlobko ter gospod Gregor Celestina. V likovno ustvarjanje smo najprej vstopile skozi svetopisemske odlomke, ki so nam služili za navdih skozi dan, ki smo ga zaključili s skupno mašo ali meditacijo, molitvijo.
V torek zvečer smo prisluhnile predavanju študentke slikarstva in klasične filologije Sare Križaj, ki nam je predstavila potek dela na likovni akademiji. Prikazala nam je umetnost na način, kot jo vidi sama – kot prostor miru, nemira, čudovito priložnost, kot praznino, ki je ni mogoče do konca napolniti ali izprazniti.
V četrtek smo vsi skupaj obiskali Narodno in Moderno galerijo. Ugotovile smo, da so umetniška dela v živo veliko bolj … živa, nagovarjajoča in otipljiva (čeprav se jih je seveda prepovedano dotikati).
Na ustvarjalno duhovnem taboru je nastalo veliko lepih slik, zato smo v petek s profesoricami pripravile razstavo s kratkim kulturnim programom (povabljeni, da si jo ogledate na hodniku pred kemijsko učilnico). S pesmijo in zahvalo smo zaključile teden, vedoč, da se ne poslavljamo za dolgo.
(Zala Ilovar)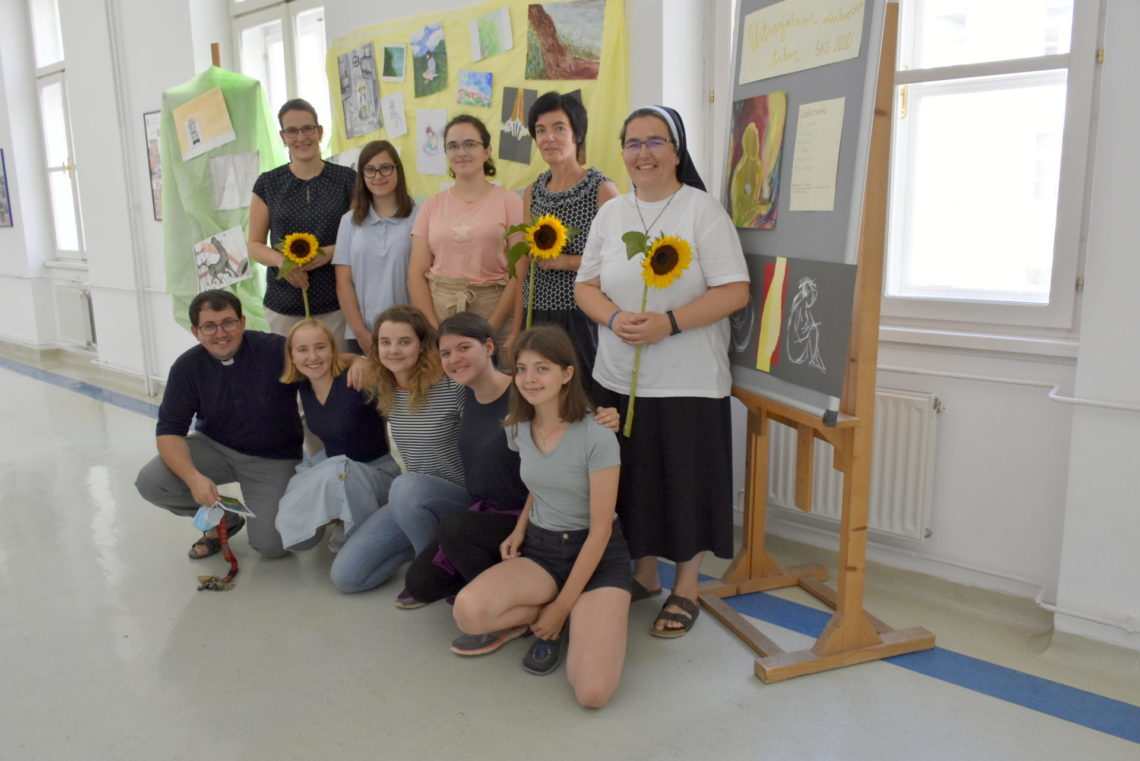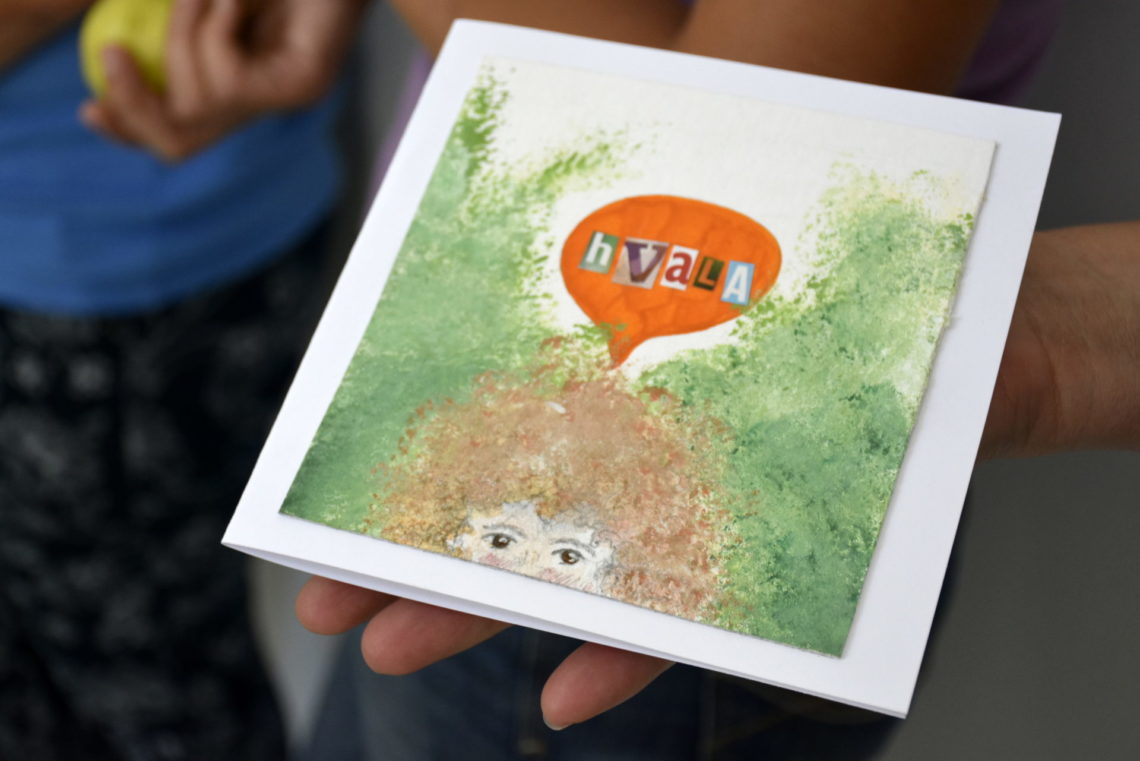 Med umetnicami (in teoretkama) sem se počutila sproščeno ter razumljeno, saj smo si lahko zahvaljujoč majhnemu številu udeleženk več zaupale in se bolj povezale, kar je bil tudi eden od (številnih) namenov ustvarjalno-duhovnega tabora – Bližina je ključna za občutek sprejetosti.
(Eli Škaler)
Čeprav si v ponedeljek zjutraj nismo uspeli čisto predstavljati, kako bo potekal prvi duhovno-ustvarjalni tabor na ŠKG, saj je bilo to za vse nas nekaj povsem novega in neznanega, lahko rečem, da bi bil zadnji počitniški teden brez te izkušnje bistveno bolj prazen in pust. Po petih dnevih ustvarjanja, pogovorov, srečevanj z umetninami in duhovnih nagovorov namreč ostajajo čudoviti spomini ter odzvanjajo besede Ljubezni in hvaležnosti – za to, da smo mogli biti skupaj, in za to, da smo iz oddaljenosti mogli stopiti v bližino sebe, tebe, Njega ter tako na prav poseben način začeti novo šolsko leto. Seveda pa upamo, da se na podoben način srečamo še kdaj. 
(prof. Tjaša Plut)
Vesela in hvaležna sem, da nam je v Zavodu sv. Stanislava v zadnjem tednu počitnic uspelo izpeljati ustvarjalno-duhovni tabor za dijake Škofijske klasične gimnazije. Hvaležna tako zaradi dijakinj, ki so se udeležile tabora, kot tudi zaradi ponovno zelo lepega sodelovanja z vodstvom šole in vsemi, ki smo oblikovali program. Kateheze, zgodovina umetnosti in likovno ustvarjanje se je lepo prepletalo, zlasti pa sem bila vesela iskrivosti, globine, zavzetosti in ustvarjalnosti mladih. Osebno imam takšno delo zelo rada, saj verjamem, da umetnost ne le bogati in je dragocena za celostno rast mladih, temveč vedno znova odkriva tudi nove poti do njihovih src.
(s. Tina Dajčer, šolska sestra sv. Frančiška Kristusa Kralja)