Ob slovenskem kulturnem prazniku vas vabimo v Kregarjev atrij na ogled spominske razstave »Pogledi na Šmarno goro« akad. slikarja Milana Butine (1923–1999).
Razstavljena dela so iz zasebne zbirke slikarjeve hčere Darje Butina. Vabilo na odprtje razstave.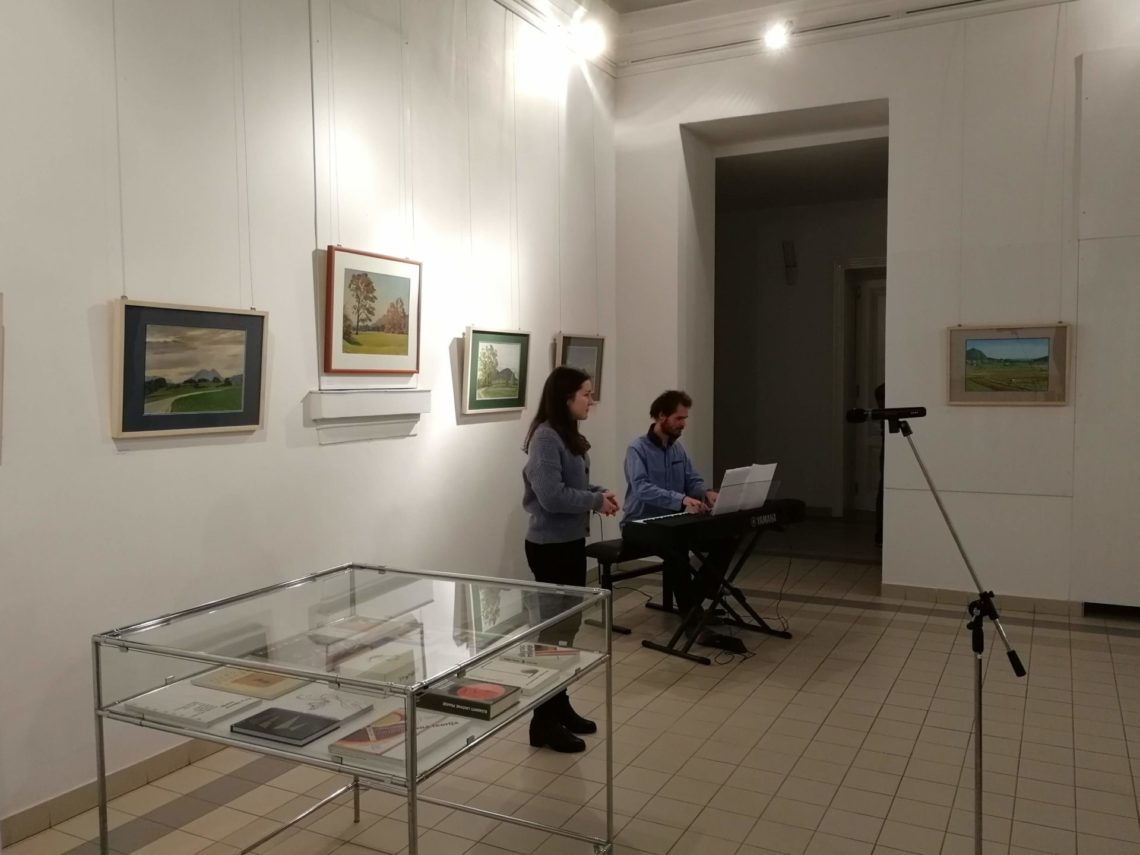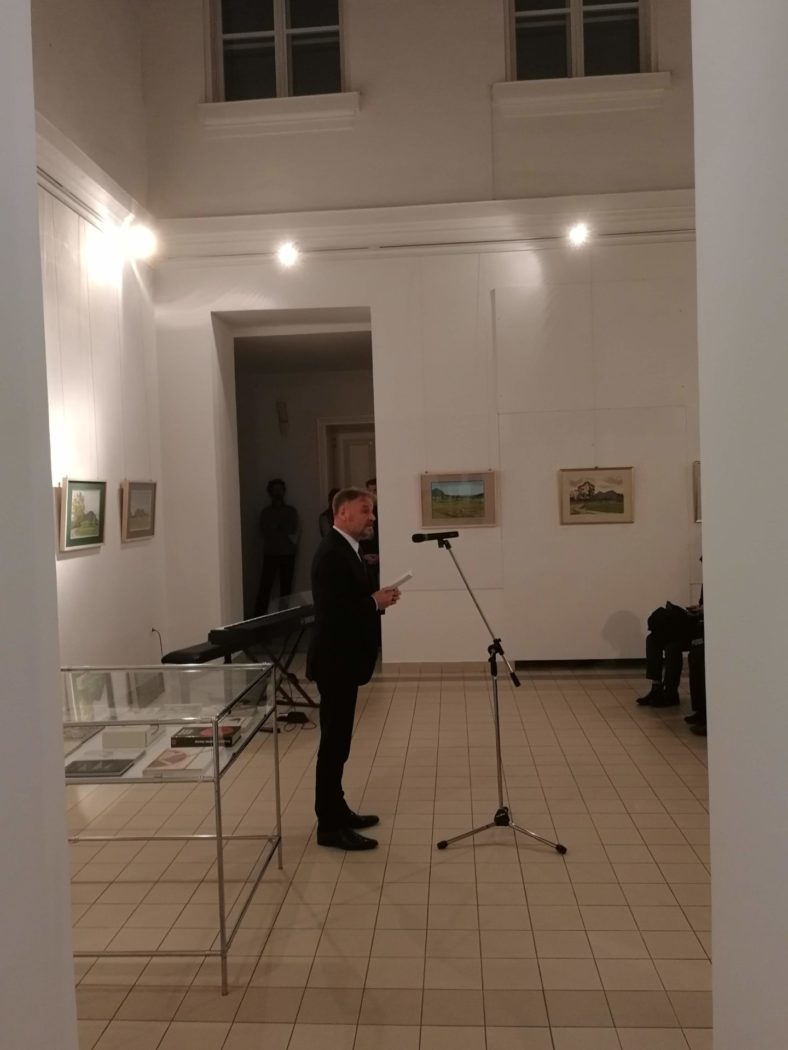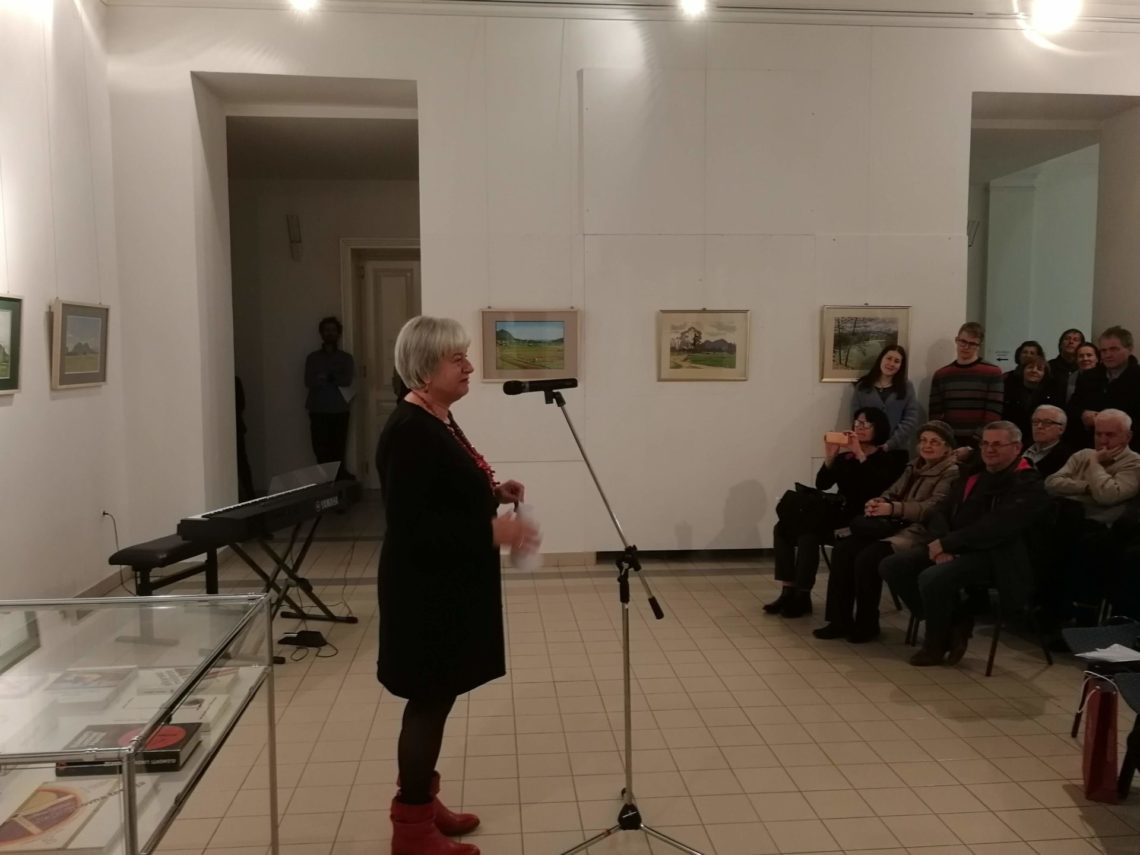 Akad. slikar prof. sr. Jožef Muhovič je zapisal, da je "usoda hotela, da je profesor Milan Butina bolj znan kot likovni teoretik in manj kot likovni praktik. Čeprav po krivici, saj je ob zavzetem znanstvenem in pedagoškem delu presenetljivo  zavzeto in kontuinuirano tudi risal ter slikal. In to vse življenje." O motivu krajine v Butinovem slikarstvu in o razstavljenih delih v Kregarjevem atriju pa je dejal: "Krajinske artikulacije so umetnikova ustvarjalna stalnica in se do poslednjih dni neženirano izpostavljajo po Butinovih platnih, skicirkah, mapah in zvezkih. Med njimi je veliko obmorskih motivov in veliko upodobitev Šmarne gore, ki jih je videti tudi na letošnji razstavi v Galeriji Staneta Kregarja. Njegov čas je bil zanje gluh in slep in je nad njimi odkrito vihal nos. Vendar se profesor Butina tej averziji, ki je površno nasedla motivni površinskosti, ni predal. Zavedal se je namreč, da je motiv samo odskočna deska, s katere lahko razkriješ mnoge bistvene stvari. Če ostaneš zgolj pri njem, ostaneš na površini, če znaš pogledati globlje, se ti pod krajino odpre slikarjeva »duhovna krajina«. Le kaj bi to bilo? Naj to na kratko ilustriram.
Če ne opaziš, da se pod Butinovo podobo drevesnega listja vate pretaka svetloba, ki je vselej resnični proragonist vsega Butinovega slikarstva, da v pogledu na Šmarno goro vihra letni čas s paleto občutljivih doživljajskih resonanc na konici čopiča, da v podobah oblakov kraljuje akcijsko slikarstvo v akciji, pod kožo trivialne vedute strast do »čiste« likovnosti …, potem ta dela ne le onemijo, ampak jim sploh ni dano relevantno spregovoriti.
Ali če v tej zvezi parafraziram Gilberta K. Chestertona: Da bi bil svet drugačen in bi se moderni oziroma postmoderni človek nehal dolgočasiti, se mora spremeniti gledalec, njegov pogled, ne pa to, kar gleda. Da bi Šmarno goro videli kot čudež, ni potrebna nova Šmarna gora (na Marsu ali kje drugje), temveč nova pozornost in nova ponižnost v odnosu do stvari. Dokler tega dvojega nimamo, ne moremo prisrčno in otroško pohvaliti čudovite senzacionalnosti t.i. običajnih, samoumevnih stvari.
Profesor Butina je to znal in je znal to izraziti. S svojimi slikami je dal možnost, da se tega učimo vsi. Da vidimo svet tudi za fiziko naključij in entropije, lepoto pod prahom vsakdanjosti, svetlobo tudi tedaj, ko so oblaki nizki in težki in … človeka tudi za bleščečo fasado volje do moči."
Vabimo vas k branju celotnega prispevka o slikarski poti prof. Milana Butine, ki ga je pripravil prof. dr. Jožef Muhovič.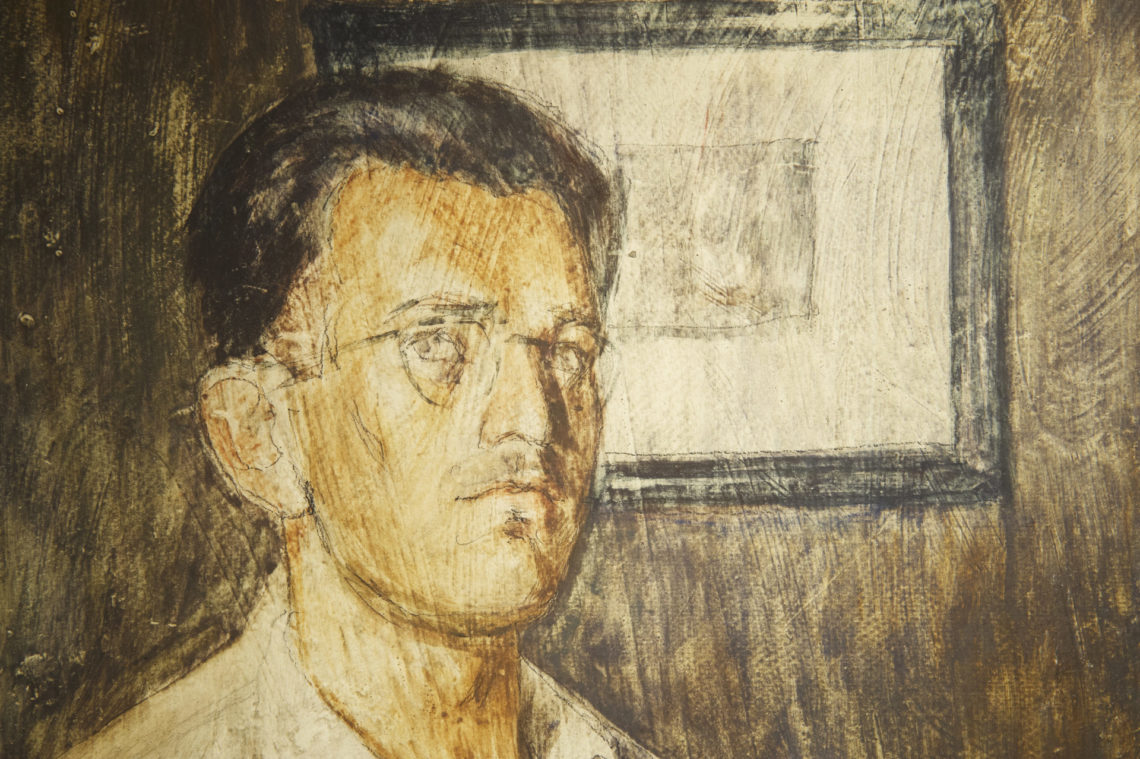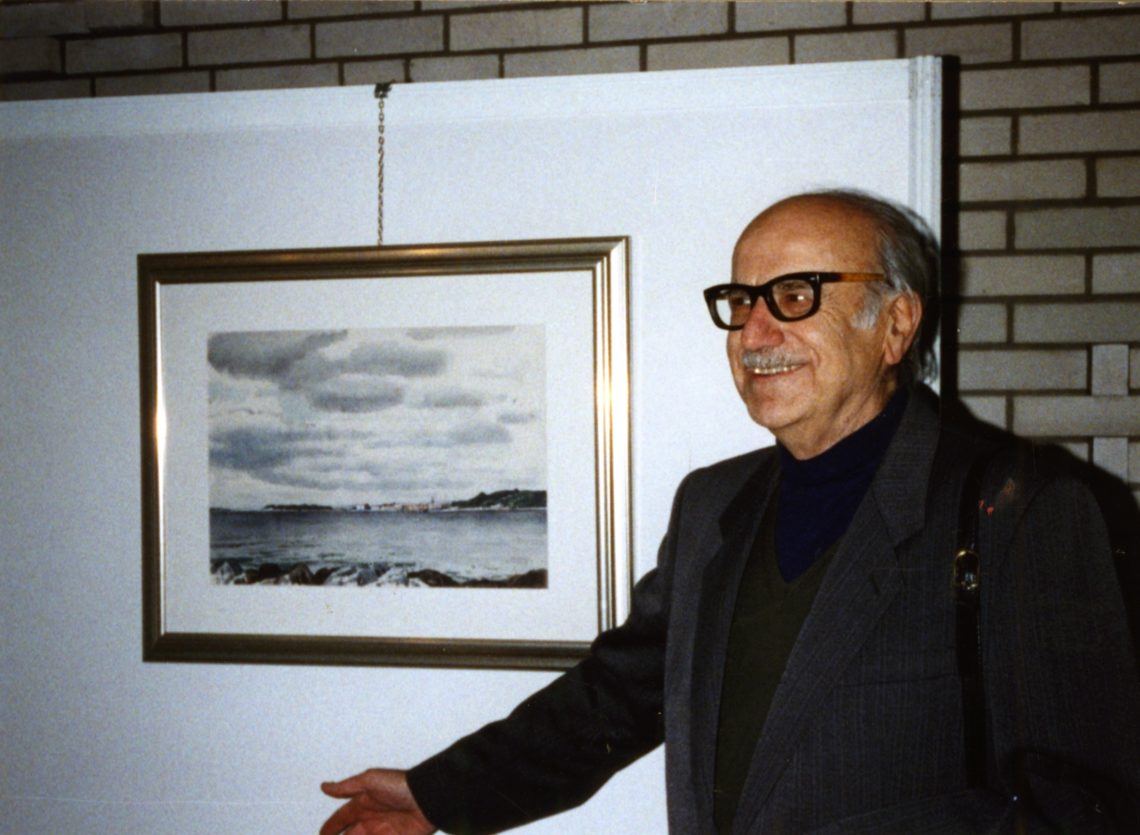 Akademski slikar
Milan Butina
(1923, Kočevje – 1999, Ljubljana) je na ALU Ljubljana diplomiral 1951, 1979 magistriral ter 1982 doktoriral na Filozofski fakulteti Univerze v Ljubljani. Kot slikar in scenograf je bil 20 let zaposlen v Mestnem gledališču ljubljanskem. Nato je poučeval na Srednji šoli za oblikovanje, kasneje pa na ALU in Oddelku za tekstilno tehnologijo FNT v Ljubljani. Kot gostujoči profesor je poučeval tudi na AGRFT (v letih 1972-74), PA, na oddelkih za arhitekturo in design Univerze v Ljubljani. Svojo pedagoško kariero je zaključil leta 1990 kot redni profesor ljubljanske univerze. Od leta 1995 do leta 1999 je bil tudi nosilec in izvajalec predmeta Likovna teorija na Šoli za risanje in slikanje/Arthouse-College of Visual Arts v Ljubljani.
V časopisih in revijah je objavil vrsto člankov in razprav s tega področja. Za gledališče, film in televizijo je ustvaril okoli 100 scenografij in kostumografij, za katere je na Sterijinem pozorju v Novem Sadu prejel več nagrad. Kot slikar je imel 41 samostojnih in 32 skupinskih razstav, med njimi nekaj v tujini (Zagreb prva že leta 1956, Italija, Avstrija, Hrvaška, Sovjetska zveza, Romunija, Bolgarija, Poljska, Srbija, Češka). Leta 2009 je bila v Koroški galeriji likovnih umetnosti v Slovenj Gradcu obširna retrospektivna razstava, ki je osvetlila vse mnoge vidike Butinovega slikarskega, likovno teoretskega in pedagoškega delovanja. Pregledna razstava Butinovih del je bila odprta novembra 2013 ob slikarjevi 90-letnici. Ob razstavi so priredili tudi dve okrogli mizi o aktualnih likovnih tematikah na Slovenskem.
Milan Butina je avtor več obsežnih in kompleksnih likovnoteoretskih monografij in knjig ter preko petdeset znanstvenih razprav in člankov s tega področja. Manj splošno znano je, da je Milan Butina kot scenograf sodeloval leta 1961 pri treh TV filmih.
Milan Butina je utemeljitelj likovne teorije kot znanstvene discipline na Slovenskem. Za svoje delo je leta 1985 prejel Župančičevo nagrado mesta Ljubljana.
Leta 1995 je v Ljubljani v počastitev njegove sedemdesetletnice potekal znanstveni simpozij z naslovom Realnost likovne teorije, leta 2000 in 2011 pa v njegov spomin simpozija z naslovoma Kje je likovna teorija in Likovno – vizualno.
Milan Butina je bil med drugim član ZDLUS (tudi dolgoletni član upravnega odbora in njen tajnik), Jugoslovanskega združenja likovnih umetnikov, Slovenskega oblikovalskega društva, Slovenskega filozofskega društva idr. Sodeloval je v več strokovnih komisijah, delovnih skupinah in žirijah, med drugim za Levstikovo in Prešernovo nagrado.
Vključen je v publikacije, kot so Jugoslovanska likovna enciklopedija I, Enciklopedija Slovenije I, International Who's Who of Intelectuals, International Who's Who in Education (oboje Cambridge, UK), Kdo je kdo za Slovence, Slovenski biografski leksikon.
Milan Butina se je s svojim slikarskim in likovno teoretskim delom trajno zapisal med največje Slovence in s svojim šarmom, človečnostjo in strokovnostjo med svoje dijake in študente.