1. dan popoldne
Iz čokoladnice smo se odpeljali proti Dunaju. Kot prvo znamenitost smo si ogledali Dunajsko državno opero. Vodič nam je predstavil zgodovino stavbe in dogajanja, arhitekturne značilnosti ter dogodke, ki se tam odvijajo. Razložil nam je, kakšna je akustika, kako se vidi iz različnih delov glavne dvorane ter nam povedal okvirno ceno vstopnic, glede na to, od kod v dvorani poslušamo operno predstavo. Peljal nas je po različnih delih gledališča, nam jih predstavil, sprehodili pa smo se tudi skozi različne družabne in plesne dvorane, ki so prav tako v stavbi.
Vsak dan v času kosila smo imeli nekaj prostega časa, v katerem smo si lahko sami ogledali različne zanimivosti ali pa si privoščili pravi dunajski zrezek ali sacher torto.
Popoldne smo si ogledali Haus des Meeres oz. Hišo morja. V enajstih nadstropjih stavbe lahko najdemo najrazličnejše morske živali: mnogo vrst rib, vodnih sesalcev, pa tudi raznih krokodilov, rakov in drugih zanimivih živali. Nekateri deli so zgrajeni kot ekosistem, kjer je ob vodi tudi kopno. Tako lahko tam najdemo opice, kuščarje, kače, po zraku pa letajo ptice. Na vrhu stavbe je tudi razgledna terasa, s katere se nam odpre čudovit razgled na celotno mesto. Tam smo opazovali tudi sončni zahod. Nato smo se s podzemno železnico oz. U-Bahnom peljali do hostla v predmestju, kjer smo se namestili v sobe.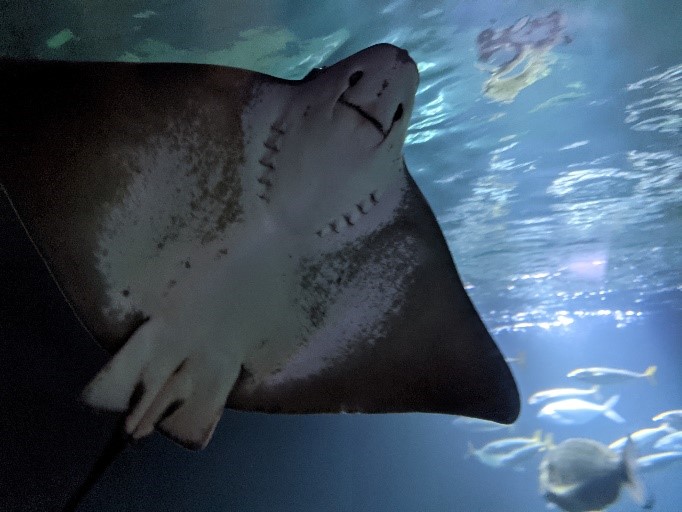 Po večerji smo se odpravili nazaj v mesto. Sprehodili smo se mimo najrazličnejših stavb. Profesor nam je povedal nekaj o njih, ob tem pa nam predstavil tudi zgodovino mesta ter vladavino Habsburžanov. Nato smo se utrujeni vrnili hostel in sladko zaspali v veselem pričakovanju naslednjega dne.
dan
Po zgodnjem zajtrku smo se z U-Bahnom odpravili do Karlove cerkve. O njej je Erazem iz 3.a zapisal:
Od vseh prelepih in mogočnih baročnih zgradb in palač me je na ekskurziji na Dunaju najbolj prevzela Karlova cerkev (Karlskirche).
Leta 1713 po zadnji veliki epidemiji kuge si je tedanji vladar Karel V. Habsburški zadal zgraditi cerkev posvečeno svojemu soimenjaku svetemu Karlu Boromejskemu, ki je bil priprošnjik za kužne bolnike. Zunanjost cerkve je iz arhitekturnega vidika zelo raznolika. Pročelje spominja na starogrški tempelj, na levi in desni strani stojita Trajanova stebra, nad vsem tem pa se v ozadju dviga velika kupola značilna za barok. Notranjost je krasita bel in rdečerjav marmor ter številne slike in kipi različnih avtorjev. Najbolj od vsega izstopata obsežna freska po celotnem stropu kupole in skupek kipov prepredenih z zlatimi žarko nad oltarjem. Trenutno se z dvigalom lahko obiskovalci odpeljejo do samega vrha kupole od koder se razprostira čudovit razgled na mesto, od blizu pa si lahko pogledajo stropno fresko.
Erazem Kovačič, 3. a

Ekskurzijo smo nadaljevali v dunajskem muzeju umetnostne zgodovine (Kunsthistorisches Museum). V spodnjem nadstropju smo videli pomembne materialne izdelke od prazgodovine do bližnje preteklosti, v zgornjem nadstropju pa so bila razstavljena najrazličnejša slikarska dela. Najdlje časa smo preživeli med slikami srednjeevropskih in zahodnoevropskih kot sta na primer Albrecht Dürer in Anthonis van Dyck.
Po koncu ogleda muzeja smo imeli nekaj ur prostega časa. S svojo skupino sem si ogledala muzej Albertina, in sicer razstavi z naslovom Modigliani (slikarja Amedea Modiglianija, ki je ustvarjal impresionistične slike in slike moderne umetnosti) in Od Moneta do Picassoja (zbirka preminulega zbiratelja Herberta Batlinerja, v kateri so zbrane različne slike umetnikov kot so van Gogh, Matisse, Monet, Picasso in drugi).
Nato smo se dobili pred Štefanovo katedralo, se razdelili skupine, saj je bil čas za tako imenovani safari. To je dejavnost, pri kateri dijaki dobimo različne naloge, ki jih moramo opraviti, medtem ko obiskujemo različne znamenitosti po mestnem jedru Dunaja. Tako smo obiskali Štefanovo katedralo, cerkev svetega Petra, si ogledali kužno znamenje Svete trojice na Grabnu, se pogovarjali z domačini in tako vadili samostojnost v tujem mestu.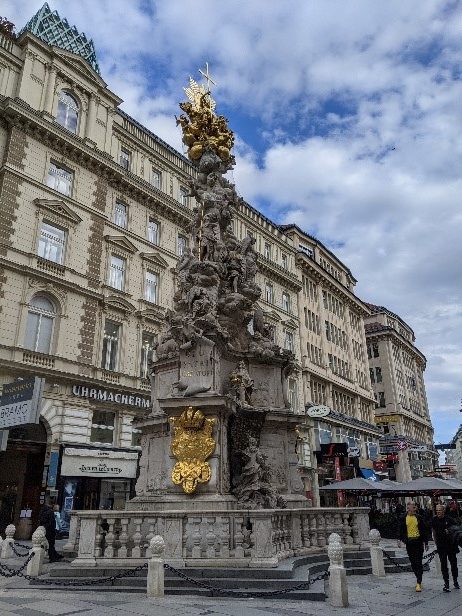 Tudi ta dan smo se po večerji vrnili nazaj v mesto. Imeli smo prosti čas, da smo sami raziskovali Dunaj v večeru.
dan
Zjutraj smo si najprej ogledali prirodoslovni muzej oz. Naturhistorisches Museum. Videli smo veliko različnih mineralov, predstavili so nam razvoj vesolja in Zemlje od samega začetka do danes. Ogledali smo si tudi veliko arheoloških najdb, ki pričajo o zanimivem življenju ljudi v preteklosti v različnih časovnih obdobjih na različnih koncih sveta. V zgornjem nadstropju je bila razstava najrazličnejših vrst živali (nagačenih) in njihovih okostij.
Popoldne smo se odpeljali do dvorca Schönbrunn ter si ogledali notranjost. Audiovodiči so nam predstavili številne sobe in dvorane v dvorcu, zraven pa še življenje in zanimivosti cesarske družine, še posebej cesarja Franca Jožefa in njegove žene Sisi. Po ogledu notranjosti smo se sprehodili skozi park okoli dvorca, nato pa odhiteli nazaj do hostla, kjer smo se pričeli urejati za naslednji dogodek.
Tudi v soboto smo zvečer odšli v mesto in tokrat smo si ogledali težko pričakovano operno predstavo Figarova svatba v Dunajski državni operi. Ta poseben dogodek se nam je zelo vtisnil v spomin tako z vidika glasbe in predstave kot tudi z vidika bontona, ki velja v takih ustanovah (oblačila, obnašanje in potek samega dogodka).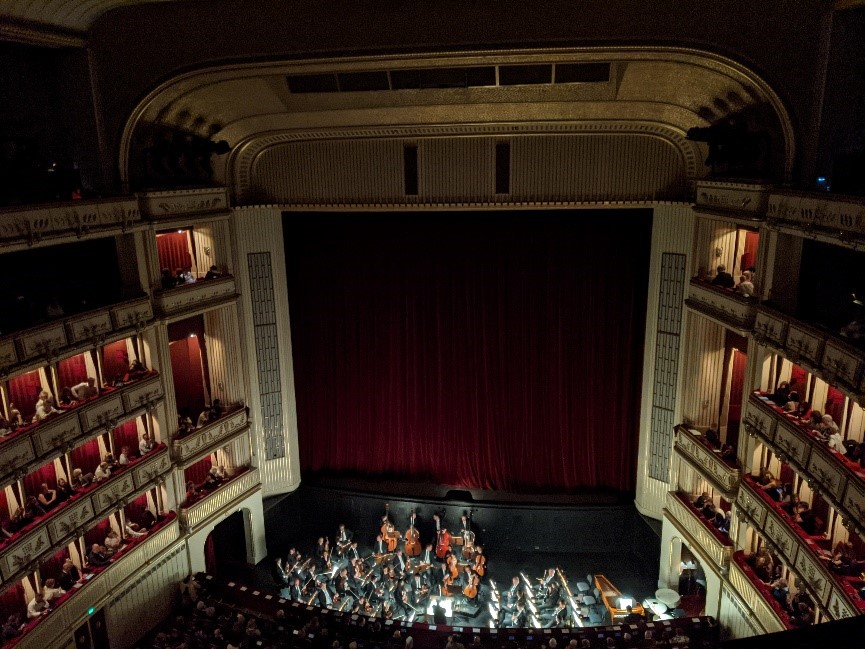 dan
Kot pravi škofijci smo Gospodov dan pričeli s sveto mašo. Pred katedralo smo izvedeli, da bodo šli otroci iz bližnje katoliške šole ravno pri tej maši k prvemu svetemu obhajilu. To nam je pravzaprav prišlo prav, saj je bila duhovnikova pridiga (v nemščini) prilagojena otroškemu jeziku, zato smo tudi mi bolje razumeli, kaj je želel sporočiti.
Zatem smo si ogledali še muzej Belvedere. Najdlje smo se zadržali pri Klimtovem Poljubu, ki je gotovo najbolj znano delo, razstavljeno v muzeju. Videli smo tudi veliko drugih slik z zgodovinsko tematiko, s prizori iz vsakdanjega življenja, z motivi tihožitja, slike šopkov in rož ter nekaj kiparskih in reliefnih okrasij iz različnih ustanov po svetu.
Naš zadnji postanek je bil pred hišo Hundertwasserhaus. V tej hiši so bila nekoč socialna stanovanja, narejena iz odpadnih materialov. Hiša je skozi leta postala velika turistična atrakcija, cene stanovanj pa so postale ene izmed najvišjih v celotnem mestu.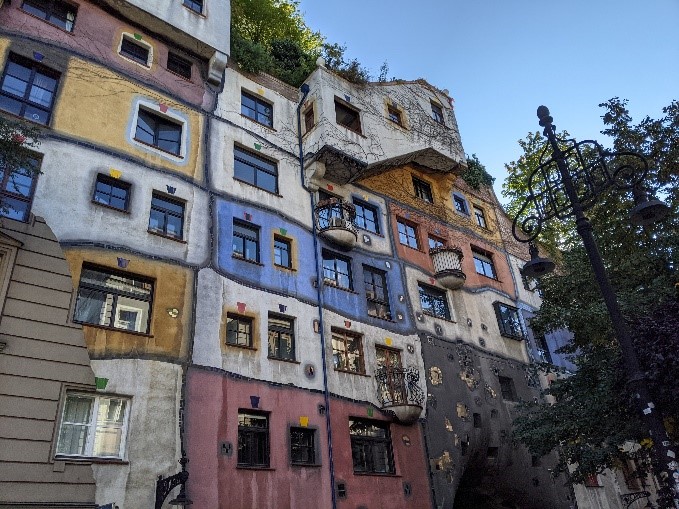 Potem pa smo se polni novih spoznanj in pod vtisom prečudovitega konca tedna vrnili nazaj domov.
Lara Celar, 3. č