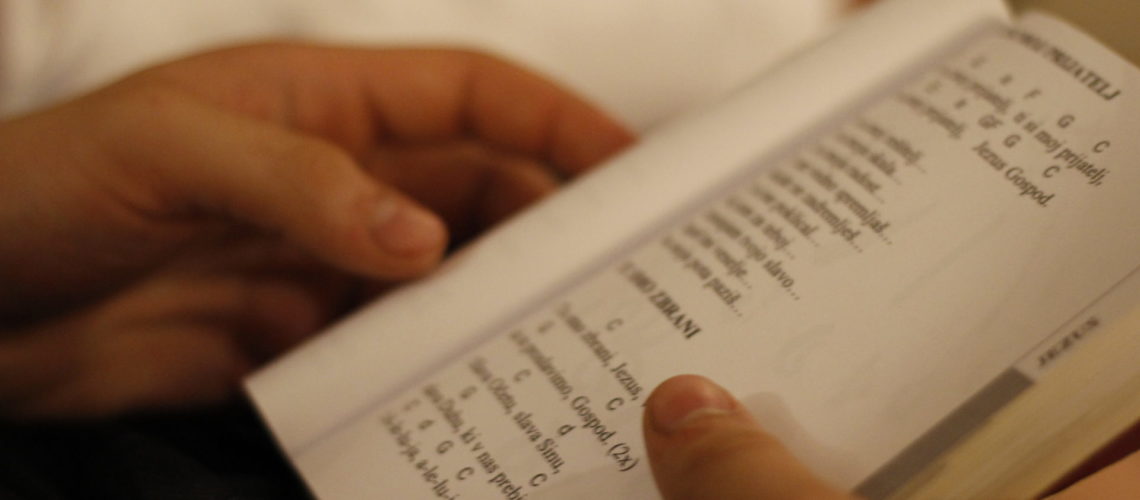 Duhovna misel
4. postna nedelja
Eazmišljajmo o evangeljskem odlomku 4. postne nedelje – Jezus ozdravi človeka, ki je bil slep od rojstva.
Obnovimo zgodbo. V Jeruzalemu Jezus zagleda človeka, ki je bil slep od rojstva. Pljunil je na tla, naredil blato in slepemu pomazal oči. Rekel mu je, naj odide do vodnjaka in se umije. Ta gre in spregleda … Ljudje so začudeni. O tem izvejo tudi farizeji, ki pa jih zagrne tančica sumničenja: »Če je Jezus pravičen, bi moral upoštevati postavo, ki pravi, da se v soboto ne ozdravlja.« Ozdravljeni mož pa na drugi strani izpove vero v Jezusa in o tem prepričuje farizeje. Neustrašen je.
Sporočilo. Najprej osupnemo nad črno-belim kontrastom med farizeji in ozdravljencem. Mož je bil prej telesno slep, potem pa njegove oči spregledajo, v istem koraku pa tudi njegov duh spregleda in v Jezusu prepozna Mesija – poslanega od Boga. Farizeji ves čas vidijo, a njihov duh pokaže svojo slepoto. Kot da bi svetloba razodetja Jezusovega božanstva, ki je posijala iz čudeža ozdravljenja, zadela ob sivo mreno njihovega duha, da niso prepoznali nečesa tako očitnega: Jezus je »od Boga«.
Brez obsojanja še enkrat poglejmo, kaj se je v farizejih dogajalo. Oni poznajo postavo in vedo, da se v soboto ne sme ozdravljati niti mesiti blata in sline, zato sklepajo, da bi Jezus moral upoštevati to pravilo. Če ga Jezus ne upošteva, to lahko pomeni le dvoje: ali je res enak Bogu in je zato avtor postave, ali pa je mož, ki sicer dela neverjetne stvari, ampak ne v imenu Boga – je grešnik. Farizeje je morda zaslepila tudi jeza nad Jezusom, kakor večkrat preberemo. Zato nikakor ne verujejo.
Postavi se nam vprašanje: Zakaj Jezus »izziva« farizeje in jih spravlja v skušnjavo, ko ozdravlja v soboto? Možna razlaga je naslednja: sobota je Gospodov praznik – za človeka praznik veselja z Bogom. Z ozdravljenjem Jezus prebudi največje veselje človeka – stik z Bogom – vero. Hkrati pa sobota z ozdravljenjem pred ljudi izostreno postavi tudi vprašanje prejšnjega odstavka: Jezus je bodisi mož z avtoriteto Boga ali pa hinavec. Ker srce sporoča, da nekaj tako čudovitega, kot je podarjanje vida, lahko stori samo Bog, je odgovor na dlani: Jezus je Božji Sin. In to je namen razodetja. Kdor to prepozna, so se mu odprle oči duha in gleda Božja dela. To je ozdravljenje oči duha. (Te so slepe od rojstva – to imamo skupno/podobno s sleporojenim.)
Kako pride do tega? Jezus pljune na tla in naredi blato, to pomaže po očeh in pošlje človeka, da se umije. Slina z blatom govori o tem, da je Jezus – Božji Sin sprejel prah zemlje in postal človek. Pomazane oči govorijo o tem, da se je kot Božji Sin vmešal v umazanost človeških duš. Ko človeka pošlje k studencu, ga povabi k veri, da ga bo On umil. Mar ni to krst? Človek izpove vero in očiščen je umazanij duše. S krstom Jezus odpre oči našega duha – to pomeni, da začnemo verovati v Boga. Svet postane popolnoma drugačen, kot je bil prej. Tako drugačen, kakor je svet drugačen za tistega, ki je bil prej slep od rojstva, sedaj pa vidi njegovo svetlobo. Si lahko sploh predstavljate, kako velika sprememba je to? Kot bi se na novo rodil. (Še enkrat povezava s krstom – novim rojstvom v življenje v naročju Boga Očeta.)
Svet je drugačen,
ker v njem prepoznava Božje delovanje,
v ljudeh prepoznava osebe, ki jih je ustvaril Bog,
v prihodnosti vidi raj, v katerega Oče kliče te, ki so sedaj tvoji sodelavci, dijaki, učenci in drugi,
v stvareh vidi Božji dar,
v skušnjavah vidi njihov škodljivi konec in praznino, ki sledi,
v naporu za prenašanje ljudi vidi zmago, ki bo na koncu,
v brezupu zla tega sveta vidi upanje, da je mogoče veliko spremeniti.
Še dosti bi lahko naštevali.
Na kratko, v obliki molitve: Gospod, ozdravi oči mojega duha. Želim verovati vate in zato videti svet v barvah, ki jih slika Tvoja navzočnost. S tabo se želim nenehno pogovarjati, te opazovati in te razveseljevati z dejanji. Pridi Sveti Duh.