Bi poleg frankofila (osebe, ki ima rada francoščino) rad postal še frankofon (oseba, ki govori francosko)? Se ti zdi, da je to pretežko? Kaj pa, če bi se kar takoj preizkusil in ugotovil, da v francoščini že marsikaj razumeš? Če si za, klikni tukaj in reši kratek kviz.
Te zanima, zakaj so se za francoščino odločili sedanji dijaki?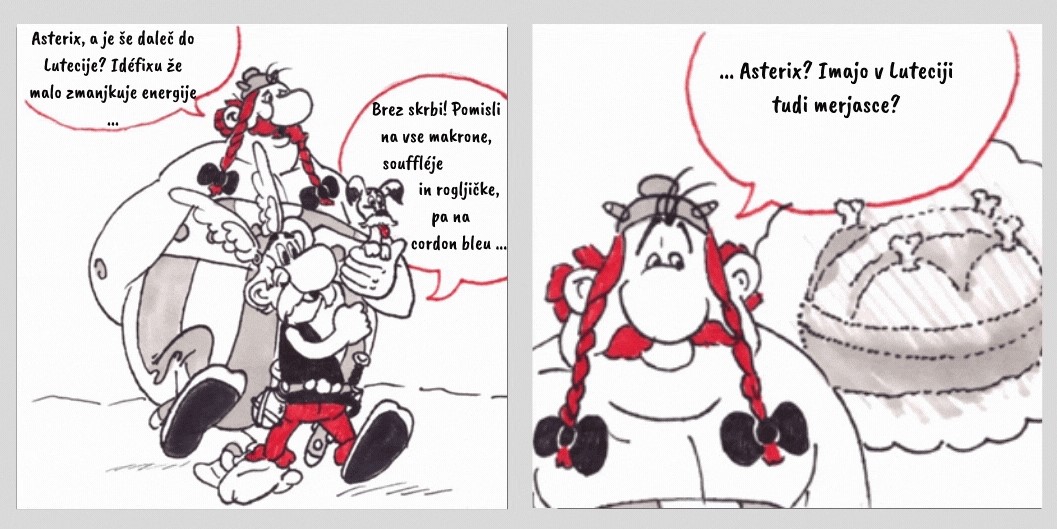 Kaj delamo pri pouku?
Seveda se poskušamo naučiti novih besed in jih s pomočjo slovničnih pravil povedati čimbolj po francosko. A ure pogosto popestrimo tudi s skoki v druge svetove.
V času ekskurzije si ustvarjamo spomine in se preizkušamo v pisanju popotnega dnevnika.
Preizkušamo se tudi v francoski kuhinji, kjer so nam posebej pri srcu sladice.
Pustimo se navdihovati muzam in rezultat našega druženja so npr. prevodi pravljic.

Letos smo se veselili izjemno uspešne udeležbe na državnem tekmovanju.
Kaj pa, ko gremo po svetu?
V 3. letniku se odpravimo na prvo veliko preizkušnjo našega znanja jezika, ko na ekskurziji obiščemo Strasbourg in Pariz (tu in tu).
Najbolj navdušeni sodelujemo tudi na izmenjavah, ki so lahko individualne (1., 2., 3., 4., 5. in 6. del) ali skupinske.
Včasih tudi svet pride k nam 🙂 in postanemo gostitelji. Za svoje goste sestavljamo vodnike po Ljubljani. Kdaj pa kdaj pa druženje v Sloveniji in Franciji preraste v prijateljstvo, kot se je to zgodilo Maticu, Roku in Juretu.

Kako je s francoščino v življenju?
Včasih se zdi, da se francoščine učimo le romantični idealisti in da je sicer v življenju precej neuporabna. Zakaj se s tem ne strinjajo naši dijaki, si lahko ogledaš tukaj.
Tudi alumni (nekdanji dijaki naše šole) so istega mnenja, saj jo marsikdo danes rabi vsakodnevno ali pa mu je prišla prav v situacijah, na katere v času srednje šole še pomislil ni. Če bi rad slišal njihove izkušnje, si oglej kratek video.
Vsaj deset razlogov ZA francoščino pa zna našteti tudi alumna Klara.
Za konec pa še malo smeha:
Pavel dela domačo nalogo iz francoščine.
Ati, a se napiše la coeur ali le coeur?
Pavel, daj no, malo pa že moraš poslušati v šoli. Napiše se liker.